Parallels pioneered the industry by providing Mac customers with the world's first virtualization software for Intel-based Macs in 2006. 15 years later, the product is still very much in demand, and Parallels is celebrating its 15th birthday with a 25% discount
The 25% discount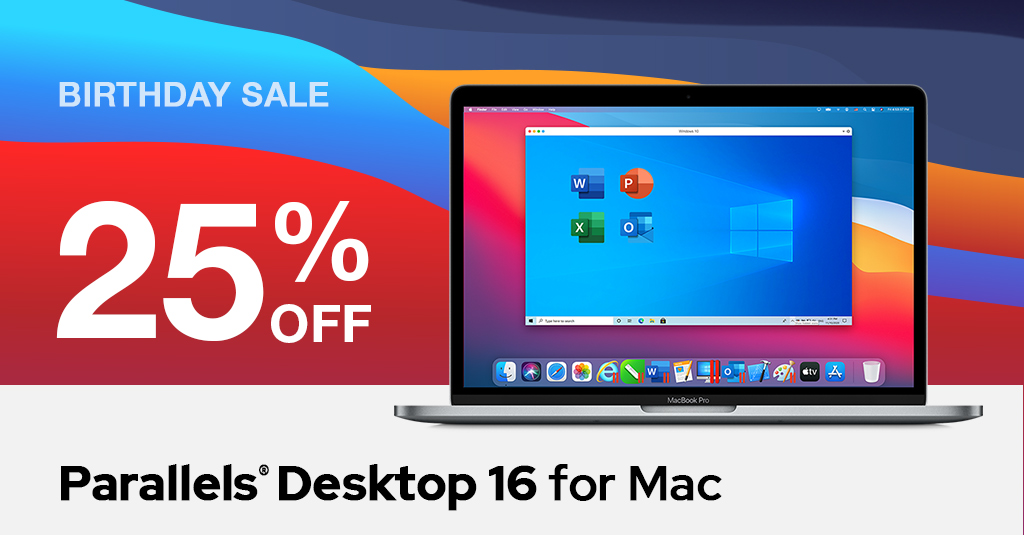 Here are some important things to take note of about the promotion:
The promotional pricing is only valid for the first year of the subscription.
If you are currently on an older version, you can upgrade to a newer version of Parallels Desktop.
The offer is only valid for users without an active subscription – you won't be able to use the promotion to renew an existing subscription.
The promotion applies to all versions of Parallels Desktop for Mac, purchased directly from parallels.com. Retailers or third-party vendors are excluded from this promotion.
Why do we need Parallels?
Although virtualisation has long been restricted to servers, it is now a much-preferred option to run virtualised operating systems. You might require the flexibility of your own computer while still fitting into a business Windows-based Active Directory setup, or you might even wish to play specific games or other apps that are only available on Windows. Parallels, in any case, has offered solutions to over seven million consumers who rely on the product every day.
The History of Parallels – Highlights
Parallels Desktop for Mac was born in 2006 as the world's first virtualization software for Intel-based Macs. Parallels changed the market by allowing Mac users to run Windows and macOS simultaneously without needing to reboot via Bootcamp. Since then, there have been many new product features, functions and versions introduced to provide more value to its users.
On Parallels' fifth anniversary in 2011, NASA was observed using Parallels Desktop on its MacBook laptops as part of the project that saw the Curiosity Rover land on Mars.
Parallels Desktop for Chrome OS became available in 2020. It was the world's first program that natively runs Windows on enterprise Chromebooks. Chromebook users could now run full-featured Windows software such as Microsoft Office and proprietary apps even when they are not connected to the Internet. Just recently, Parallels Desktop 16.5 for Mac launched with full, native support for Mac computers with Apple M1 chips in June 2021.
In a nutshell, the product continues to evolve and innovate, giving users of all capabilities and needs around the world the freedom to choose their operating system and application while running on solid Mac hardware with its crisp Retina display and intuitive touchpad.
Availability and Pricing
The birthday promotion will run till 2:59 pm on 2 July 2021 (SGT). Be sure to have a look at the discounted pricing for the various editions of Parallels Desktop here.