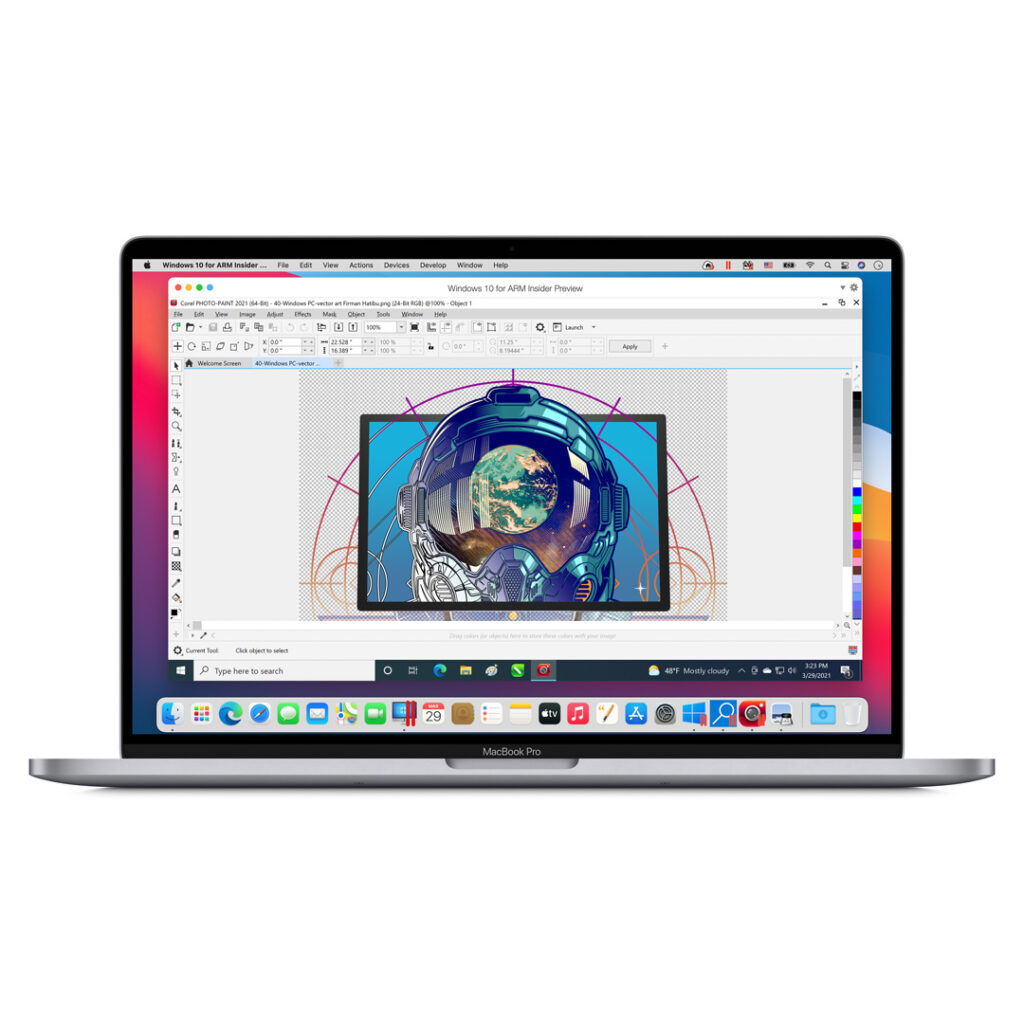 As Apple dropped support for Boot Camp (a dual boot ability for Windows and macOS) on M1-based macs, support for Parallels on these devices comes as a blessing for anyone needing to run Windows applications. With the new processors promising better performance, you can expect Parallels to leverage on that.
Maximum utilisation on performance
Parallels have made numerous optimisations to fully utilise the benefits of the M1 chips from Apple such as high power efficiency and speedy performance. The improvements observed include:
Up to 250 percent less energy used: Parallels Desktop 16.5 uses 2.5 times less energy on an M1-based mac, compared to a 2020 Intel-based MacBook Air computer.
Up to 60 percent better DirectX 11 performance: Parallels Desktop 16.5 running on an M1 Mac delivers up to 60 percent better DirectX 11 performance than on an Intel-based MacBook Pro with Radeon Pro 555X GPU.
Up to 30 percent better virtual machine performance (Windows): Running a virtual machine (VM) of Windows 10 on ARM Insider Preview on Parallels Desktop 16.5 on an M1 Mac performs up to 30 percent better than a Windows 10 VM running on Intel-based MacBook Pro with Intel Core i9 processor.
We received enthusiastic feedback about the remarkable performance of both the Technical Preview of Parallels Desktop 16 for M1 Mac and Windows 10 on ARM Insider Preview as well as x86 applications and games, including Rocket League, Among Us, Roblox, The Elder Scrolls V: Skyrim, Sam & Max Save the World and many others. Testers loved Parallels Desktop's easy-to-use features and seamless integration of Windows with macOS Big Sur, which increased productivity.Nick Dobrovolskiy, Parallels Senior, Vice President of Engineering and Support
Re-introducing popular features, from scratch
Even prior to this release of Parallels Desktop, there were many well-liked features by Parallels users. Below are the popular features which are available for both Intel and M1 Macs.
Coherence Mode: Run Windows applications on your Mac as if they were native Mac applications, without managing two separate desktops or rebooting.
Shared Profile: Share your Mac desktop, pictures, documents, and other folders with a VM for easy access.
Touch Bar controls: Quickly access apps in your virtual machine and customize your Touch Bar shortcuts to feature the apps and commands you use most.
Mac keyboard layouts: Easily customize your keyboard menu and shortcuts for a more personalized experience.
Hundreds of other Parallels Desktop features are included to help make it simple for customers to be more productive.
macOS Big Sur in a VM is a feature that Parallels hopes to add support for in Parallels Desktop later this year.
Just like Parallels Desktop 16, Parallels Toolbox and Parallels Access comes standard with subscribers to the latest 16.5 edition.
Moving over to the new edition
Parallels Desktop 16.5 supports the most popular ARM-based Linux distributions on the M1 Macs. If you wish to experience Windows immediately, you will be required to install the Windows 10 ARM Insider Preview, together with its optimised applications.
Current licensees of Parallels Desktop 16 can move to 16.5 without additional costs. Active subscribers of Parallels Desktop 16 will also get free upgrades for the latest features.
Availability and Pricing
The Parallels Desktop 16.5 comes in several editions – perpetual license, subscription and the pro edition, which are priced at US$99.99 one-time payment, US$79.99 annually and US$99.99 annually respectively. Any users upgrading from Parallels Desktop 14 or 15 to the latest perpetual license can pay a discounted rate of US$49.99, or pay US$49.99 when upgrading to the Pro edition from any edition.