Since the Covid-19 pandemic, many of us have been on our computers more than before. This trend should be here to stay – especially for those who are starting off their new semesters in tertiary education. If you are in the market for a new laptop to replace your rickety hand-me-downs, this article is for you.
Usage scenarios
With faculties such as design and I.T requiring powerful computers, having a mid-high end CPU such as Intel's i5 or AMD's Ryzen 5 series CPUs is the bare minimum. A high-end dedicated graphics processor (GPU) will also be needed. Having upgrades like these can drastically add up the cost of an entry-level laptop, and it can potentially be a power drainer.
Meanwhile, faculties such as business or health sciences with emphasis on word processing can get away with any laptop containing a mid-range CPU such as Intel's i3 and AMD's Ryzen 3 series CPUs will suffice in such tasks or even power-efficient processors such as the fanless Intel's Core M processors.
Form Factor
If your course of study does not have any specific hardware requirements, the next you should consider is the portability of your laptop. Generally speaking, 13-inch laptops are favoured for their compact design and long-lasting battery life which further eliminates the weight of the charger.
Larger laptops can come in lightweight as well, with some 15-inch laptops coming in under 1kg. Some laptops labelled as "gaming" can also feature lightweight designs as well, being just a tad heavier than their 15-inch non-gaming counterparts.
Budget
If budget is a major concern after considering form factor and usage scenarios, the base model of a brand new MacBook will cost you S$1,299 (after education discount) which might still be a little too pricey. On the Windows side, a device with similar specifications might start around S$600, providing you with a decent performance. While the gorgeous anodised aluminium and retina displays on a MacBook may be tempting, the price may hint otherwise.
While being on a budget, there are some things that should not be skimped on. Getting a low-end processor combined with a regular HDD may cost less at first, but it is likely you will experience major slowdowns that convince you to replace it after its one year mark. Depending on your course of study, you may be required to buy powerful laptops as an entry requirement, which could cause the price to shoot up quickly.
Operating System
Even with a generous budget, the fancy new MacBook may be out of reach due to your course of study. Many courses involved in the engineering or I.T faculty gravitate towards the Windows operating system (OS) due to a few specialised software required. Gaming with your newly-formed friends may be an issue as most triple-A titles simply run better on Windows (unless you choose to only play games like Minecraft).
Boot Camp, which was used to natively run Windows, was phased out with the release of Apple's proprietary processors. Instead, you get emulators, such as Parallels, which operate on top of the operating system (macOS). Whilst there are many improvements over the years, it is not a foolproof solution and you will have to figure it out using your own software.
Storage and memory
Regardless of the OS chosen, the next thing you should look out for is storage and memory. A Solid State Drive (SSD) is an absolute necessity to maintain your mental sanity despite its steep price tag. SSDs are responsible for the fast app launches and startup times, something non-existent on slower Hard Disk Drives (HDD). As SSDs may cost more, it is common for manufacturers to combine HDDs with blazing-fast SSDs to get a balance of both worlds, something you can consider for mass storage needs.
Random Access Memory (RAM), commonly known as memory, serves as a buffer zone for your programs. A higher RAM size, in the form of GBs, allows you to run more tasks simultaneously without having major slowdowns. The minimum recommended size for office tasks and moderate-intensive tasks are 8GB and 16GB respectively.
Ports and connectivity
As more laptops transition to the more versatile USB-C standard (the same connector found on some phones), practicality may be a concern. While gaining support for high speed charging across all supported chargers, data transfers and even external graphics processors (eGPU), many peripherals require an adapter to be used with USB-C, which have to purchase separately, and can cost a premium.
Wi-Fi 6, the next generation that promises over two times the speed of its predecessor, can be found on newer laptops. While it will become the new normal in the near future, it will take a few years to do so. Before then, this feature can be deemed a white elephant before WiFi-6 enabled access points are widely available.
Have difficulty deciding?
We understand that it may not be easy to pick out an ideal laptop given the computer market. Therefore, we have listed several laptops you can consider.
Entry-Level to Mid Level
1. HP 14-inch Laptop (S$791)
Model: 14-DQ1077WM
Processor: 10th Gen i3-1005G1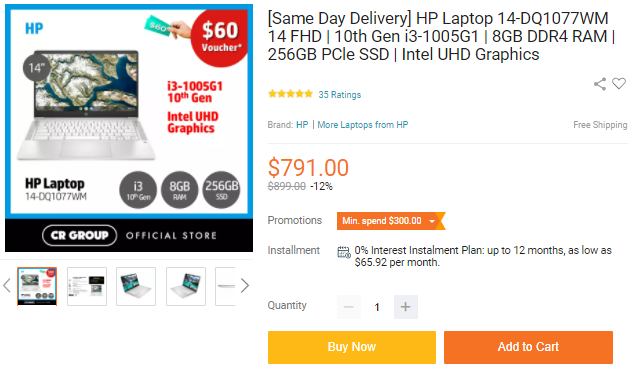 2. Lenovo 15-inch Laptop (S$769)
Model: 15IIL05
Processor: 10th Gen i3-1005G1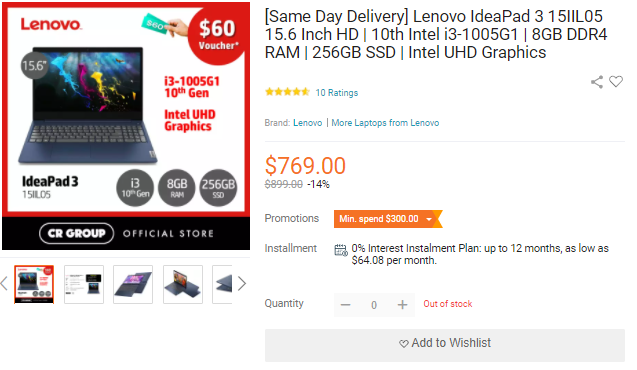 3. Surface Laptop Go 12-inch Laptop (S$868)
Model: Surface Laptop Go (4GB RAM + 64GB Storage)
Processor: 10th Gen i5-1035G1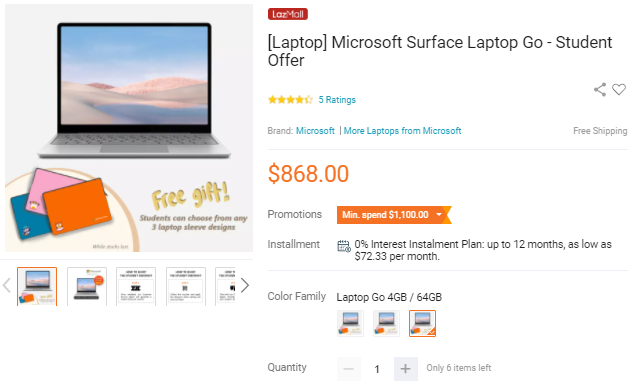 Mid-High Level
4. Acer 14-inch Laptop (S$1,098)
Model: A514-53G-58EB
Processor: 10th Gen i5-1035G1
Graphics: NVIDIA GeForce MX350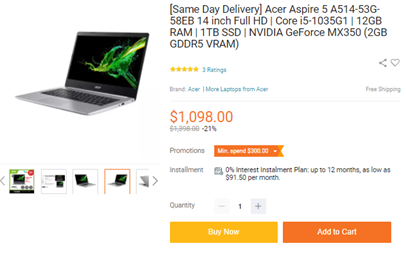 Learn more: Acer A514-53G-58EB
5. Lenovo 14-inch Laptop (S$999)
Model: 14IIL05
Processor: 10th Gen i5-1035G1
Graphics: NVIDIA GeForce MX330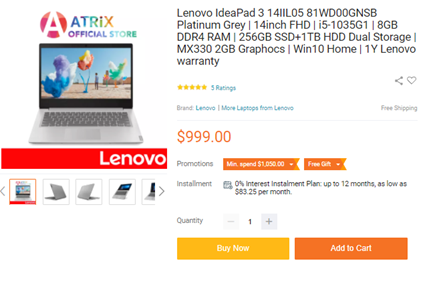 6. HP 14-inch Laptop (S$960)
Model: 14-cf3027TX
Processor: 10th Gen i5-1035G1
Graphics: AMD R6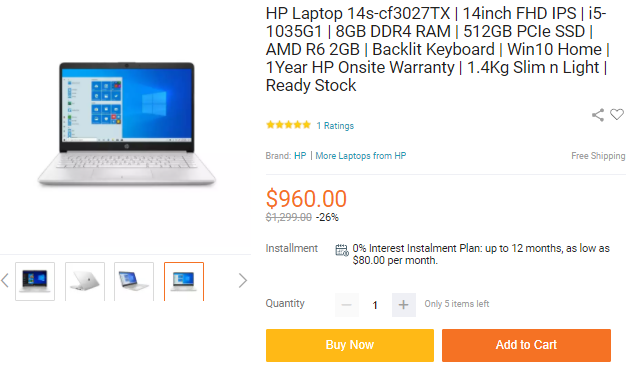 High end-standard
7. Acer 15-inch Gaming Laptop (S$1,648)
Model: AN515-55-73Q0
Processor: 10th Gen i7-10870H
Graphics: NVIDIA GeForce GTX 1650Ti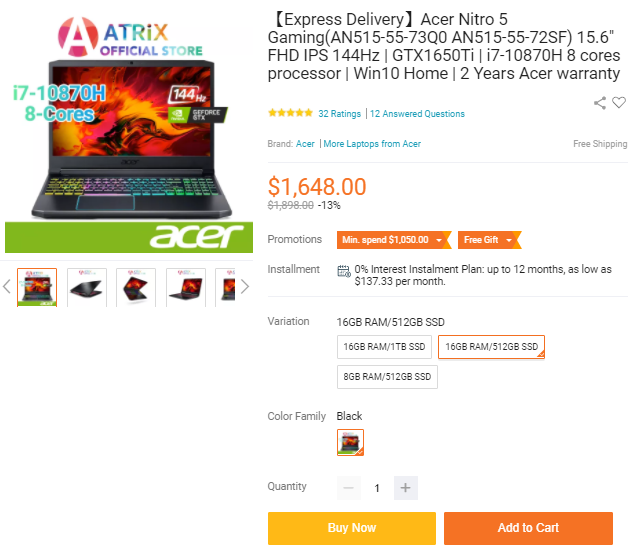 Learn more: Acer AN515-55-73Q0
8. HP 15-inch Gaming Laptop (S$1,699)
Model: 15-ec1062AX
Processor: AMD RYZEN 7 4800H
Graphics: NVIDIA GeForce GTX 1650Ti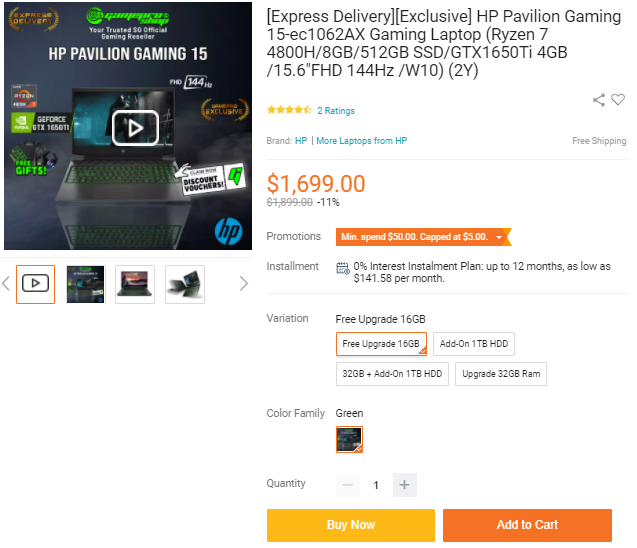 High end-standard, thin and light
9. Dell 15-inch Gaming Laptop (S$1,828)
Model: 7501-107114GL
Processor: 10th Gen i7-10750H
Graphics: NVIDIA GeForce GTX1650Ti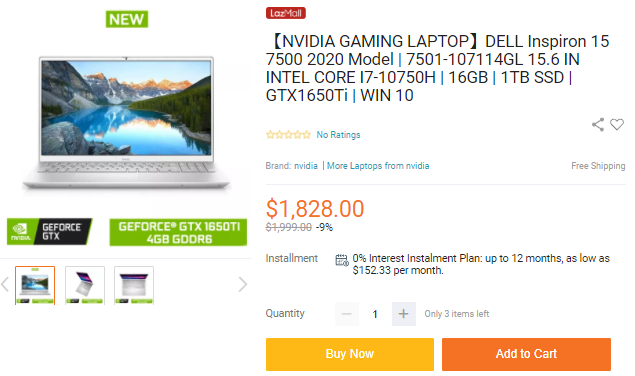 Learn more: Dell 7501-107114GL
10. MSI 15-inch Gaming Laptop (S$1,999)
Model: GF65 Thin
Processor: 10th Gen i7-10750H
Graphics: NVIDIA GeForce RTX2060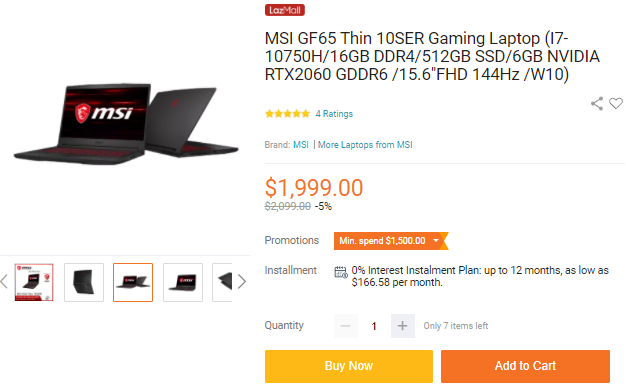 High end- max performance
11. Acer 15-inch Gaming Laptop (S$1,899)
Model: AN515-55
Processor: 10th Gen i7-10850H
Graphics: NVIDIA GeForce GTX1660Ti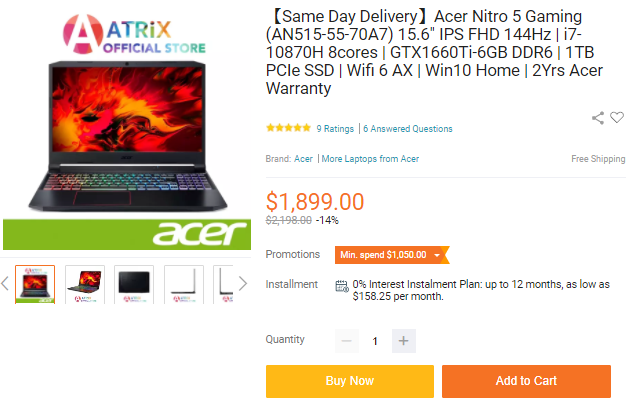 12. Lenovo 15-inch Gaming Laptop (S$3,999)
Model: 82N6000USB
Processor: AMD Ryzen 9 5900HX
Graphics: NVIDIA GeForce RTX3080