Using a password manager is one of the most effective ways to secure your online security. A decent password manager makes it simple to create unique and strong passwords. They are securely saved and you can access them whether on your phone, laptop, tablet or desktop computer. In essence, they remove 90% of the effort out of staying secure online. There are numerous decent password managers that charge a monthly fee, but for this guide, we'll focus on free options.
Why do we need password managers and how do accounts get breached?
User error is the most common source of password breaches. Passwords can be stolen via keylogging spyware or broken using brute force assaults, which toss thousands of passwords into the login field and wait for one of them to work.
Many password managers have free versions, but most of them have so many paywalls that they are effectively useless. Unfortunately, if you want the best features, the strongest security measures, and the most helpful customer service, you'll have to invest a little money.
However, there are numerous excellent free password managers available that provide strong password security, a user-friendly interface, and some extra useful functions.
Top password managers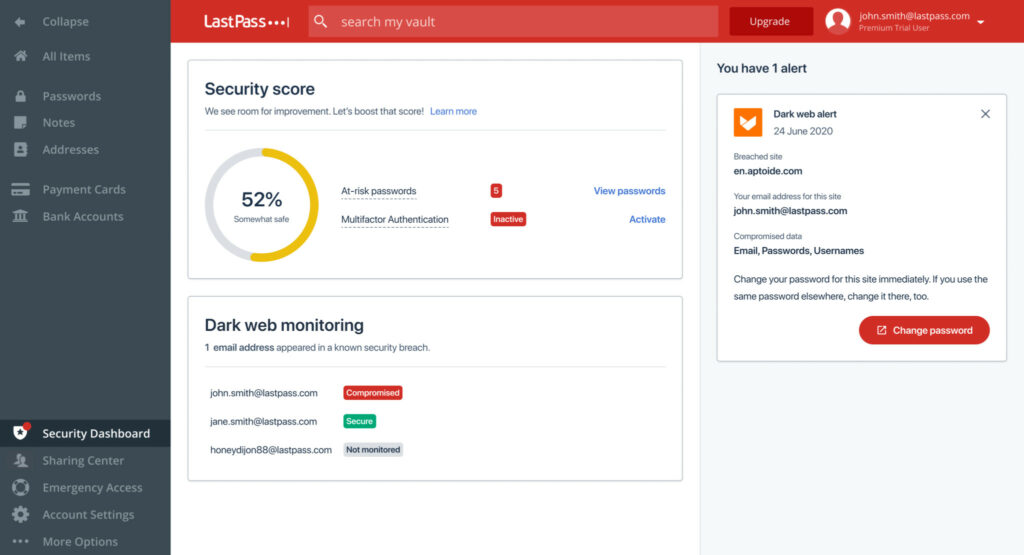 LastPass provides unrestricted password management across unlimited devices. However, the free tier forces you to choose between accessing them on computers only or accessing them across mobile devices only. If you want to sync across all types of devices, you'll need to upgrade to LastPass Premium. With LastPass Premium, you can get unlimited access across all devices, biometric MFA, emergency access, and one-to-many sharing.
LastPass is the only free password manager that includes password auditing, 2FA compatibility, password sharing and a built-in authenticator. This built-in authenticator makes it simple to secure 2FA-compliant web logins. It can audit all of your passwords and update many of them with a single click.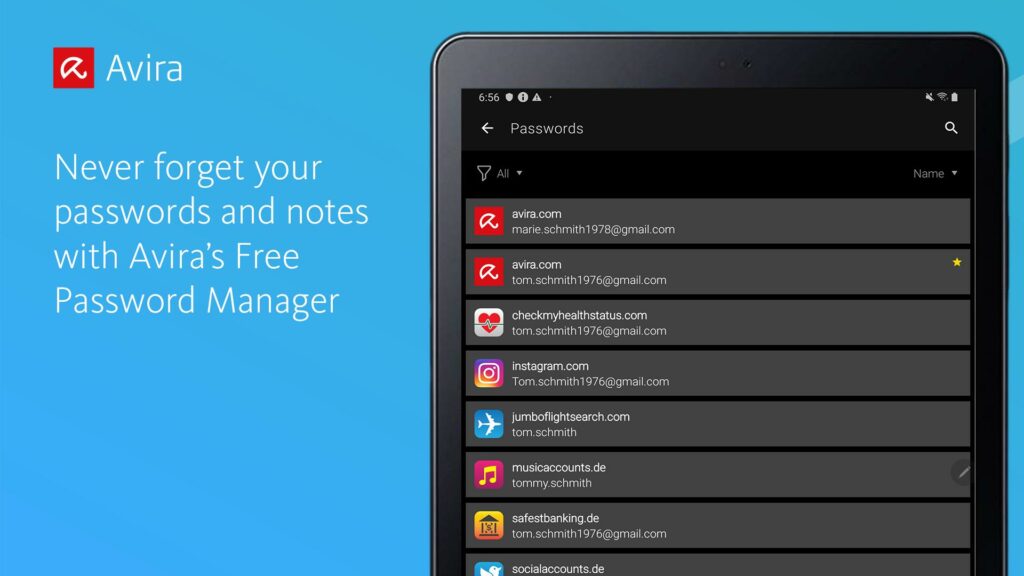 Avira offers limitless storage on an unlimited number of devices, as well as an easy-to-use user interface. It also includes biometric logins for mobile users, a built-in 2FA authenticator, and auto-saving and auto-filling functionality.
All passwords are protected on the device level using 256-bit AES encryption, ensuring that no one (even Avira) can read any of your data. This zero-knowledge policy is excellent for privacy, but it would be preferable if Avira included some account recovery alternatives, like LastPass does with its free plan.
When you upgrade to the commercial version of the program, you get vault security auditing and data breach monitoring.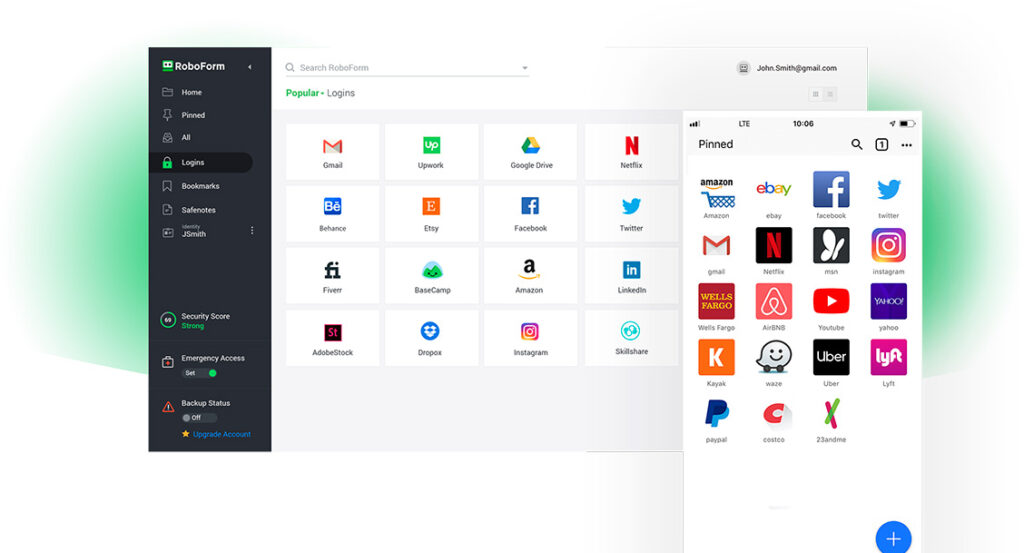 RoboForm is simple to use, with a great form filler and limitless password storage on a single device. It allows free users to audit the vault for weak passwords, gain emergency access, organize bookmarks, and transmit login information to other users. You also get password auditing, bookmarks storage, and emergency access.
RoboForm's form filler can fill up even the most complex web forms with pinpoint precision. You can select from seven preset "identity" templates (such as passport or credit card information) or design a fully customised identity with as many elements and values as you desire. However, RoboForm Free only supports a single device, making it ineffective if you require more than one device or multi-device sync.
When you upgrade to RoboForm Premium, you get multi-platform compatibility on an unlimited number of devices, as well as extra security features like two-factor authentication, cloud backup, and a secure folder for sharing logins.
Did you know that the Google Chrome browser has a built-in password manager that you can access across all devices that are signed in to your Google account?
If you are a new user of this password manager, Google's new password import feature makes it easy for you to upload up to 1,000 passwords at a time, which can be sourced from multiple third-party sites.
Read this article to find out more.
How does a password manager increase your online safety?
Password managers are designed to keep all of your passwords, credit card details and secret notes secure. It can be frightening to entrust all of your personal information to a single software, but password managers really do help you stay safer online.
Here are some important features you should look out for:
1. Secure encryption
Most password managers keep your vault on their servers, making it simple to sync across devices. Before leaving your device, your data is encrypted using end-to-end 256-bit AES encryption, which scrambles your data so effectively that it is difficult to decipher.
2. Zero-knowledge architecture
End-to-end encryption implies that only the device that generated the encryption can access the encrypted data — no one knows your password but you. There is no way to decrypt your data on the password manager's servers, even if there is a data breach or a government subpoena.
3. Auto-fill
Hackers frequently use screen logging and keylogging spyware to steal user passwords – this harmful virus can capture what's going on your screen as well as every keystroke on your keyboard. Password managers prevent your login data from being viewed on your screen or entered into your keyboard by auto-filling your passwords.
4. Password generators
If you do not use a password manager, your passwords are likely to be easy for you to remember and easy for a hacker to guess. Every password manager has a password generator, which generates entirely random and complicated passwords containing a plethora of symbols, numbers, and characters that your password manager can easily remember but are extremely tough to crack.
Availability and Pricing
Personally, we wouldn't recommend storing important information in a free password manager. If you don't want to deal with the headaches and limits of a free password manager, a low-cost premium password manager like Dashlane is always a superior option.
On the other hand, these top password managers can all be downloaded online for free.