Safety is something one should never compromise on. With the recent arrival of Arlo's Essential Spotlight Camera in Singapore, it is certainly an option to consider when thinking of improving the security of your home.
Camera Features
Here are some features that the Essential Spotlight Camera offers:
| | |
| --- | --- |
| Integrated Spotlight | Lets you see what's lurking in the dark with a bright spotlight to illuminate the area of activity. Spotlight can be motion-activated or manually turned on |
| 2-Way Audio | Hear and speak to visitors clearly with superior audio quality |
| Built-in Siren | Siren can be triggered automatically or manually from the app |
| Colour Night Vision | See colour videos instead of traditional black and white pictures |
| Full High Definition Camera | Capture clear details in full high definition with the ability to record video in 1080p |
| Weather-Resistant | Designed to withstand heat, cold, rain or sun and can be used indoors or outdoors |
What we liked
Convenient and Fuss-free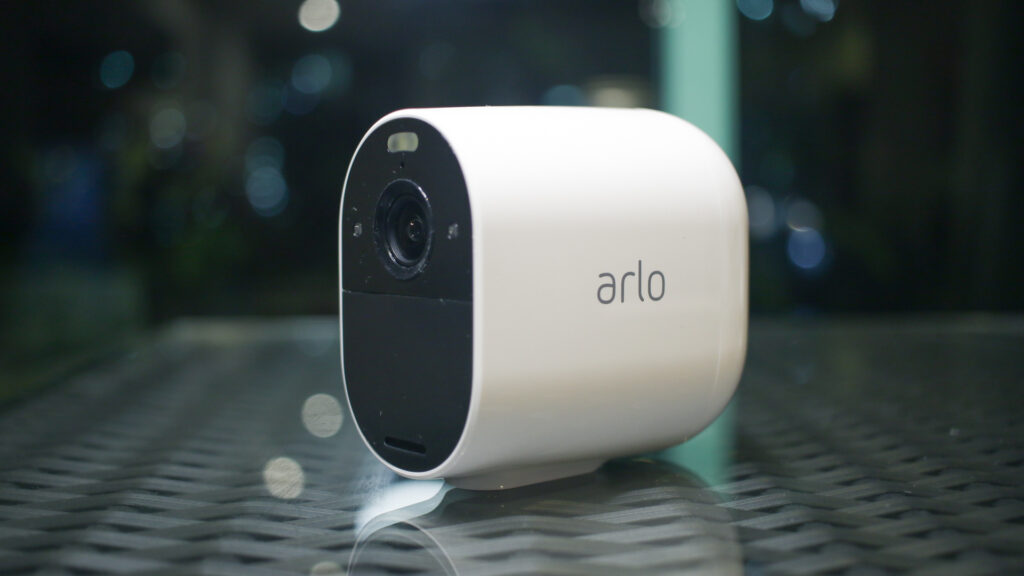 Unlike recent models available in Singapore (Arlo Ultra, Arlo Pro 3), the Arlo Essential Spotlight Camera is able to operate even without a base station or SmartHub. Additionally, the camera is wire-free and its battery is chargeable with a micro-USB cable.
The Essential Spotlight Camera can be connected to the Arlo app. From the app, users can easily look at the live view of the camera, adjust the spotlight's brightness, and even speak to any visitors! Besides the app, the camera is also compatible with Amazon Alexa, Google Assistant and IFTTT*.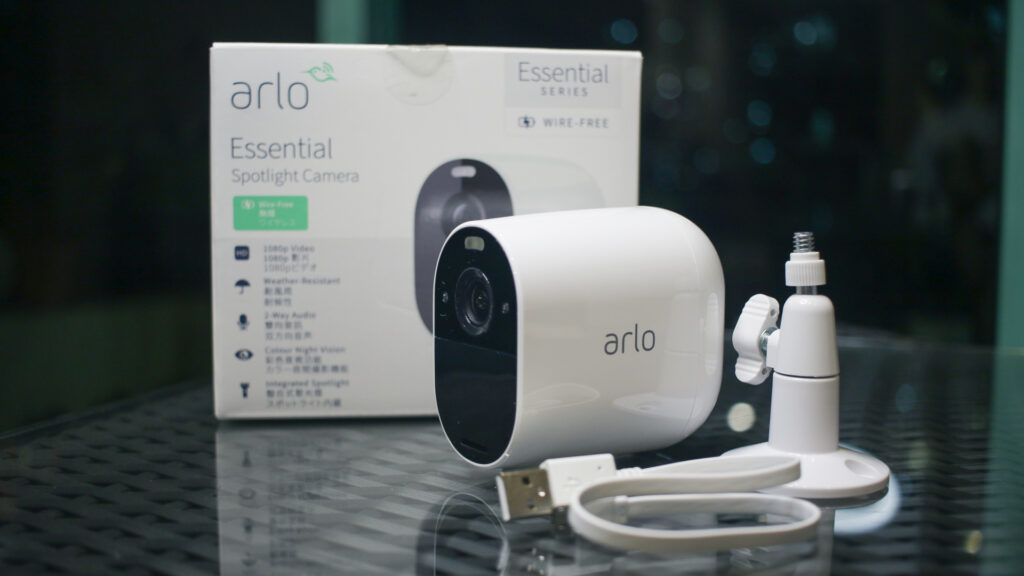 The Essential Spotlight Camera comes with a micro-USB cable, wall-mount and three screws. The set-up is really simple and fuss-free.
Additionally, the camera can be placed either indoors or outdoors.
2-Way Audio
Of all the features that come with the Essential Spotlight Camera, the best one in our opinion would be the 2-way audio. This feature comes in handy especially when you have surprise guests or deliveries and need to communicate with them.
Imagine this: you're resting and suddenly, a delivery man is detected by the camera. You're too lazy to get to the door so you just go onto the Arlo app, click the microphone and ask the delivery man to leave the parcel at the front door.
The audio is loud and clear, so the delivery man quickly understands and leaves the parcel. This feature benefits both parties – you get to continue resting and the delivery man doesn't waste his time waiting for you.
This feature is useful in almost any situation and with any guests. Security is definitely heightened when you have the 2-way audio feature.
Spotlight and Colour Vision
The spotlight for this camera truly serves its purpose. Its brightness is strong and can be adjusted through the app.
As for the colour vision, it helps users see the surroundings better compared to a traditional black and white view. These two functions are great to have to secure your home especially during night time.
What could be better
Latency
An issue we found with the Essential Spotlight Camera was that when we click 'Live view' in the Arlo app, the view of the camera lags by about 5 seconds on average. Similarly, it takes a few seconds for the 'Motion Alert' notification to appear on our phones.
Although the lag was only by a few seconds, if one were in a situation such as thieves breaking into their homes, that slight lag from the camera and alerts would cost them valuable time.
Being a security camera, one would expect a quicker reaction time from the camera and app.
Non-removable Battery
When it comes to charging the Essential Spotlight Camera, you would have to remove the entire camera itself. Therefore, if you were to put the camera at a high angle, removing it and charging it would be a hassle. Furthermore, the camera has to be charged using a micro-USB cable and some might find this a hassle as well.
Though the battery life is supposed to last six months without charging**, this might still be a consideration to take before installing the camera.
Cloud Storage
Another point for consideration is that the Essential Spotlight Camera does not come with a free cloud storage option. The camera comes with a three-month trial period to Arlo's AI subscription-based service, Arlo Smart.
However, a subscription is required after the trial period. With the Arlo Smart plan, users get to enjoy the features of the app as mentioned earlier on, including access to 30 days of video recordings on cloud storage.
These features are essential in a security camera, so paying a subscription fee may be an issue for some.
Availability and Pricing
The Essential Spotlight Camera can be purchased from major retailers like Harvey Norman, Challenger and the official Arlo store on Lazada Singapore and Shopee Singapore.
The price of the Essential Spotlight Camera starts at an MSRP of S$239.
---
*IFTTT is a software platform that aims to connects apps, devices and services from different developers, to get your tasks completed automatically.
**This is based on usage of 4000 seconds per month, 30 seconds per stream, and day/night event splits of 2:1.