This July, Amazon Prime Day will give Prime members worldwide the chance to get epic deals for its longest Prime Day ever. For the first time, Prime Day will run for 48 hours, offering members two full days of the best in shopping, savings and entertainment.
Prime members in Singapore will be joining their counterparts in other countries such as the US, UK, Spain, Netherlands and many more to shop for the best deals.
When is Prime Day?
Prime Day will start at the stroke of midnight on 15 July 2019 (Monday) and run for the next 48 hours. This will offer members two full days of the best in shopping, savings and entertainment.
If you're not a Prime member yet, fret not! Anyone can join Prime and new members can now start a 30-day free trial at www.amazon.com.sg to participate in Prime Day. Amazon Prime in Singapore is usually available for S$2.99 per month.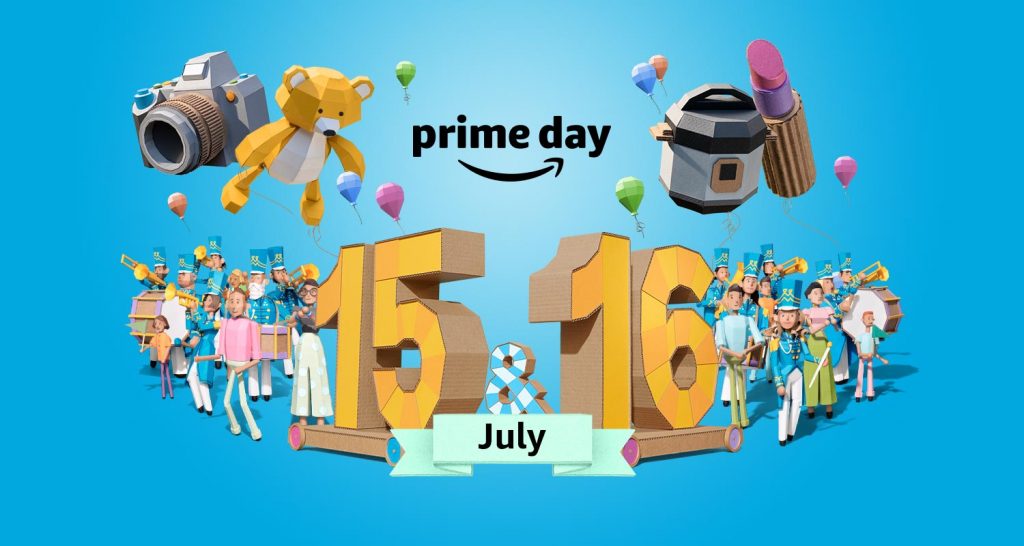 Get ready, as we pull back the curtain to reveal exclusive products, special performances and two full days of phenomenal deals this Prime Day. Our vision is that Prime Day should be the absolute best time to be a member – when you can enjoy shopping, savings, entertainment and some of the best deals Prime members have ever seen. Stay tuned as we reveal exclusive savings, as well as world-class entertainment and more, leading up to Prime Day on July 15 and 16.Jeff Wilke, Amazon CEO Worldwide Consumer
Benefits of Prime membership in Singapore
Free Two-Hour Delivery with Prime Now: Ultra-fast delivery on tens of thousands of items with free two-hour delivery on orders over S$40, between 10am and 10pm daily. Items range from groceries to electronics, including a variety of new brands added to Prime Now since the launch such as Sukin, OXO, KitchenAid, Bose, and Samsung.
Free International Shipping on millions of Items: Unlimited free shipping in 7 to 9 business days on orders over S$60 from the Prime Now App on millions of international products shipped from Amazon US. Products include a wide selection of top brands such as Stojo, Maxi-Cosi, Belkin and Razer.
Amazon Prime Video: Prime members can stream or download popular and award-winning Amazon Original series like The Grand Tour, Golden Globe winner The Marvelous Mrs. Maisel, the newest season of Goliath starring Golden Globe winner Billy Bob Thornton,Tom Clancy's Jack Ryan starring John Krasinski, as well as other popular movies and TV shows. Prime members can watch anytime, anywhere via the Prime Video app on Android and iOS phones and tablets, select Smart TVs, game consoles, Fire TV stick, Apple TV 3 or 4 or online at primevideo.com.
Twitch Prime: Prime members enjoy access to free in-game loot for some of the world's biggest games, like Call of Duty: Black Ops 4, League of Legends and The Division 2, a selection of free games and a free Twitch channel subscription every 30 days, and more.
The Deals Span Various Departments
On 15-16 July 2019, members will find Amazon's best days of deals across electronics (headphones, speakers), baby, kitchen and home appliances (stand mixers, vacuum cleaners, etc), toys, and even stock up on everyday essentials.  With more than one million deals around the world, this will also be the biggest Prime Day ever.
Boogie & Binge on Benefits
Enjoy Prime's entertainment benefits, Prime Video and Twitch Prime – and prepare for big surprises from some of the world's top talents.
Every Day Made Better with Prime
Amazon Prime is now available in 18 countries, including Singapore. Over 100 million paid members around the world enjoy the many benefits of Prime, including shopping and entertainment on Prime Day. Since 2005, Prime has been focused on making customers' lives better every day. Start a free trial of Amazon Prime at www.amazon.com.sg.