With the durian season approaching, Audio House is rewarding over 113,000 members with free durians! A total of 6 tons of durians have been purchased – all to be redeemed within 13 and 14 July 2019.
All members will be entitled to redeem 2 whole pieces of durians each, without any purchases required. This will be given on a first-come-first-served basis, while stocks last!
Members who spend above $100 during these two days will be entitled to an additional 2 whole durians each (total of 4 whole durians per member!).
Redemption Instructions
Step 0: (If you're not a member yet) Register as an Audio House member at this link: audiohouse.com.sg
Step 1: Register your interest (before 12pm on 12 July 2019) for the free durian redemption here: freedurian.kickoffpages.com
Step 2: Look out for a confirmation email with instructions to redeem your free durians at Audio House on 13 and 14 July.
*Terms & conditions are found below.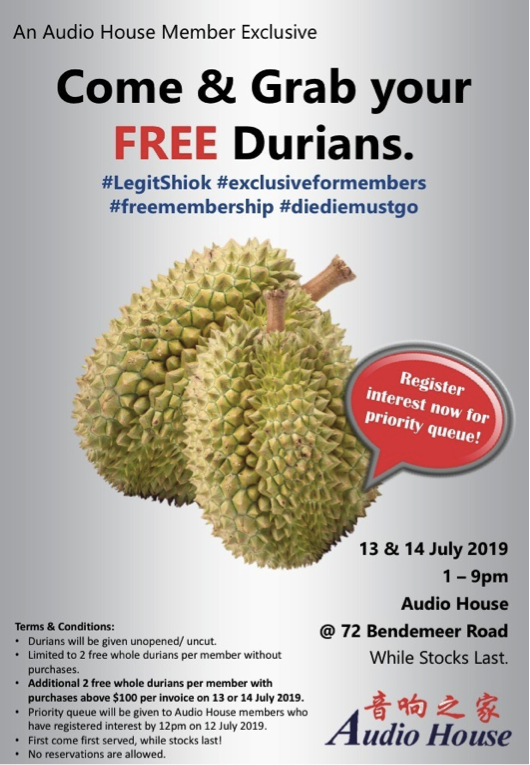 Audio House Durian Giveaway Campaign
Date: 13 and 14 July 2019
Time: 1pm to 9pm
Venue: Audio House (72 Bendemeer Road, Luzerne building, Singapore 339941) 5 mins walk from Boon Keng MRT
Terms & Conditions
Durians will be given unopened/uncut.
Limited to 2 free whole durians per member without purchases.
Additional 2 free whole durians per member with purchases above $100 per invoice on 13 or 14 July 2019.
Priority queue will be given to Audio House members who have registered interest by 12pm on 12 July 2019.
First come first served, while stocks last!
No reservations are allowed.