The Google Pixel 6 and Pixel 6 Pro are finally available in Singapore starting today. Google has done away with just a single mid-range device and instead, is releasing both the Pixel 6 and the Pixel 6 Pro – the latter being the starting of a slightly new naming convention. The Pixel 6 comes in at 6.4 inches while the Pixel 6 Pro comes in at 6.7 inches of screen real estate.
With speculations since last year, there are a handful of features that eventually made it to the final version, making the Pixel 6 series one of the most prominent Android devices. Just to name a few – enhanced with IP68 and Corning Gorilla Glass Victus where it is said to offer 2x better scratch resistance than the earlier Pixel 5.
Revolving around Google Tensor chips
The Pixel 6 is the first smartphone from Google to feature a proprietary Google Tensor chip, making both variants up to 80% faster than the Pixel 5, with snappier and smoother app launches accompanied with improved game responsiveness.
The added machine learning capabilities on this chip also means that users can now instantly translate messages and videos using Live Translate. With routine updates being rolled out every few months, users can come to expect more intuitive changes or features that might revolve around the chips.
Racing for the best Android camera experience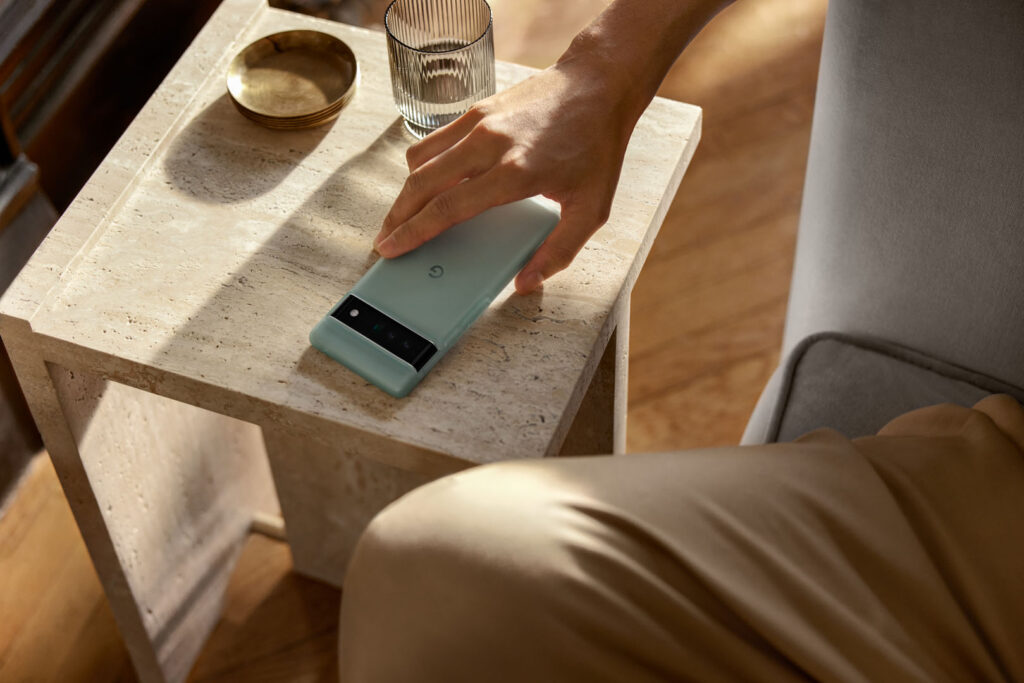 On the hardware level, the main sensor is now able to capture 150% more light. The Pixel 6 Pro even includes a telephoto lens with 4x optical zoom and a 94° ultrawide front camera to accommodate larger selfies.
Utilising the superior Tensor's image processing abilities delivered by the new chips, the camera supports Face Unblur, along with Magic Eraser to erase unwanted spots of a photo with the help of AI. The Motion Mode also captures action shots and beautiful long-exposures.
Security and timeliness at its core
Having the next-gen Titan M2 security chip will protect Pixel 6 users from threats such as data theft, privacy breaches and phishing in messaging apps. Users can restrict apps' access to mics or cameras, and have the option to turn them off. As routined updates roll out every few months, users can expect to receive the latest features that might be found on newer hardware.
With 5 years of security updates, the Pixel 6 series will be at the forefront of receiving patches that defends its users from data fraud and theft. Apart from data safety, Google strives to improve personal safety with the Personal Safety app which reaches your emergency contacts when an accident is detected or whenever needed.
Half charge in 30 minutes, lasting all day at max
Through adaptive learning on your favourite apps, the Pixel 6's battery can last beyond 24 hours even on 5G. Bringing this approach one step further, Extreme Battery Saver will only keep essential apps running when activated – lengthening the battery endurance up to 48 hours.
Users can also achieve up to 50% charge in around 30 minutes, with a compatible 30W USB-C charger (sold separately).
Availability and Pricing
The Google Pixel 6 and 6 Pro is now available in Singapore for S$999 and S$1,299 respectively and can be purchased from the online Google Store.
 
Colours of Device
Colours of Cases
Storage (GB)
Retail Price (SGD)
Pixel 6
Stormy Black

Sorta Seafoam

Stormy Sky

Light Rain

Cotton Candy

128
S$999
Pixel 6 Pro
Stormy Black

Cloudy White

Stormy Sky

Soft Sage

Light Frost

Golden Glow

128
S$1,299