QR code (short for Quick Response code), is a convenient way to store and share data just like a barcode. For example, websites can be embedded into a QR code which can be displayed on screens or on printed materials. During the recent COVID-19 pandemic, it has even gained popularity to quickly check in and out of a venue for the purpose of contact tracing and safe distancing.
Alas, it can be a hassle to scan QR codes found on computer screens directly – especially if you want to open the link on your computer without having to use a smartphone camera. As remote working and presentations are said to continue, having this feature on our computers can bring us a huge convenience. In this article, we discuss the ways you can go about scanning QR codes found on your computer without using your phone.
Method 1: Take a screenshot and decode it separately
Taking a selective screenshot on macOS simply requires you to press Command + Shift + 4 on your keyboard. Thankfully, Windows 10 users are also blessed with a similar screen capture function which can be executed by pressing Windows + Shift + S. For Windows users, you will have to save the screenshot as a file after it is captured to your clipboard.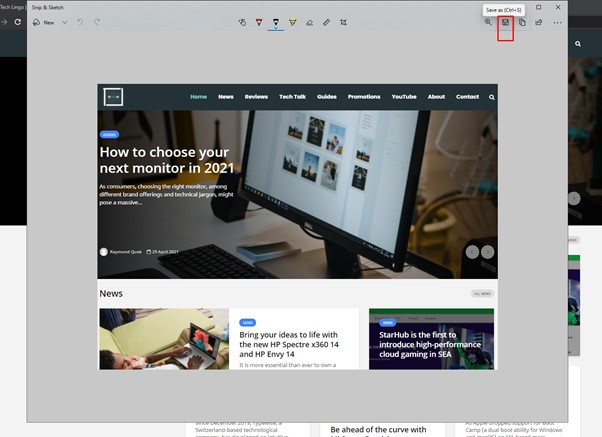 QR code decoders are available on standalone websites, which will help read or identify the contents of the QR code without installing a separate application on your computer. A popular online decoder that we have found is ZXing Decoder Online that contains a simplified drag-and-drop interface. After clicking submit, you will obtain the enclosed information, along with other miscellaneous information.
Method 2: Use a Google Chrome browser extension
If you are using Google Chrome (like most of us), a QR code reader is available simply by installing an extension like QR Code Reader. From our tests, this QR Code Reader extension does a near-perfect job of scanning on-screen QR codes, especially when the webpage is magnified towards the QR code.
Activating the scanner is also effortless – either press Control (Command for macOS) + Shift + S on your keyboard or click the shortcut located on the Chrome Toolbar.
However, it is worth noting that the add-on will not work when multiple codes are found on the screen. In such scenarios, using method 1 will be the full-proof solution (albeit more time-consuming).
Looking to simplify your computing experience further?
Scanning QR codes on-screen are just one of the many ways you can improve your computer's simplicity. Read this article to find out how you can unlock amazing shortcuts on your Windows computer.