As consumers, choosing the right monitor, among different brand offerings and technical jargon, might pose a massive challenge. In this article, we analyse each monitor type by breaking down what to look for and provide suitable recommendations according to your needs.
Display technology
The display market can be divided into three broad categories: IPS (In-Plane Switching), VA (Vertical Alignment), and TN (Twisted Nematic), each referring to its display technology. IPS stands out as the most vibrant display with the widest viewing angles, followed by VA and finally, TN panels.
The high contrast ratio on IPS and selected VA panels are preferred by graphic designers and everyday multimedia consumers who value colour accuracy and consistency in every angle. TN panels often have a washed-out colour profile which worsens when looking off-centre, but is often associated with the highest refresh rate.
OLED is another new technology that has emerged recently in the monitor industry to compete with the mentioned display technologies, which are essentially LCDs (Liquid Crystal Display). Containing pixels that can be individually powered on or off, OLED displays provide more vivid colours with high contrast ratio and deeper blacks when compared with the former, which works with an illuminated backlight.
Refresh rate
Refresh rate, often measured in Hz, determines the smoothness of motion displayed on the screen, and naturally, gamers or animators will favour a display with higher refresh rates. TN panels feature the highest refresh rate, peaking at 240Hz, while IPS panels are the opposite. This explains the popularity of TN monitors, especially in the e-sports industry, despite the unsatisfactory colour accuracy.
VA panels strive to balance its two main competitors, with sufficiently vibrant colours and faster refresh rates than the standard IPS panel. Being in the middle ground makes VA monitors well-liked by some professional gamers and gaming enthusiasts.
Screen resolution
Resolution markers such as FHD (1080P), 2K (1440P), 4K (2160P), and even 8K (4320P) do not tell the whole story of the sharpness of your monitor. Viewing distance from your monitor and the size of the screen will have to be accounted for to give an accurate result. Visual Acuity Distance (VAD) refers to the distance away from the monitor where the pixels on the screen are no longer noticeable.
Taking a 24-inch 1080P FHD monitor as an example: The VAD is deemed to be around 83cm. Meanwhile, the VAD of a 32-inch monitor in the exact resolution is about 127cm, exceeding the comfortable average viewing distance of 75 to 80cm of an average user at a desk. Users who value a crisp display would have to upgrade to a higher resolution, especially for bigger displays or users who view in a closer distance.
Height, angle and orientation adjustment
There are commonly two ways to adjust your monitor – through built-in stands or a separate VESA mounting arm. For the former, entry-level monitors may not support any form of adjustments. Some allow you to make extensive adjustments such as tilt angle, height, and rotation adjustments, which can be helpful when looking at portrait-oriented content.
The latter option is available on selected displays with mounting brackets in place. VESA mounts offer the broadest set of adjustments, such as swivel adjustments, on top of a built-in stand. The versatility makes it an excellent option for changing between standing and sitting positions. They also come in different mounting methods (wall mount, table mount, or even ceiling mount) to suit any usage scenario possible.
Multi-device connection and ports
The most common form of connection nowadays is HDMI, which is present on multiple devices, from computers to projectors and television sets. HDMI can carry high-resolution audio and video between devices.
DisplayPort is another popular connection standard that is developed specifically for monitors. The increased bandwidth allows for a higher display refresh rate on top of HDMI's high resolution. Users of multi-display setups can fully utilise the added feature of daisy-chaining multiple displays, which cannot be done using HDMI.
With the unified USB-C standard gaining popularity on newer laptops, it is now possible for your monitor to charge your laptop while handling everything else – all through a single cable. Such monitors would be great for connecting your peripherals without cluttering your desk with wires.
Smart capabilities
Samsung has started the smart monitor trend with its S6 and S8 monitors release. Not only are they able to wirelessly connect to your computer through WiFi, selected models have their proprietary interface to be used independently without being connected to a host device.
For users transitioning between working from the office and home, smart monitors like these could save you the hassle of carrying your computer between the two destinations. They can even double up as your children's entertainment device when it is not being used.
Price
Monitors with TN panels should be the most favoured if you are on a tight budget, followed by VA, IPS, and OLED monitors. Fortunately, IPS monitors are getting increasingly affordable, and it is common to see monitors with IPS displays costing as low as under S$150. These monitors are enough to get the job done, with some offering above-average refresh rates of 75Hz to boost your user experience.
Even if you fancy having an OLED monitor, options may still be limited at the time of this writing. Most of the expensive monitors which claim to be reference-grade are still using IPS-LCD panels.
Still feeling spoilt for options?
To make choosing your monitor easier, we have split the user profiles into the following:
Office and home users (nothing fancy, gets the job done)
Entertainment users (something a tad better)
Light gamers (smooth and fancy graphical performance)
Design professionals (colour space (i.e. Adobe SRGB))
Office and Home
1080P IPS 24-inch display
Up to 75Hz refresh rate
Tilt adjustment
HDMI Interface
Compatible with VESA mount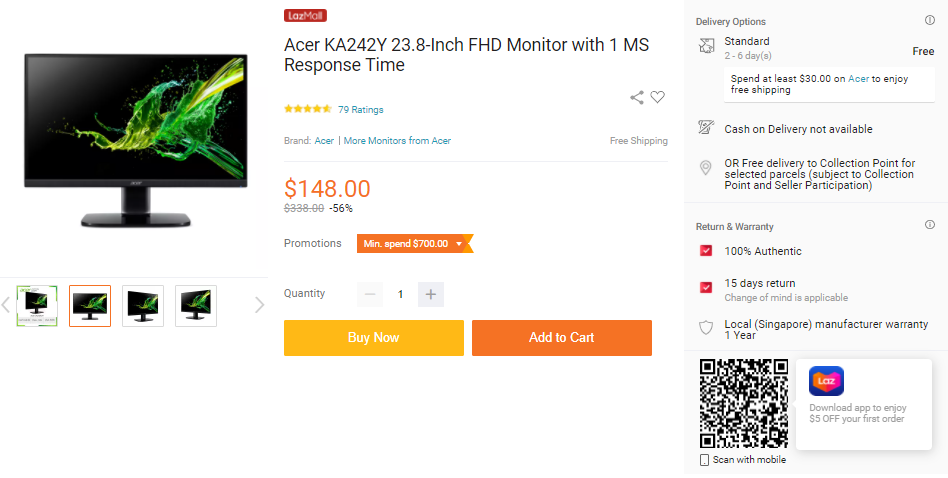 Learn more: Acer KA242Y Monitor
1080P IPS 24-inch display
Up to 75hz refresh rate
Tilt adjustment
HDMI Interface
Compatible with VESA mount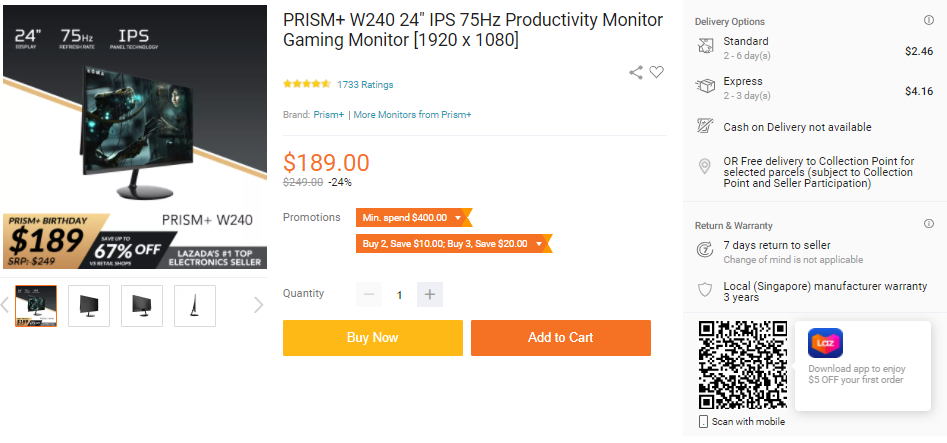 Learn more: Prism+ W240 IPS Monitor
Entertainment
QHD (1440P) IPS 24-inch display
Up to 75Hz refresh rate
Tilt adjustment
HDMI and DisplayPort Interface
Compatible with VESA mount
Learn more: Prism+ W240 Pro IPS Monitor
QHD (1440P) IPS 24-inch display
Up to 60Hz refresh rate
Tilt, swivel, pivot, and height adjustment
HDMI and DisplayPort Interface
Compatible with VESA mount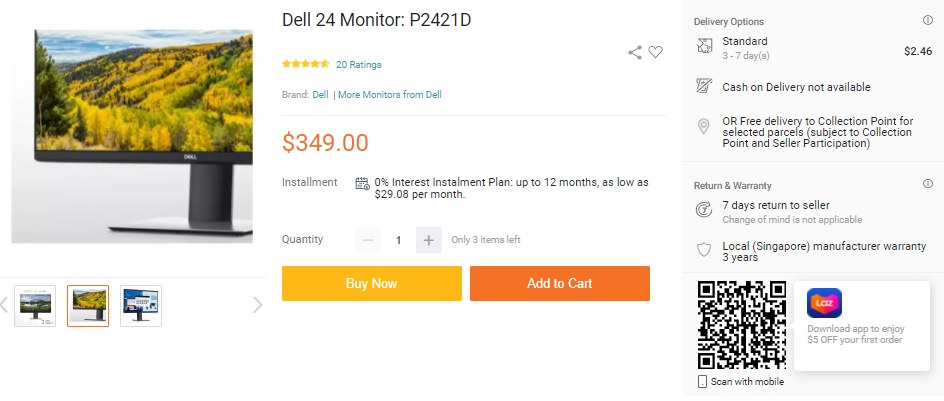 Learn more: Dell P2421D Monitor
Light Gamers
1080P IPS 24-inch display
Up to 165Hz refresh rate
Tilt adjustment
HDMI and DisplayPort Interface
Compatible with VESA mount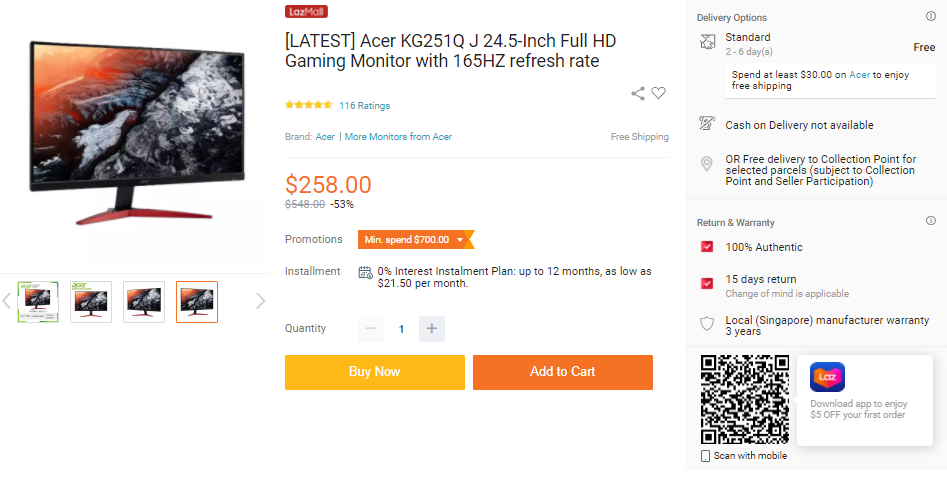 Learn more: Acer KG251Q J Full HD Gaming Monitor
QHD (1440P) IPS 27-inch display
Up to 165Hz refresh rate
Tilt adjustment
HDMI and DisplayPort Interface
Compatible with VESA mount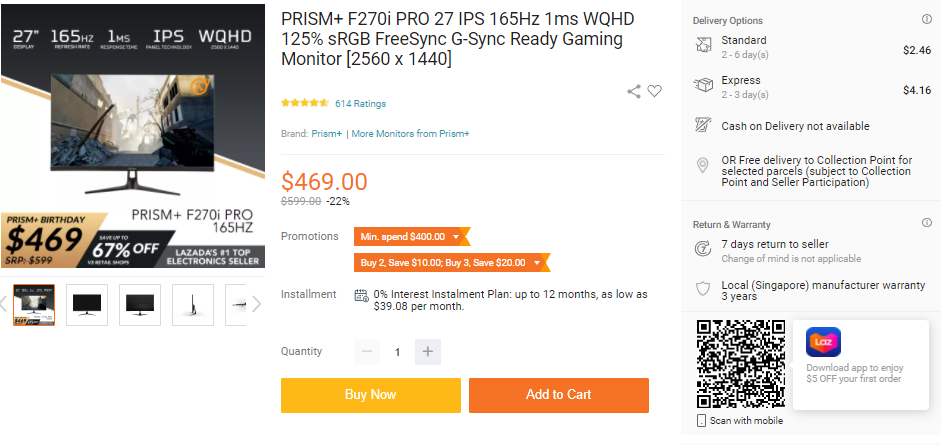 Learn more: PRISM+ F270i PRO Monitor
Design Professionals
UHD (4K) IPS 27-inch display
Up to 60Hz refresh rate
Tilt adjustment
HDMI and DisplayPort Interface
Compatible with VESA mount
Colour calibrated with 98% sRGB and HDR10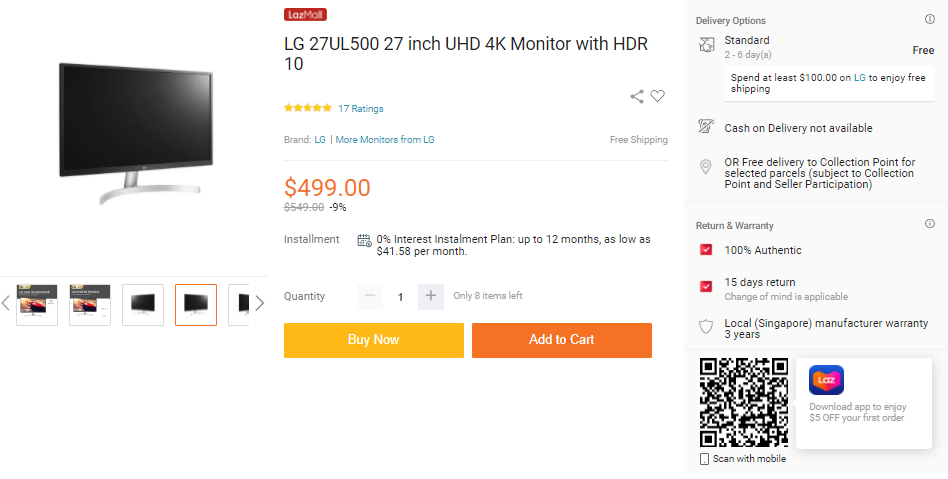 Learn more: LG 27UL500 UHD 4K Monitor
UHD(4K) IPS 28-inch display
Up to 60Hz refresh rate
Tilt adjustment
HDMI and DisplayPort Interface
Compatible with VESA mount
Colour calibrated with 115% sRGB and HDR10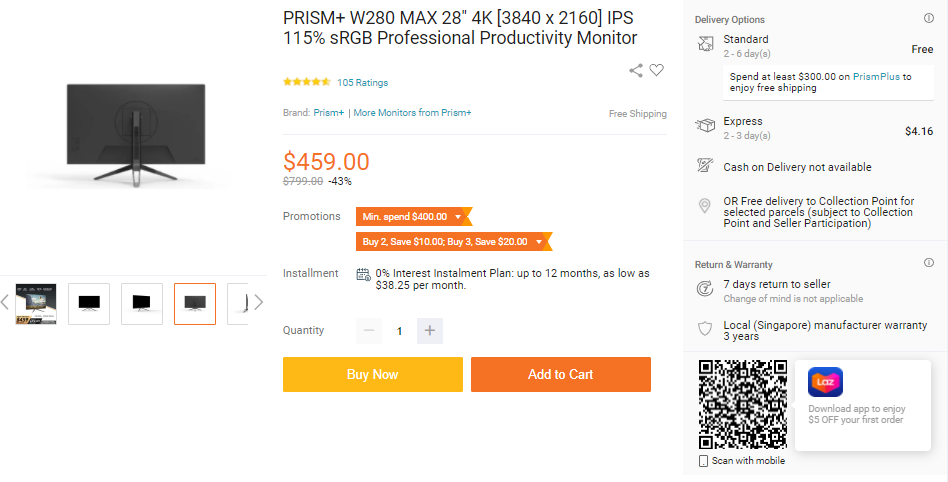 Learn more: PRISM+ W280 MAX 4K sRGB Professional Monitor
Intensive Gamers
WQHD(2K) IPS 27-inch display
Up to 180Hz refresh rate
Tilt, swivel, pivot, and height adjustment
HDMI and DisplayPort Interface
Colour calibrated with 120% sRGB