Our modern-day smartwatches don't have to feature "squarey futuristic designs". In fact, it could come in a form factor we are all familiar with – a round clock face.
As such, I implore you to have a look at the smartwatches from Fossil. These smartwatches can be a fashion statement and I personally admire the fashionable looks of them.
Their latest line of smartwatches consists of two main models: Gen 5 and Gen 5E
The Gen 5 features an onboard GPS sensor and a rotating crown on the right side of the watch. On the other hand, the Gen 5E is a simpler version that is also more affordable, mainly because it does not come with the earlier-mentioned features.
In this review, we would be focusing on the Fossil Gen 5E. Specifically, the Fossil Gen 5E Smartwatch (FTW4056) in black with a stainless steel strap.
It is important to note that the Gen 5E comes in 2 sizes: 42mm and 44mm
Both sizes are similar in terms of specifications. Even their screen sizes are identically at 1.19 inches. The main differences are only the case size and strap compatibility.
A quick rundown
Here's a quick specification overview of the Fossil Gen 5E Smartwatch:
Operating System
Powered with Wear OS by Google
Compatibility
Use the Google WearOS app

Android™ 6.0+ (excluding Go edition)

iOS 12.0+

Processor
Qualcomm® Snapdragon™ Wear 3100
Memory
1GB RAM

4GB Storage

Display
1.19″ AMOLED

390 x 390

328ppi

Sensors
Accelerometer, Gyroscope, Off-body IR, PPG Heart Rate
Battery
24 Hr + multi day extended mode

Charging: 50 minutes to reach 80%

Water Resistance
3 ATM
*NFC Payment is currently not available in Singapore
The Store
Our review starts from the moment we stepped into the Fossil store in Singapore. This is because I had to get the stainless steel strap adjusted to my wrist size. It took me about 3 tries to find the perfect fit but the staff were very friendly in helping me out.
Build
The watch is built around a stylish stainless steel case with a top ring. The material definitely feels premium to the touch which is something I really like.
The stainless steel strap can also be swapped out for other materials such as steel mesh, silicone or leather that can be bought from the Fossil store.
There is a single button on the right side of the watch that acts as your home or app drawer button depending on which screen you are currently on.
Display
The watch face screen measures a 1.19 inch AMOLED display with a resolution of 328 x 328, equating to a 328 PPI.
The screen displays text and graphics clearly and colours are vibrant. Navigating across screens, we also find that animations look pretty smooth and acceptable.
There is also an "Always-on screen" mode that is helpful when you want the watch to always show the watch face without a backlight. This means you would be able to view the watch face under some ambient lighting, not in the dark.
Smartwatch Experience
Tethered GPS
To be honest, the Fossil Gen 5E is not considered cheap or affordable. As such, we were rather disappointed when we realised that this model lacked an onboard GPS. Fossil Gen 5 on the other hand, has an onboard GPS and is priced slightly higher.
This means if you are looking for a smartwatch to track your outdoor exercise route, you must have an active connection to your smartphone throughout the workout. The watch will then use your smartphone's GPS sensor to detect your location.
In our testing, the smartphone GPS integration works flawlessly. If you are someone who already brings their phone along during their workout, this should not be a drawback for you.
Health & Wellness Essentials
The good thing about the Fossil smartwatches is that is runs on Wear OS by Google™. That means a lot of the Google Fit functionality comes with the smartwatch. This includes Fit Breathe, Fit Goals, Fit Workouts and Fit Heart Rate. Furthermore, you are able to choose from a wide variety of apps from the Google Play Store that are catered to Wear OS.
Officially, there are many types of activities that can be tracked on the Fossil Gen 5E. This includes walking, running, biking, treadmill running, stationary biking, elliptical, strength training, high-intensity interval training, yoga and many others.
We mainly used the Fossil Gen 5E for outdoor running to track our overall route and time. Since the smartwatch required us to tether our smartphone for GPS, the route tracking was pretty accurate and reliable. While running, you could also toggle between various metrics such as heart rate, calories, elapsed time and distance.
Hands-free phone calls
Something great about the Fossil Gen 5E is the included speaker and microphone. With that, you can use it to answer phone calls handsfree whenever tethered with your smartphone. That is, your smartphone has to be nearby in order to make that call.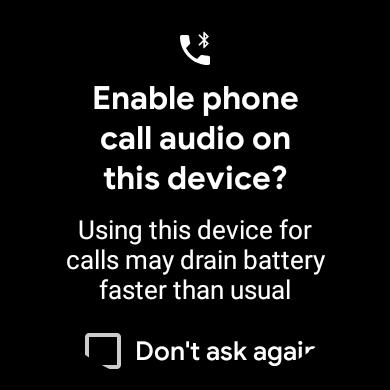 Enabling this feature would also cause the smartwatch to consume more power. This is something that the UI would warn you about before enabling.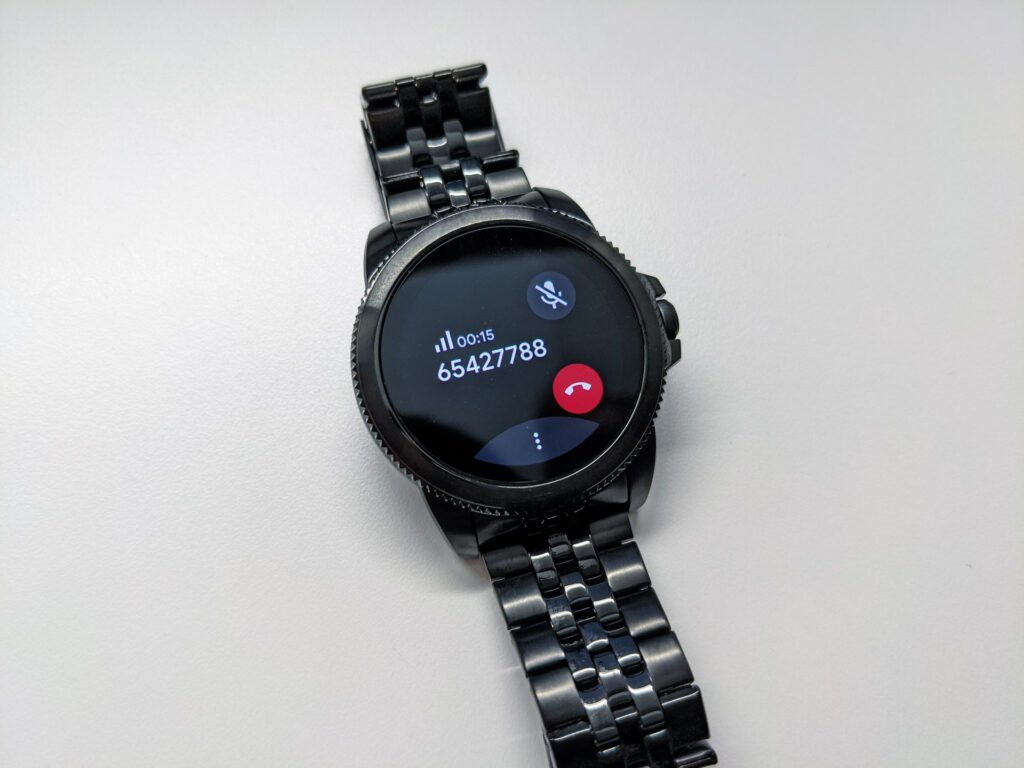 You can also make phone calls directly from the Fossil Gen 5E using the Phone app which is pretty neat.
Google Assistant
With the onboard microphone, you would be able to converse with the Google Assistant. There isn't the "Ok Google" hotword (trigger phrase) but you can activate it by pressing and holding the right button.
Another thing to note is that the smartwatch would only respond on-screen (with text). that is, the Google assistant would not respond verbally through the smartwatch speaker.
NFC Payment
At the time of this writing, Fossil has indicated that both the Gen 5 and Gen 5E smartwatches have no support for Google Pay in Singapore. We did try asking for an estimated timeline for such a feature to rollout but were unable to get further details on it.
Water Resistance
You would be glad to know that there is an official water-resistant rating of up to 3 ATM. This roughly equates to being able to survive up to 30 meters underwater. It should be suitable for everyday use by being splash or rain resistant. Nevertheless, it is good to point out that this is not an official diving watch.
Many other features
The Fossil Gen 5E is indeed packed with many other features such as Spotify controls, notification support and audible alerts. It's going to be rather challenging for us to list down a full list of features.
Wear OS App (by Google) Experience
Let's shift our focus to the Wear OS App Watch experience. Simply download the Wear OS app from the Google Play Store on your smartphone and you would be able to fully customise your smartwatch settings from your phone.
Such customisations include your preferred clock face and the selection of tiles. Tiles refer to the additional screens you can add when you swipe from the right side of the home screen. These provide you with shortcuts or quick access to information that is important to you.
The app is also there to provide a pretty detailed summary of all data you have collected while wearing the smartwatch. We were able to browse through a summary of our previous runs which provided a graph of your heart rate and pace along with other metrics measured throughout the run.
Battery and Charging
The battery life on the Fossil Gen 5E is pretty decent for such a feature-packed smartwatch. Sporting a 300mAh battery capacity, it is officially rated to last up to 24 hours.
This can be extended further by activating the various smart battery modes that are available:
Daily: About 1-day usage (intended for charging nightly)
Extended mode: About 2-3 days (intended for charging every few days)
Time-only mode: Much longer (can't tell battery percentage)
Custom: Fine grain control to enable/disable certain features
In our testing, we were able to easily achieve a full day of usage in daily mode. Of course, you have to ensure that you charge it nightly so that you can use it again the next day.
Turning off features like always-on display and tilt-to-wake gestures (use power button to wake screen) can help to prolong battery life.
When the battery level fell below 25%, we did try activating time-only mode. This provided us with a few extra hours where it will only display the time. However, it does not show you the remaining battery percentage, making it difficult for us to estimate how long it will last. You could also choose to activate time-only mode when the smartwatch is fully charged to give you an extra few days of usage.
Charging the smartwatch is easily done using the included magnetic charger to USB-A cable. It snaps to rings on the back of the watch case and is able to spin 360 degrees for ease of use.
The smartwatch also offers quick charging – taking just 50 minutes to reach 80%.
Availability and Pricing
You can now get hold of the Fossil Gen 5E for S$449 in Singapore. Simply head to the online Fossil store or any of their retail stores across the island. You may also visit their official Shopee and Lazada stores online.
Learn more about the Fossil Gen 5E
At the time of writing, there are 6 physical Fossil retail stores you can visit: https://www.fossil-asia.com/en/sg/store-locator.html