Looking to spice up your reading experience? We were recently given a chance to try out 3 different models of eReaders from Rakuten Kobo.
These eReaders are dedicated reading devices and are unlike the modern-day tablet or smartphone screens that we are used to. They make use E Ink displays, closely replicating the matte and natural look of books or newspapers; without that awful glare.
Readers would also be happy to know that the Kobo eReaders support OverDrive. This allows users to borrow eBooks from any of the National Library Board (NLB) libraries all around Singapore.
In this review, we hope to help you discover if investing in one of these eReaders is the right choice for you!
The 3 Models of Rakuten Kobo eReaders
Currently, there are three different models that are being offered: Kobo Clara HD (SGD199.90), Kobo Libra H2O (SGD279.90) and Kobo Forma (SGD399.90).
The biggest difference between them is the size of the screen, with the Kobo Forma being the biggest at 8-inches while the Kobo Clara HD comes in at 6-inches.
The Kobo Libra H2O is the latest model to be introduced by the company and it even features an IPX8 rating making it waterproof. The Kobo Forma features this rating as well.
A quick rundown
Kobo Clara HD
Kobo Libra H2O (NEW)
Kobo Forma
Price
S$199.90
S$279.90
S$399.90
Display
6-inch
7-inch
8-inch
Carta E Ink HD Touchscreen
Light
ComfortLight PRO: adjustable brightness,
auto-adjusting colour temperature
Weight
166g
192g
197g
Storage
8 GB (up to 6,000 eBooks)
8 GB (up to 6,000 eBooks)
8 GB, 32 GB
Battery
1 week or more
1200 mAh (1 week or more)
1200 mAh (1 week or more)
Waterproof
No
IPX8 rating for up to 60 minutes
in up to 2 metres of water
IPX8 rating for up to 60 minutes
in up to 2 metres of water
The full list of specifications can be found here: https://sg.kobobooks.com/collections/ereaders
Build Quality & Design
Our first impressions with the devices were rather pleasant. We found it to be very lightweight and liked that all three models feature a smooth matte finishing.
The back surface is also perforated to provided readers with a steady grip – even if you are holding it with one hand.
Battery Life
On a single charge, we were able to last more than a week of casual reading. But, your overall mileage might vary depending on your usage. Using a brighter screen option or constantly browsing through the Kobo online store with Wi-Fi will probably drain your device battery faster than just reading (more details on the backlit display in the "Reading" section).
Charging the Kobo eReaders are also really easy. Just make use of the included Micro USB charging cable and plug them to your wall charger or power bank. That way, you'll never have to worry about running out of juice.
Page Buttons
Both the Kobo Libra H2O and Kobo Forma features a set of tactile page buttons. These are two buttons located on the thicker bezel of the eReader – which is also the part where you hold it.
These two buttons allow you to navigate easily to the next or previous page. They are also customisable in the settings menu if you would like to swap them.
Unfortunately, the Kobo Clara HD does not feature these page buttons.
Power Button
A single press allows you to sleep or wake the device while a long-hold press allows you to power it on or off.
We are bringing this up because funnily enough, the Kobo Forma has an underwhelming power button. It seems quite rigid to the touch and is definitely not tactile – which is quite unsatisfactory. The other two models are perfectly fine.
Our Overall Experience
The Learning Curve
The overall user interface is designed rather well. It is simple enough and we believe it would take an average user just a few days to fully explore and get used to it.
Wi-Fi
One thing to note is that the Kobo eReaders only support the Wi-Fi networks that are on the 2.4GHz channel only. Not a problem as this is the most commonly used Wi-Fi band around the world.
We have also tried connecting to those pesky public Wi-Fi hotspots that require signing in and it all works as expected.
The Kobo Store
The Kobo Store is where you can search for books to purchase. You can always open up a free preview first so that you can browse through the first 30 or so pages before deciding to buy that book.
Do make sure that you are connected to the internet first for searching to work. After purchasing/previewing the books that you want, it automatically gets downloaded into your eReader and you can continue to read them offline.
However, we did have some trouble when trying to search for free books on the eReader. It was only possible by using a computer and visiting the Kobo website to get them.
Access to eBooks from the National Library Board (NLB)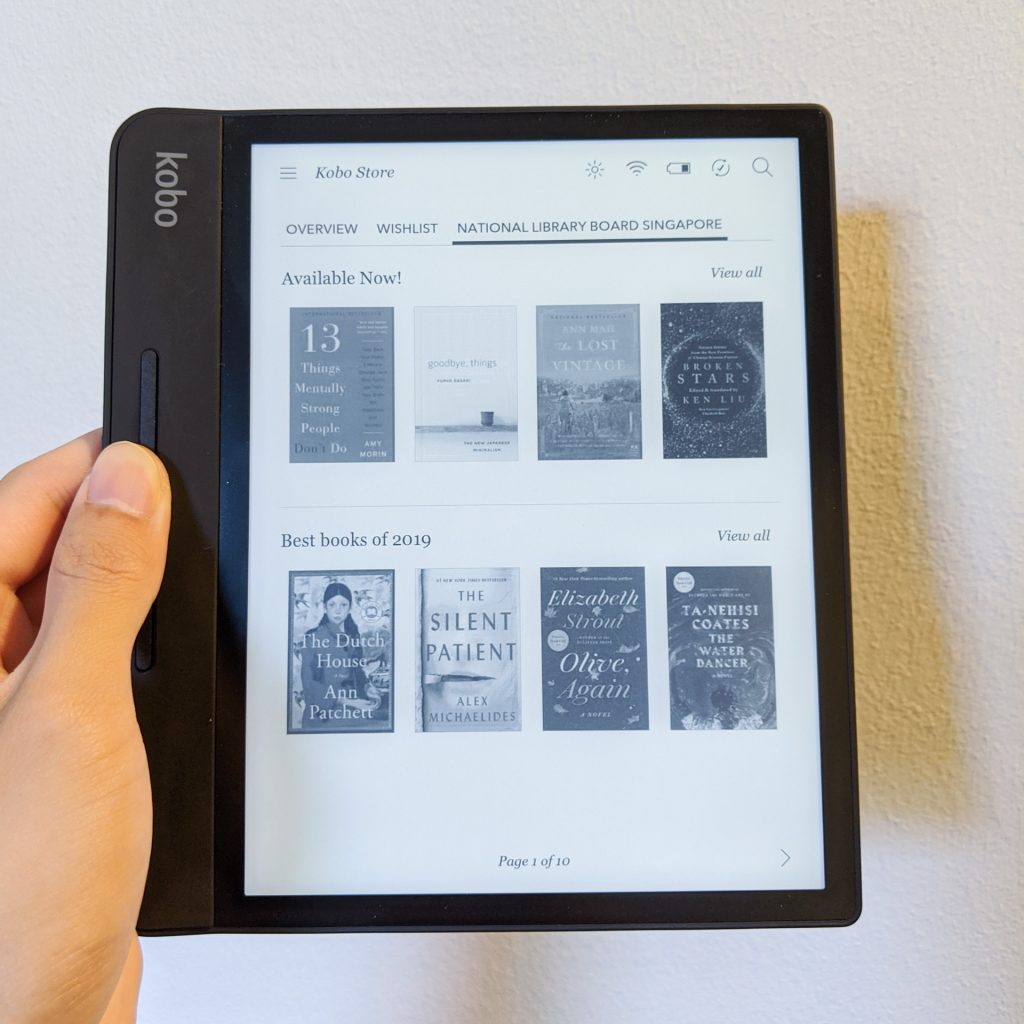 With OverDrive, readers can borrow eBooks from the National Library Board (NLB) libraries. You would first need to create an OverDrive account and link it to your myLibrary account. If you haven't got one, creating an account is free.
The OverDrive account allows you to synchronise your progress through different titles and bookmarks across multiple devices. This means you can sign in to various devices and still have access to all the books that you have borrowed.
Borrowing an eBook from the NLB library entitles you to a 3-week loan period. It is also possible that all digital copies of a book might be loaned out, so you would have to "Place a Hold" to join the waiting list.
Reading
The reading experience on a dedicated eReader is very different from the usual LCD displays we are used to on tablets/smartphones. The E Ink is something like the writing toy most of us used as a kid. Writing with a magnetic pen and then easily erasing it with a swipe of the lever. The E Ink display employs something similar to that; just with thousands if not millions higher in resolution so you can read the text easily.
It's definitely more comfortable and less straining to the eyes as compared to an LCD screen. The Kobo eReaders are also backlit which helps especially when reading in dark environments. The brightness and colour balance of this backlit display is also adjustable simply by tapping on the brightness icon.
Some users might find the refreshing of the display rather jarring at times. This is again because of the E Ink display technology that is being used to "reset each pixel". We believe it is something that users would eventually get used to after using an eReader for some time. After all, the advantage of these E Ink displays still outweigh the bright and glaring LCD screens of our smartphones.
The eReader can also detect the current orientation of the device and automatically rotates the display just like your smartphone. It can also be disabled (fixed in one orientation) if you prefer.
Unfortunately, an E Ink display does not do justice to pictures since it is just in black and white. Some coloured images may appear too contrasty at times too.
Who is it for?
Access to all your books on-the-go
If you are someone who wants to bring multiple books with you as you travel without having to carry all that extra weight, the Kobo eReaders should be a perfect fit for you!
Kobo eReaders support up to 14 file formats natively: EPUB, EPUB3, PDF, MOBI, JPEG, GIF, PNG, BMP, TIFF, TXT, HTML, RTF, CBZ, CBR. This means you can plug the device to your computer and transfer any existing eBooks that you already own.
Limited form factor
Some readers may strongly prefer the aesthetics of flipping physical pages – something that eReaders are not capable of providing. But what you get is the added convenience and easy access to a whole multitude of books you could never imagine, just in the palm of your hand.
A pricey investment
The cheapest eReader, the Kobo Clara HD, comes in at S$199.90. It may be a reasonable investment for some who wants to make the shift.
Some other alternatives such as the Amazon Kindle starts at US$89.90 (est. S$121.00) which might be slightly cheaper at first glance. However, it isn't so clear whether borrowing eBooks from NLB libraries in Singapore is possible (yet). One thing's for sure: the Kobo line of eReaders are fully supported at this time.
Availability
The range of eReaders from Rakuten Kobo is now available in Singapore from kobo.com and from retailers such as Challenger, Courts and others.
Follow us on Facebook or Instagram to stay up to date with the latest technology news and reviews from Singapore.