With Samsung dominating the high-end display market for a while, it is of no surprise that they are able to deliver industry-grade products for keen customers. In this release, the South Korean based firm releases three major monitor models across two series, the S6 (S65UA and S60UA) and S8 monitors (S80UA), with the former series aimed at a basic, seamless setup and the latter for a higher-end setup.
Sharp and colourful like always
In this release, all monitors come standard with HDR10, to deliver life-like picture quality with more than 1 billion colours. For avid creative professionals needing the extra colour space, the S8 series monitors can deliver a 99% sRGB colour gamut for added colour accuracy when making impressive edits.
Caring for your eyes
The new monitors are the first to receive the recognition of Intelligent Eye Care certified from TÜV Rheinland. Additionally, every monitor is equipped with Adaptive Picture eye care technology, Flicker Free mode and a special eye-saver mode. As we spend increasingly more time in front of the computer, the features found in these displays can reduce eye strain by reducing blue light emissions whilst adjusting screen brightness and colour temperature according to the room conditions.
Our new high-resolution monitor line-up not only packs innovation to deliver visual details for higher quality viewing experiences, it features a streamlined and eco-conscious design to complement any desk set-up. As we spend more time with screens, our latest monitor range also takes into consideration users' eye health.Jacus Long, Director & Head, Display and Brand Memory Business, Samsung Electronics Singapore.
An All-In-One experience
Your goals of having a fancy minimalist computer can be easily achieved with the new monitors. With a stunning 10Gbps fast data transmission speed through its USB-C port and up to 90W of high power supply, you can easily mount high power peripherals such as portable hard drives at the back of the monitor – out of sight from your front view.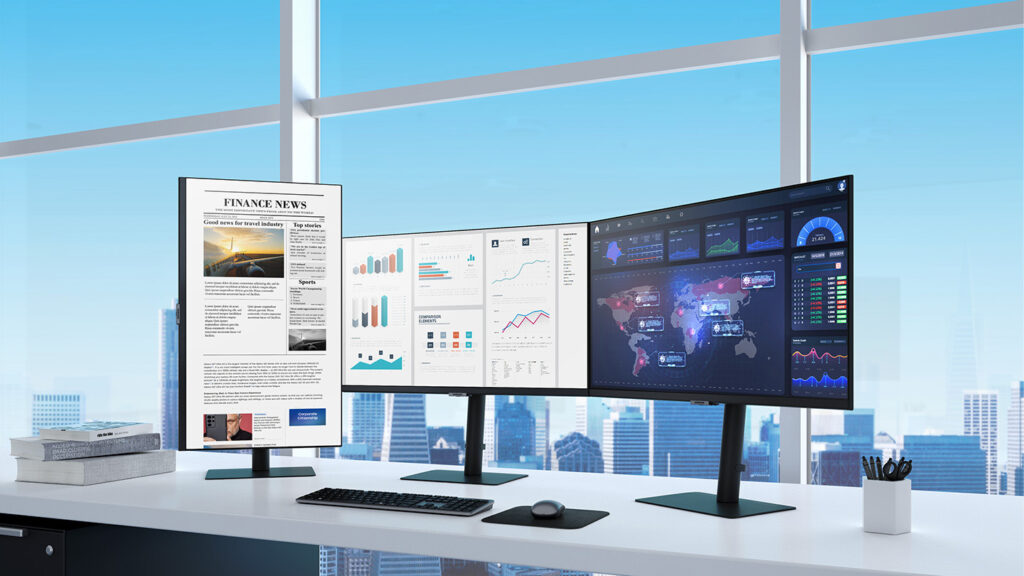 For extreme multitaskers who are not satisfied with a widescreen such as the S65UA, you can take it a step further to create multiple display setups with minimal distractions thanks to the narrow borders found on all displays. The S60UA in particular supports Daisy Chain Technology which passes down the signal from one display to another without connecting it to the main computer.
Maximum productivity, indoors and outdoors
We would often associate mobile working with cloud services or frequent backups using physical storage media. With the S60UA monitor, a LAN connection can be established between your computer and monitor. Utilising the Wake On Lan (WOL) functionality, your entire workstation can be powered on remotely from another device.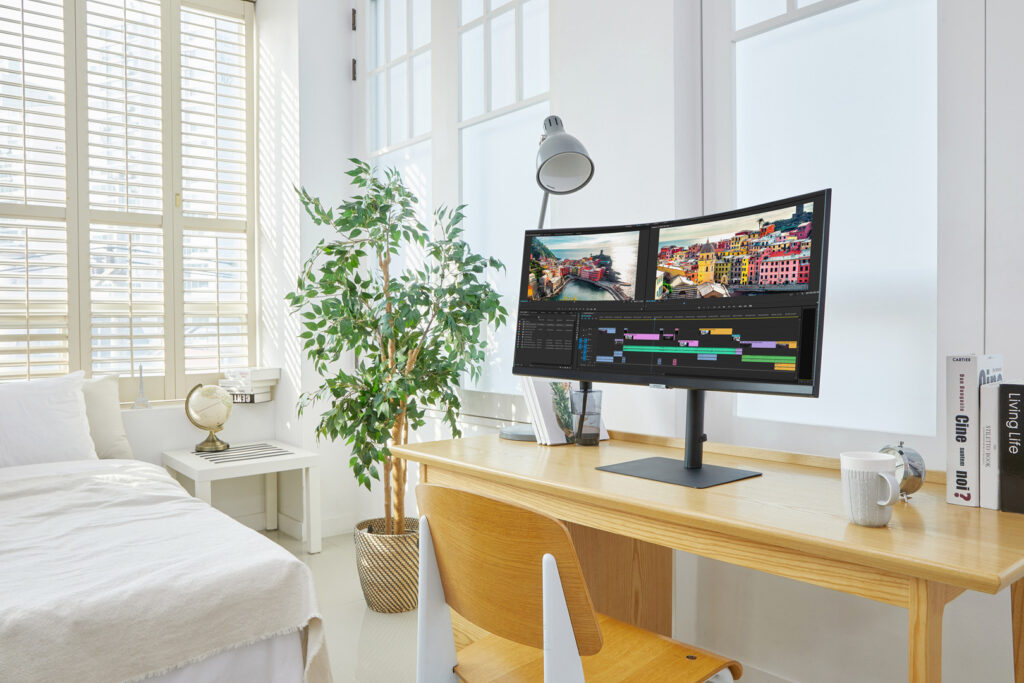 For maximum productivity on a single monitor, the S65UA comes with a display with 1000R curvature, combined with a 21:9 ultrawide aspect ratio for easy multitasking. With added software features such as PBP (Picture By Picture) and PIP (Picture In Picture) from Samsung, enabling you to multitask effortlessly and efficiently.
Ergonomics for anyone
Regardless of your working posture, the ergonomic features will come in handy in a way or two. The newly released monitors are now compatible with the VESA mount and come with a Height Adjustable Stand (HAS) to provide a variety of swivel and pivot control points, on top of the tilt function that mid-range monitors come with.
Availability and Pricing
The S60UA is available in 24, 27 or 32 inches, which will be available in upcoming May. Meanwhile, S65UA is available in 34 inches and the S80UA comes in 27 inches, which will be available in July this year. Samsung has yet to announce the prices for the models mentioned.