Bearing the PRO title, it should be interpreted that the Google Pixel Buds Pro would encapsulate a plethora of features compared to its now ageing siblings (and competitors). Indeed, this launch is said to feature societal expected features such as Active Noise Cancellation (ANC), alongside specialised features such as voice accelerometer and Volume EQ.
ANC with alleviated ear pressure
A common pain point (literally) of other wireless earbuds with stronger noise cancelling effects, the Silent Seal™ included in this earbud makes a great attempt to alleviate that issue – most noticeable for the first 5 minutes of using this device. The device did not feel intrusive, falling closely behind the pea-shooter earbud design that many manufacturers adopt.
Whilst still containing slightly more pressure than the Airpods Pro – an assumed benchmark, the noise cancelling effect excelled in cutting out low pitch humming sounds, together with a tinge of higher pitch sounds such as interpersonal conversations.
Adopting longer battery life trends
As more earbuds hover around 7 hours of listening time with ANC activated, Google seems to have conformed to this trend by boasting 7 hours of consecutive listening time with ANC, and up to 11 hours with it disengaged.
With 5 hours being the longest duration that we managed to keep the earbuds in a single session, we see the battery life deplete to 35% (ANC on, volume kept at 7-9/15). Judging from the test, Google will most likely be holding true to their test results this time with regards to their lifespan.
Connectivity gets a boost, right?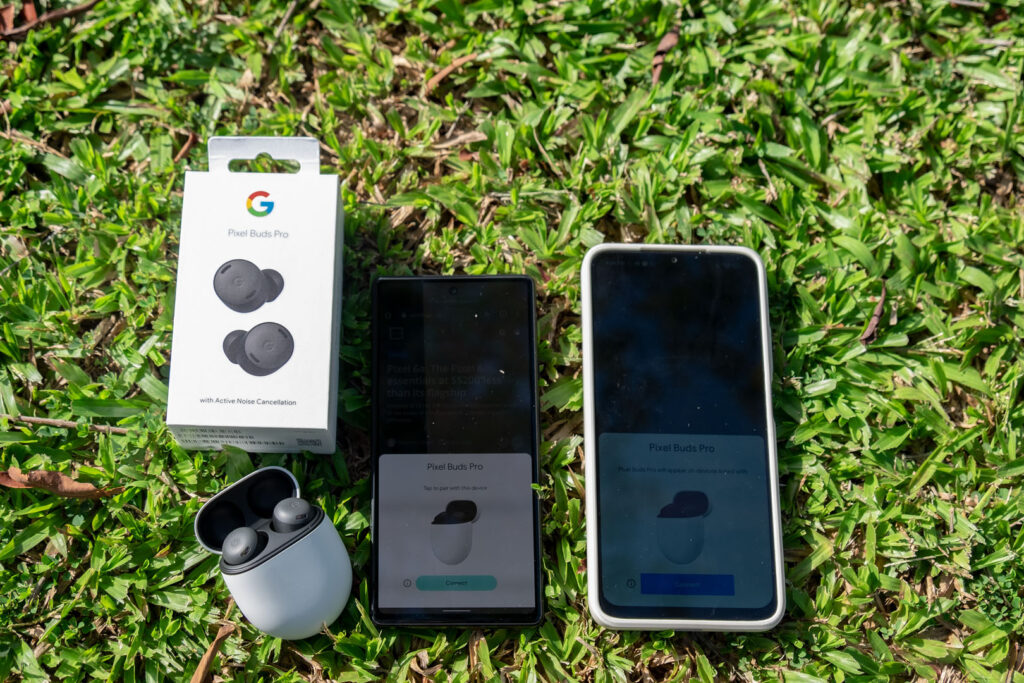 Opening the earbuds for the first time, we were greeted with a popup prompting us to connect and set up the device – including our co-worker who takes pride in his entry-level Redmi phone. We have figured that most Android users will be eligible for this feature, so long your device runs Android 10 and possesses at least Bluetooth 4.0 capabilities.
Devices already connected to a Google Account will show a prompt to set up all devices linked to the same account – the ecosystem that Google has been all about lately. When connected to the Pixel 6a, the AAC is the default codec – which is attributed to its stable connections.
It was easy switching to AAC in the settings on the Redmi Phone – using SBC initially, marred for its unstable and lossy connection. Different codecs may impact the audio latency especially when gaming – like how aptX was able to achieve lower latency.
We'd love to see these earbuds supporting a form of superior codec, akin to Sony's LDAC or Samsung's Scalable Audio. Regardless, you will be traumatised by the shoddy SBC codec when pairing it on a Windows computer – Bluetooth implementation is just lacking behind on Windows.
Like other competing earbuds, a dual device connection (known as Bluetooth multipoint) is supported on the Pixel Buds Pro – your audio should pause on the current device when there's an incoming call on the second device. Though, you'd have to pause the media on the first device to switch over. Actual support might vary on the particular program you are using – we tested WhatsApp calls and traditional calls with flawless transitions.
Enhanced incoming and outgoing audio quality
Despite its relatively compact size, the Google Pixel Buds Pro contains a 11mm driver – larger than the industrial average of 6mm. The larger driver will result in a more holistic reproduction of the original soundtrack – stronger bass being the most noticeable, without appearing muddy.
Complimenting the superior driver is a feature known as Volume EQ, which is supposed to maintain the dynamics of the audio playback in varying volumes. As a test, we played the song "As it was" by Harry Styles.
With volumes set to 3 on the Pixel Buds Pro, we noticed that the bass and treble proportions were similar to when the volume was set to 8. We are unsure if this is attributed to the larger driver size or the software optimisations.
Colossal leap in voice recording
To find out how Voice Accelerometer improves microphone performance, our team have conducted a series of tests with the following variables:
Head movements (interpreted from the inbuilt accelerometer) + background wind
Simulated audio quality in hustling environment
Interpreting the samples, the Google Pixel Buds Pro produced consistent results, with no major dips and spikes in volume and pitch. When placed in a less conducive environment, the main subject of the conversation remains highly audible – contrary to other earbuds in a similar form factor.
We believe that the audio quality is a combined effort of the microphone array and machine learning. Considering the Google Pixel Buds Pro differs from the peashooter design of the Apple AirPods Pro, we were impressed by the sound quality despite the small form factor.
Probably the most well-rounded Android option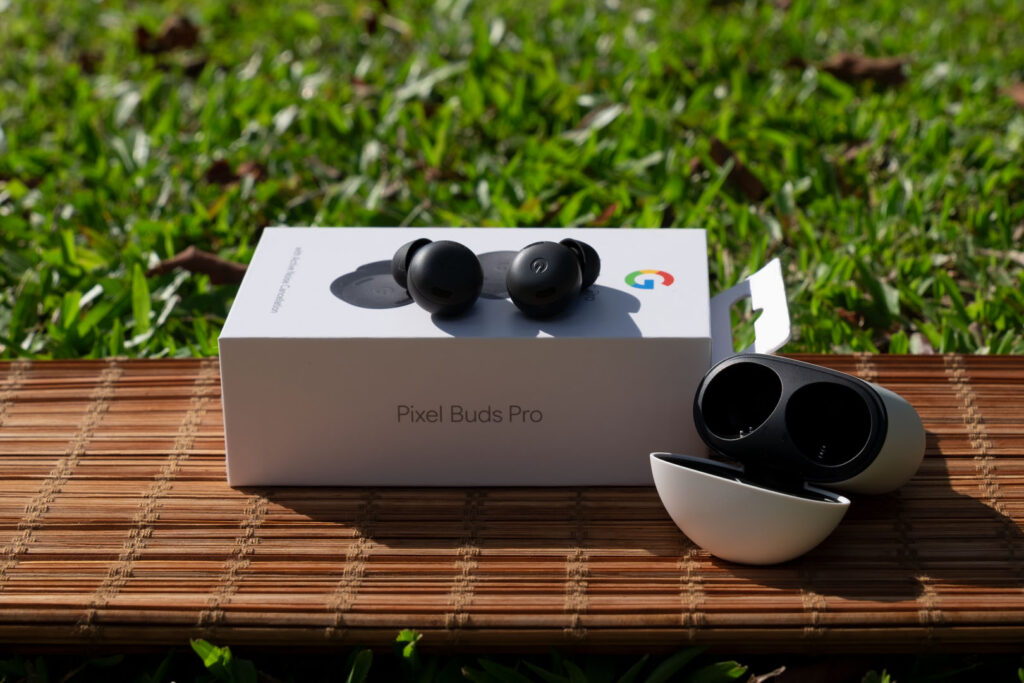 The Google Pixel Buds Pro is now available in Singapore via the Google Store and is priced at S$299.
With the approximated battery of 7 hours (with ANC engaged) and its superior mic reception, this pair of earbuds is likely the biggest purchase reason – especially as a first-time user. It would still be nice to see some support in the future for better Bluetooth codecs like LDAC.
Overall, it seems that Google is in the right direction with its latest iteration of the Pixel Buds Pro providing a well-rounded pair of earbuds in terms of sound quality and great user experience.