Not all wireless headphones are made equal. Manufacturers take many different approaches to designing the right pair of wireless earbuds for the right use cases. Take for example the Apple Ear Buds. They are designed for everyday casual use and may feature a sleek design without requiring any cables to be attached to them. Unfortunately, it usually isn't usually a right fit for most people or most scenarios. That's where the Fitbit Flyer comes in.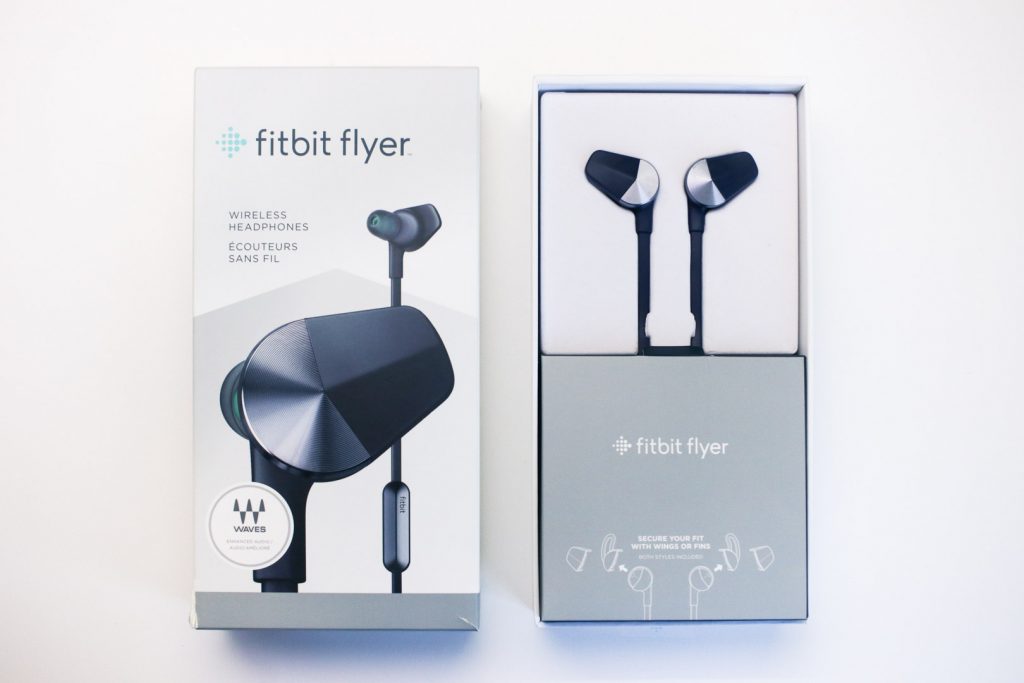 Who is this for?
In this review, we will be talking more about getting a pair of headphones precisely for exercise routines. You would want a robust pair of wireless headphones that are secure while ensuring that you get to continue listening to your favourite tracks on the go; in both quality and in style. We were given a chance to try the Fitbit Flyer that is in a colour called Nightfall Blue.
Design and Comfort
We were really impressed by the unique style and design of the Fitbit Flyer. These pair of wireless headphones are linked together with a single flat cable that can also wrap over your neck. Included is a volume controller and a button for you to play/pause tracks. It even supports phone calls with the included microphone. If you look closely in our pictures, you can see a rubber portion that sticks out from the earphones. This comfortable rubber extension is in fact, reaching out to the inner walls of the ear which gave us a really secured fit. Especially crucial when you're running or doing strenuous activities.
Included in the box are also 4 different rubber extensions so that everyone can get their perfect fit. We found the small-sized attachment that was already attached to the Fitbit Flyer a good fit for our ears. Nevertheless, you may always try out the other sizes and designs that already come inside the box. Not forgetting the usual earbud tips that also come included in 3 different sizes.
Sound Quality
For a pair of sports headphones, the Fitbit Flyer sounds impressive. We appreciated how the lows and low-mids on the headphones are powerful; in a way that strong beats can really drive you to finish that last lap of your run. You will also be sure that vocals on the Flyer will sound adequate. However, the highs may feel much more diminished for some people. Nevertheless, they still sound great for workouts in general.
We also came across this impressive feature called Power Boost which sounded like a much louder mode. Lows were even more powerful and there was even more emphasis on the beats. You can see how this feature can really spur you on during your workouts.
With one tap on the select button (middle button on the volume control), you'll easily play/pause your tracks. We were still able to hear background sounds in situations where you may need to cross roads cautiously. Skipping to the next track can be easily done by double tapping on the select button or holding the volume up button for 1 second. Going back to the previous track can be done by triple tapping on the select button or holding the volume down button for 1 second.
Other features
Did we mention that the Fitbit Flyer was also sweatproof? In our testing, we went all out in vigorous activities without really caring much for the well-being of the Fitbit Flyer (I know… but hey, it's all in the name of reviewing it here on Tech Lingo so you all get a better idea of these headphones!). We could easily wash it after our workouts and all seem to be working perfectly.
Pairing with multiple devices
If you do get one for yourself, the pairing process is rather easy. With the Fitbit Flyer in an "off" state, simply press and hold the on the top button of the right earbud for at least 4 seconds. A voice will also come on through the headphones notifying you that it is in pairing mode. Amazingly, the Flyer can remember the last 8 devices it has paired with. You can then easily pair between several smartphones or smartwatches (see our Fitbit Ionic or Fitbit Versa full review) without having to start that whole pairing process again.
Another useful feature was the ability to pair with 2 devices at the same time. This will definitely come in handy if you're listening to music from your smartwatch and wanting to take calls from your phone (if they do come in). An audio prompt will also inform you of the number of devices that are connected whenever you power it on.
Battery and Charging
The Fitbit Flyer charges using a microUSB port located on the volume control. It is honestly impressive that Fitbit has managed to fit a commonly used charging port into part of this headphones (look at the overall small form factor of this wireless headphones to truly appreciate its design) without having to use proprietary connectors.
A single charge of the Fitbit Flyer could provide us with about 5 to 6 different workout sessions that were about an hour long each. We were ever put in a scenario where we forgot to charge the Flyer and basically tried charging it for a quick 15-minute and it provided enough charge for that one workout.
Whenever you turn on the Flyer, you will also get an audio prompt of the battery life remaining on the Flyer.
Conclusion
We would highly recommend the Fitbit Flyer if you're looking to get a pair of sports headphones that are not only wireless but sweatproof, robust, high quality, secured, etc. The Flyer has checked many requirements of what we feel a pair of sports headphones should possess. However, it's price may be on the high side.
Availability
You can choose from 2 different colour variations of the Fitbit Flyer ($198):
Nightfall Blue
Lunar Grey
Find out more from this link: https://www.fitbit.com/sg/flyer
Fitbit Flyer ($198) – lazada.sg