It's the year 2020 and smartphone cameras have definitely gotten much better over the last decade. So, would it still be beneficial to own one of those point-and-shoot cameras? Let's find out!
We were recently given a chance to try out the latest digital compact camera from Canon – the PowerShot G7 X Mark III. The PowerShot is a line of compact cameras launched by Canon in 1996 and have since sold very well around the world.
In this article, we hope to help you discover if the G7 X is the right camera for you and also share what we like and dislike about it. Don't forget to check out the sample shots as well.
A quick rundown
Here's a quick look at the specifications of the PowerShot G7 X Mark III:
| | |
| --- | --- |
| Effective Pixels (megapixels) | 20.1 MP |
| Sensor Size | 1.0-inch |
| LCD Monitor Size | 3.0-inch |
| Optical Zoom | 4.2x |
| Focal Length (35mm Equivalent) | 24 – 100mm (4.2x) |
| Continuous Shooting Speed (shots per sec) | Up to 30 (RAW burst mode) / 20 (one Shot AF) |
| Video | 4K (UHD) up to 25p, Full HD up to 120p |
| Weight (Including the battery and memory card) | 304 grams |
The full list of specifications can be found here: https://sg.canon/en/consumer/powershot-g7-x-mark-iii/specification
Before we continue, it would be appropriate to point out that a new software update is available for this camera on the Canon website. The Oct 2019 firmware update will improve the video autofocus speed, accuracy and subject detection performance. Additionally, the Dec 2019 update will include 24p (23.98fps) mode for video recording in 4K and Full HD resolutions. So be sure to update it to the latest version if you have purchased one! More details can be found here: https://sg.canon/support/PowerShot%20G7%20X%20Mark%20III/model
Who is this camera for?
The PowerShot G7 X Mark III is a great camera for consumers who are looking for something better than what a smartphone camera can capture while maintaining a small form factor (more details about what we mean by this in the next section). Even though DSLRs or some mirrorless cameras can provide you with the freedom to switch lenses for different occasions, they are definitely bulkier than a point-and-shoot camera like this.
Having used Canon DSLRs for a decade now, I sometimes find myself leaning towards a smartphone camera experience due to that smaller form factor. The Google Pixel, in particular, has combined some pretty smart AI techniques that allow it to achieve high-quality photos. It is that level of convenience that I sometimes just choose to leave that bulky DSLR at home.
Amateur photographers/videographers will definitely find it a great camera; especially with the level of control, it provides with the dedicated dials on the camera to adjust the exposure, aperture and much more.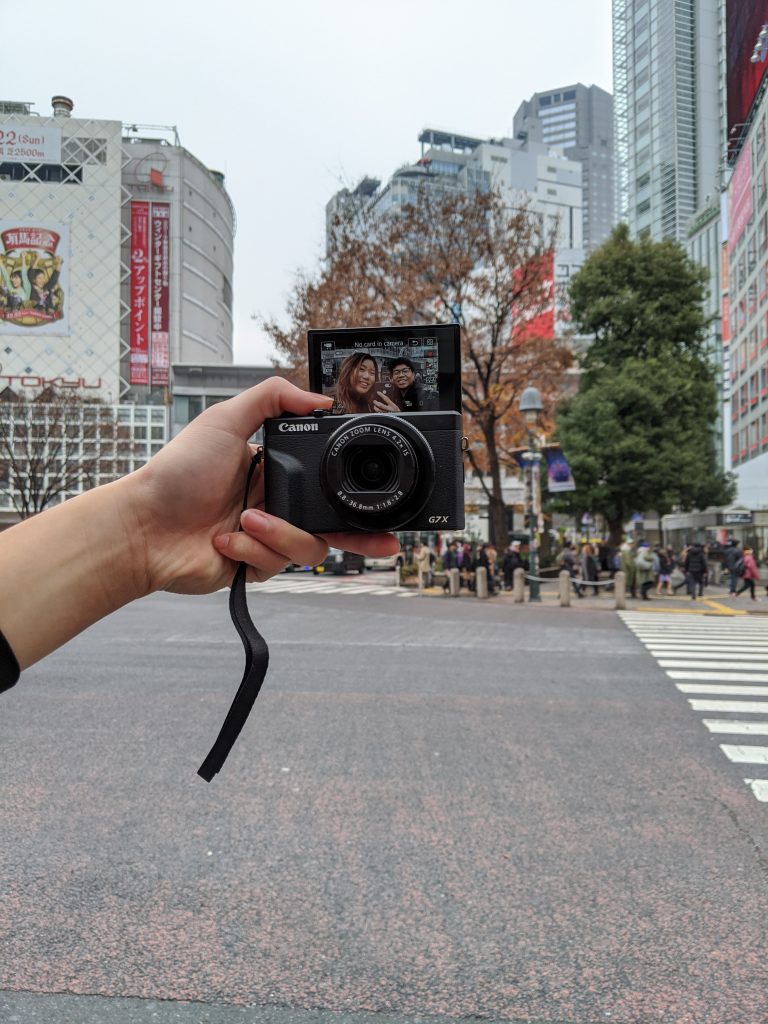 Those familiar with the G7 lineup will also recognise the 3.0-inch LCD display that can flip upwards by 180°, making it perfect for vlogging or taking a selfie. You would also be able to tilt the display downwards – useful whenever you need to reach higher up for a shot while maintaining a clear view of the display.
What we liked ??
The overall experience
The G7 X Mark III is honestly very well built. It is sturdy and just feels great when held in the hands. The lens has a control ring that can be used to adjust the zoom/aperture/shutter speeds depending on the mode you are in. Overall, the built quality of the dials and buttons on this camera provide a satisfying and tactile feedback that we really enjoy.
Since the camera maintains a small and compact form factor, it doesn't take up much space in your travel bag. You start to find yourself taking it out more often to capture scenes you would otherwise miss if you only had your smartphone with you. All because there are occasions where the G7 X outperforms a smartphone camera.
Where the G7 X Mark III outshines a smartphone camera
First up, the basics. The PowerShot G7 X Mark III provides you with optical zoom – not to be confused with digital zoom on your smartphone camera. The lens physically shifts to close in on your subject while maintaining the same level of resolution. In the 35mm equivalent, that is a 24-100mm (F1.8-F2.8) lens. Get ready to take much better portraits of your loved ones without a 'fake bokeh' that smartphone cameras often add.
The G7 X Mark III is also fast. Up to 30 shots per second (RAW burst mode) and 20 shots per second (One Shot AF). The response time of capturing a shot is much faster than the typical smartphone; allowing you to capture shots at the exact moment when the shutter button is pressed.
Secondly, video performance on this camera provides you with uncropped 4K recording at 25p and Full HD recording of up to 120p. With the flip screen, it becomes a great device for vlogging as you can always look at what you are filming. The G7 X Mark III also provides support for an external microphone by using the 3.5mm jack at the side of the camera. As such, a much better video and audio quality can be expected out of this camera as compared to your smartphone.
Lastly, the built-in ND filter. Ever experience afternoon sunshine that is so bright it blows out your subject? Or how it forces you to use an abnormally small aperture just to achieve a normal exposure? The built-in ND filter inside this camera is something we really liked. It's like a pair of sunglasses for your camera. You can set it to automatically activate or manually turn it on in bright environments. With that, you'll still be able to use a larger aperture to capture portraits in bright sunlight, giving you that perfect bokeh.
What we disliked ??
WiFi pairing with your smartphone
It is great that the latest PowerShot also comes with WiFi support so that you can transfer pictures and videos directly to your smartphone using the Canon Camera Connect app. However, we strongly felt that the initial pairing process can be improved to make it an easier and faster experience.
Perhaps Canon can come up with an automatically generated QR code that is scannable by the smartphone app and settle the entire pairing process seamlessly and securely?
Lack of a Hot Shoe Mount
Providing support for an external microphone using the 3.5mm jack is great. But where should users mount the microphone? Understandably, Canon could not have placed a Hot Shoe Mount on the top of the camera as it would hinder the flip display. As such, users would have to resort to finding third-party microphone L brackets or small microphones that can support its own weight.
Sample Photos
Availability
The Canon PowerShot G7 X Mark III is now available in Singapore at a recommended retail price of S$999.
Visit this link for the list of Canon stores around Singapore.