ViewSonic Corp. announced on 17th of August 2020 the launch of its brand new 15.6" portable monitors for work, learn and play anywhere, providing a touch version, TD1655, and a non-touch version, VG1655.
The TD/VG1655 can extend content from laptops, smartphones and gaming consoles easily with its one-cable solution, and even charge their connected device through the dual USB Type C connectors while using the portable monitor.
The new TD/VG1655 is a Full HD portable monitor that is perfect for overcoming one-screen limitations outside the office. Built for business travellers, remote workers, and digital nomads, it can serve as a complementary display, and easily extend the screen from phones, tablets, or laptops for mobile work, one-on-one presentations, or leisure entertainment.Oscar Lin, Head of Monitor Business Unit at ViewSoni
Highly Portable for Use Anywhere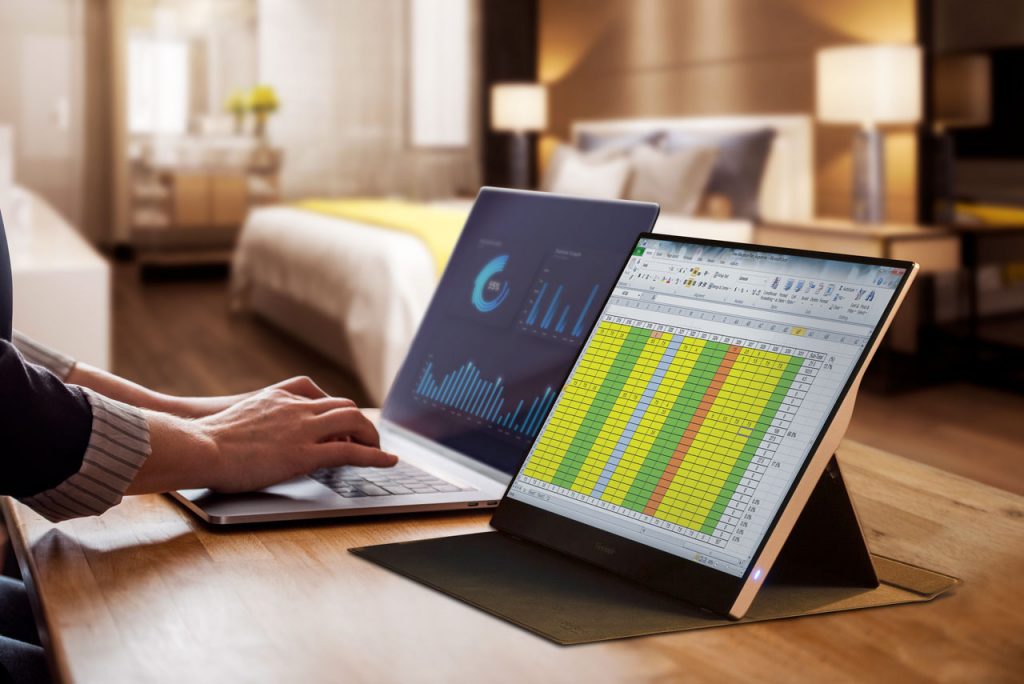 With its compact 15.6-inch size, 6 mm thickness and less than 1-kilogram weight, you can take it anywhere you wish to use it. The one-cable solution provides audiovisual, touch signal transmission and power, while the built-in back stand enables to adjust the viewing angle to both portrait or landscape, making it more versatile for a number of use cases.
Two-way Power with USB Type C
The TD/VG1655 comes with a 60W PD power adapter and has dual USB Type C ports to efficiently deliver video and audio over a single cable, as well as two-way power, so the connected device can power the TD/VG1655 and vice-versa with the power adapter.
Highly Compatible for Greater Flexibility
The TD/VG1655 can be used with a large variety of laptops, tablets, smartphones and video game consoles, as it supports different operating systems such as Windows, Android, Chrome and Mac OS.
Durable Design
The TD/VG1655 features a durable form factor thanks to its magnetic cover and mat, robust one-piece design, and metal case and aluminum stand.
This combination of features makes the TD/VG1655 road-worthy and strong enough to withstand the rigors of use. Even the screen is designed resistant for travel and frequent use, with its built-in 6H hardness and anti-scratch protection that can even stand up to key scratches.
Find out more about the TD/VG55 series here:
TD1655: https://www.viewsonic.com/sg/products/lcd/TD1655.php
VG1655: https://www.viewsonic.com/sg/products/lcd/VG1655.php
Availability
Singaporeans can now get the ViewSonic TD1655 or VG1655 at the official ViewSonic store at Lazada using the following links:
TD1655 at S$449: https://www.lazada.sg/products/viewsonic-td1655-16-portable-touch-monitor-with-dual-usb-type-c-ports-and-stylus-less-than-1kg-limited-sets-of-ready-stock-for-grab-now-i1053832085-s3956018786.html
VG1655 at S$349: https://www.lazada.sg/products/vg1655-16-portable-monitor-i1054268244-s3958282649.html