The Sonos Move was recently launched during a media event held by exclusive distributor TC Acoustic. This marks Sonos' first step outside of the home.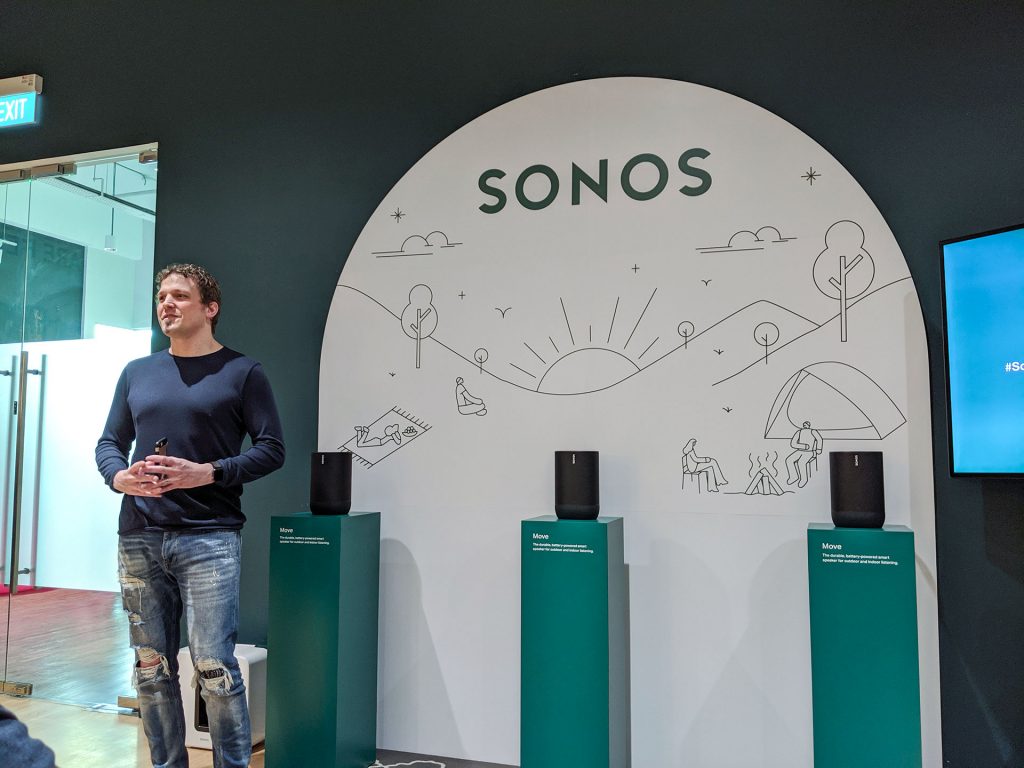 Sonos Move
The Move is a battery-powered smart speaker that is built to be durable and provide great sound at home and outdoors.
The company claims that it is the first to feature both leading voice assistants – the Google Assistant and Amazon Alexa which is built right into the speaker. When connected to WiFi, it will allow consumers to enjoy a completely hands-free experience to play music, check the news, control smart home devices, ask questions and much more.
Since the very beginning, Sonos has been giving listeners unparalleled freedom of choice and setting standards the rest of the audio industry must rise to meet. Our platform gives you the freedom to play any song you want, any way you want. Move takes freedom of choice to the next level. For the first time, you can take Sonos anywhere. Move marks the beginning of a new era for Sonos—one where brilliant sound not only fills your home, but extends to every part of your day.Patrick Spence, CEO, Sonos
Users will be able to connect to more than a 100 streaming services for their music, audiobooks, podcasts and more by controlling it via the Sonos App, with AirPlay 2 or direct from music service apps.
Built for the outdoors
While the Move works and sounds great indoors, it is also ready for the outdoors. The built-in battery is rated for up to ten hours of continuous playback on a single charge.
With an IP56 rating, the Move is protected from dust particles and water spray. Check out this demonstration shown during the launch event.
When away from home, the Move is Sonos' first product with Bluetooth audio streaming, making it simple to play audio directly from a phone or tablet for great sound on the go.
At home, users can easily slide the Move onto the included indoor charging base to charge the Move, ensuring it is always ready for listening. Alternatively, a USB Type-C charging port located at the back of the Move can also be used to charge the speaker.
Specifications
| | |
| --- | --- |
| Dimensions (H x W x D) | 9.44 x 6.29 x 4.96 inches (240 x 160 x 126 mm) |
| Weight | 3kg (6.61 lb) including battery |
| IP Rating | Rated IP56 for protection from dust particles and water spray |
| USB-C Charging | Adapters must support one or more of the following output levels: 12V/3A, 15V/3A, 20V/2.25A. |
| Bluetooth | BT 4.2, supports AVRCPCodec support: SBC and AAC Availability |
| WiFi | Supports 802.11 b/g/n, 2 GHz, and 5 GHz. |
Visit this link for the full specifications
Availability
The Sonos Move along with the Sonos One SL is now available in Singapore at Harvey Norman, Challenger, Courts and other major retail outlets.
Sonos Move: S$729
Sonos One SL: S$299
Visit trysonos.sg for more information.
We are excited to launch Sonos Move into the Singapore market as Singaporeans love to be outdoors. Whether doing sports with friends, having a barbeque or going for staycations, Move is their new companion! We are also bringing the entry-level Sonos One SL to Singapore. It delivers rich sound, without built-in microphones. With the Move and One SL, we are offering Singaporeans more choices for brilliant sound.Christian Honegger, CEO of TC Acoustic