In efforts to keep productivity and efficiency steak high, Parallels recently published its new and improved productivity tools: Parallels Toolbox 4 and Parallels Access 6 for Windows and Mac.
Unpredictable COVID-19 shelter-in-place and social distancing orders make it critical for remote workers to have easy-to-use solutions on their devices to stay productive—especially when IT tech support, coworkers and friends are not available locally to help with opportunities or resolving challenges that arise.Nick Dobrovolskiy, Parallels Senior Vice President of Engineering and Support
Whether it's Windows, Mac, iOS, Android, or the cloud, Parallels makes it simple and cost-effective for businesses and individuals to use applications wherever they may be: local, remote, in a private datacenter or in the cloud.
It comes at a time when the COVID-19 pandemic had forced many to resort to working remotely and hence require these tools to stay productive – especially when IT support, coworkers and friends are not available locally to resolve challenges that may arise while handling work tasks.
Parallel Access 6

Parallels Acces 6 is all about connectivity and access. It allows various users the ability to connect to a computer from anywhere across various android, HTML5 browsers, and iOS devices.
In its highly flexible business plan available at $49.99 per year, IT admins can additionally create and manage an unlimited number of users and concurrent user licenses, which further allows employees to access an unlimited number of mobile devices and HTML 5 browsers. Familiar iPhone, iPad, and Android native touch gestures can also be used to easily work with full-featured Windows and macOS applications and files to get work done and securely share files without having to upload them to cloud storage services.
New Parallels Access 6 features we highlighted include:
Personal Help
This allows users to easily assist friends, family, or colleagues to remotely fix their PC or Mac issues without having to talk them through on how to fix them. All they have to do is to simply download and install Parallels Access 6 on their computer and then generate a personal help link. This link can then be sent to the user providing help to allow them to automatically secure access to the computer without having to go through complex procedures and passwords. It saves on time and allows flexibility.
Android Support for OneDrive and Google Drive
OneDrive and Google Drive are now available through Parallels Access' file manager for efficient and improved file sharing.
Bluetooth Support for mice, trackpads, and gesture
This feature is found in iPadOS 13.4 or later. The gestures work with the computer's remote connection. When a mouse or trackpad is detected, the cursor automatically transforms into a native cursor depending on the content available on the screen such as a pointer, I-beam, or arrows for improved user experience.
Android edge-to-edge rendering and gesture navigation support
This tool allows usage through gesture navigation for convenience.
Availability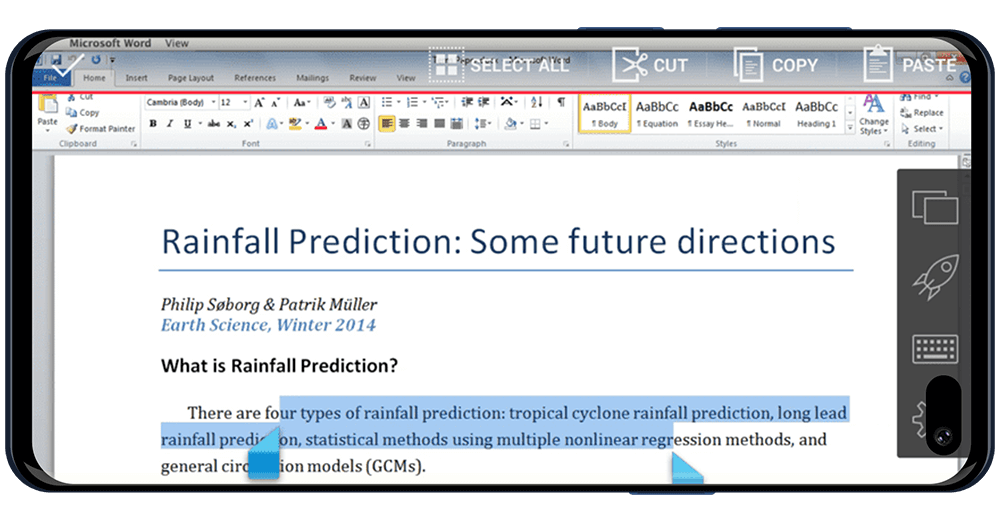 Free full-features of Parallels Access 6 for Windows and Mac are now available from the Parallels website, Google Play Store and the App Store. After the initial trial, users can then purchase a subscription for $19.99 per year and $34.99 for two years. Additionally, the Business plan is available for $49.99 and an additional 5 packs of licenses can be purchased for $49.99 per year.
Parallels Toolbox 4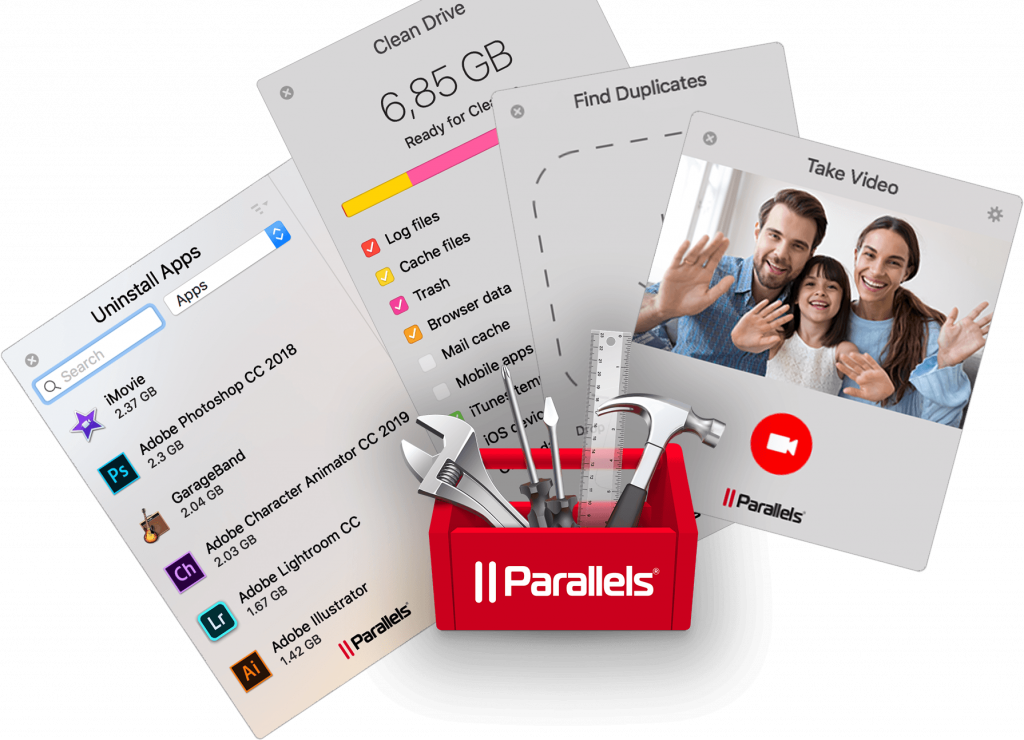 Parallels Toolbox 4 is a suite full of many handy, time-saving tools that help users to optimize their computer's resources in order to simplify the process of managing its health, and the user's productivity, and wellbeing.
Some newly introduced tools in Parallels Toolbox 4 include:
Break time (Windows and Mac)
To improve productivity whilst reducing burn out, this tool allows a user to schedule and take breaks using automatic reminders. After setting preferences for how long and often to take breaks, the tool will automatically remind you when the time reaches. Your break time is counted if there is no usage of the mouse, keyboard, or computer. Watch the demo video here
Unit Converter (Windows and Mac)
This allows users to converts units of measurements and currencies as they work through their tasks. All they have to do is simply type what they want to convert e.g. "100 F" and see the conversion options appear in real-time. Here is a demo video for Windows and Mac
Enhanced search (Windows and Mac)
The search feature has been enhanced to includes hundreds of keywords that allow users to find the right tool to accomplish their tasks in a shorter time without wasting time going numerous searches. It is located on the top left of the Parallels Toolbox menu.
Windows Manager (Mac)
This feature allows users to size the application window to a predefined dimension and position by dragging a window to the screen's edge which automatically resizes it to half, one-third, or a quarter of the screen.
Show Desktop (Mac)
This is a master feature to clear your workspace with just one click. It allows a user to select their preference for showing the desktop by 'hiding applications' or 'Closing Applications'.  Once activated, this tool will minimize all opened windows or exit all applications that are visible in the Mac Dock.
Windows on top (Windows)
Most Windows apps do not have a pin or float-on-top capability, however, this feature allows users to do exactly that; it allows users to keep the app window they use most on top of all other apps for immediate, quick access. Click here for a demo
Close Apps (Windows)
This allows users to immediately clear their desktop of all apps and windows in just one click instead of closing each one manually.
Availability
Free full-featured trials of both PC and Mac versions of Parallels Toolbox 4 are now available as stand-alone products exclusively at https://www.parallels.com/products/toolbox/. Each annual license can be purchased for $19.99 per year and includes free updates of new enhanced tools as they come.
Corel has repeatedly shown its commitment to designing leading applications and products such as Parallels, Corel Draw, MindManager, and many others.
Given the work-from-home trend that is rising as a result of the COVID-19 pandemic, these tools and applications are set to make the remote working environment more effective and productive.