Due to COVID-19, Singaporeans had to face a tough few months of limited interactions. However, it was also during this period that Outside witnessed a spike in the number of tasks posted on the app. Some of them were heart-warming situations like delivering meals and groceries to the needy, which exemplified how the app could serve as a tool to build a collaborative community even in such times.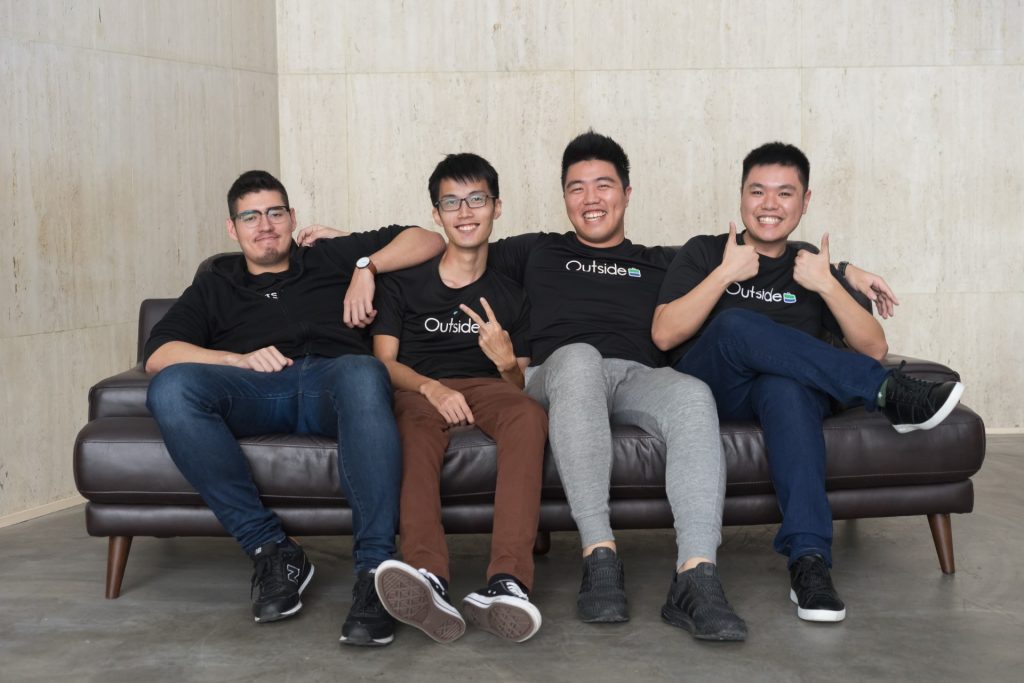 Proudly supported by Ministry of Culture, Community & Youth (MCCY)'s #SGUnited and The Majurity Trust's #SGStrong, the app has facilitated over 1000 tasks to date, including one which involved helping a taxi uncle with his tax filing during the circuit breaker.
During the past few months, Outside has served as a platform for people to connect with and help those who were given the stay-home notice (SHN). Tasks that were completed via the app included purchasing daily essentials such as food and SIM cards for them. Other heart-warming tasks also included surprising friends with birthday cakes and gifts. This has shown that despite the pandemic, people were still finding ways to stay connected and help each other with the app.
I hope that Outside will serve as a bridge of opportunities, connecting people across communities to foster collaboration and to encourage kindness.Nicholas Lim, 24-year-old CEO
Using gamification and built with geolocation, communication and financial technologies, Outside creates a seamless and fun process for users to look for help with their daily inconveniences by putting up quest pins on the map. The hyperlocal app also utilises users' postal codes to batch them into 28 districts, the same system used by property agents and platforms. This then ensures that users are alerted when people nearby require assistance.
Currently, the app facilitates categories of paid tasks such as grocery and meal deliveries, fixing, household chores and online administrative tasks. It is also expanding to include ad-hoc business jobs such as doing up surveys, data entry and courier services for cash.
As Outside aims to provide a personalised experience for all of its users, it has most recently included the feature of district alerts in the app. This allows users to filter down notification alerts to only include areas that they are interested in. Users can also toggle preferences for category-based alerts so that they are only notified for tasks they are keen on doing.
Additionally, the team will be integrating localised payment methods such as Paylah!, PayNow, GrabPay, Pay Anyone and FAST transfers via banks to improve on convenience.
Since its release in 2019, Outside has grown in scale and gained over 10,000 users. The team has also graduated from reputable programmes such as "The Start" by StartupX and Temasek Holdings, Found8's Elevate.SG (Google For Startups) and ImpacTech Social Impact Accelerator. It was also given recognition in multiple regional and local competitions such as SG:D TechBlazer Finalist Award by IMDA, SG:D and SGTech, Echelon TOP100 by e27, Unbound 50 in Innovfest Unbound and Game Changer Catapult Award by Panasonic.
As Singapore is slowly reopening, the team is also working hard to launch products such as Biz. Outside and Inside API to assist local businesses with their operations. Most recently, Outside has been declared as a finalist for the National Volunteer & Philanthropy Centre (NVPC) sector-wide challenge on enhancing a culture of support within neighbours too. They will be moving on to the next phase of prototype development with the financial support from both Infocomm Media Development Authority (IMDA) and NVPC. With such developments planned, the team is excited to help both businesses and the community via Outside, and to create a more connected and collaborative Singapore through their suite of products.