Adobe's flagship video and design applications, Adobe Premiere Pro and Adobe After Effects, are well known for the automation of tedious tasks, thanks to artificial intelligence powered by Adobe Sensei. In March 2021, Adobe released more performance improvements, freeing up time for creativity.
Adobe Premiere Pro Video Editor
First launched in 2003, Adobe Premiere Pro has since gained a loyal following among content creators as the first step to creating amazing videos for any topic. This year, Adobe has released a few features that improve ease of usage and range of functionalities.
New Captions Workflow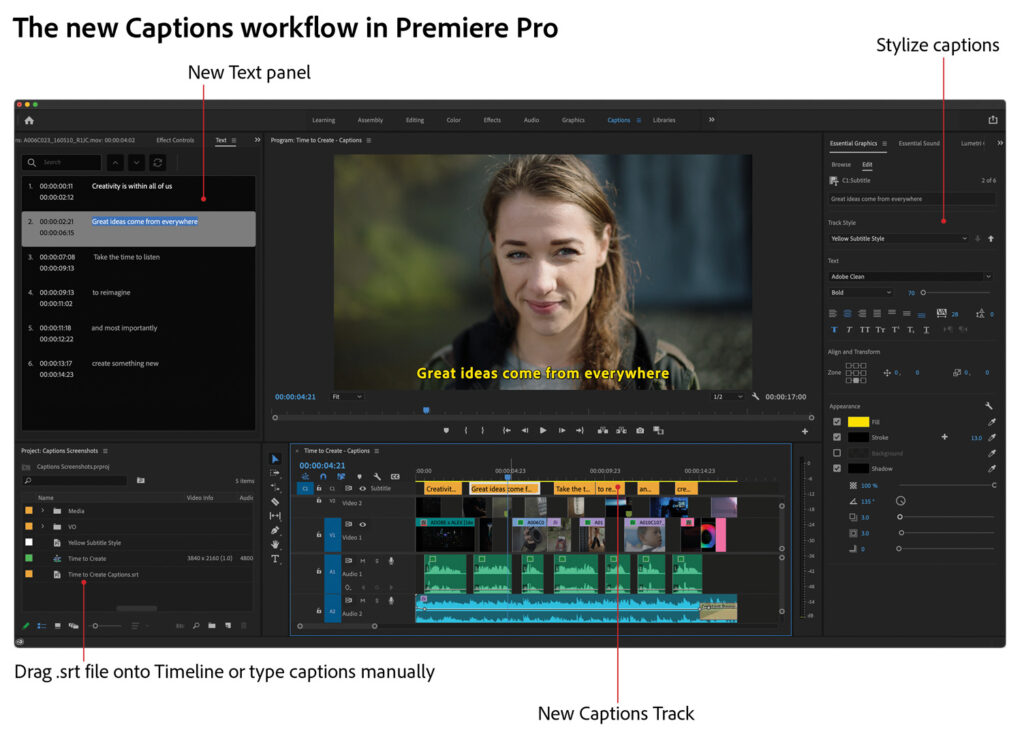 You can now quickly add, customize, and stylize captions and subtitles for your videos. It's even easier than most online photo editors.
Expanded and easy to use features
Users can leverage an ecosystem of 400 partners and developers which enable customizable workflows optimized for their preferred platform. You will be able to work within Premiere Pro exclusively, use the Premiere Rush (mobile-optimized version of Premiere Pro), or choose cross-application workflows with other Creative Cloud applications, such as Photoshop or After Effects. The Adobe team has kindly provided a range of Premiere Pro tutorials suitable for all levels, beginner to experienced.
Media Replacement in Motion Graphics Templates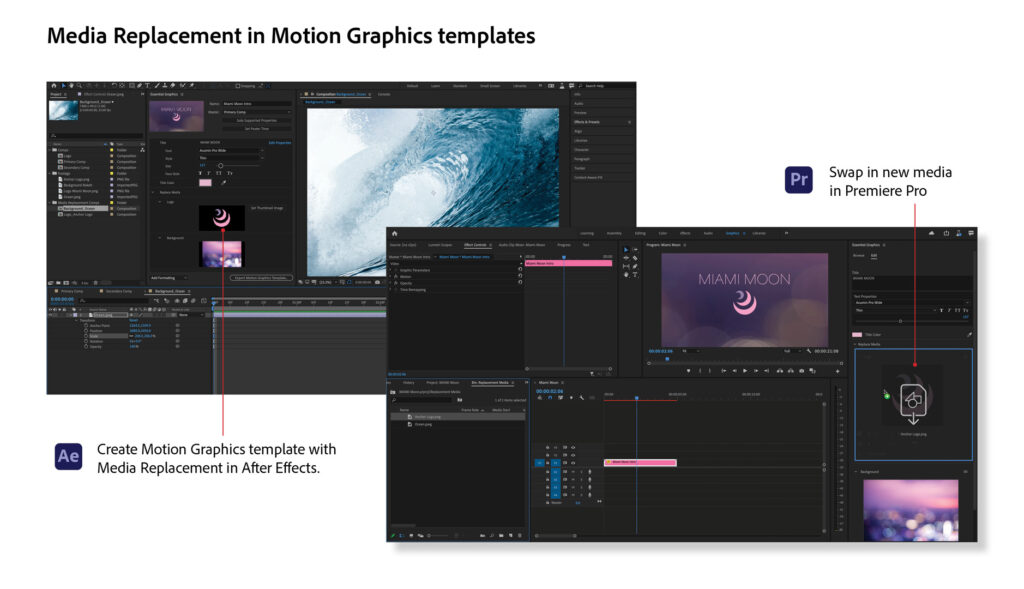 Adobe Premiere Pro has long been known for being one of the best video editing software. We can now use the motion graphics templates in Premiere Pro to easily make and edit media, all without having to know After Effects. Here's a good summary of when to use Premiere Pro versus After Effects.
24 new colour filter presets – Premiere Rush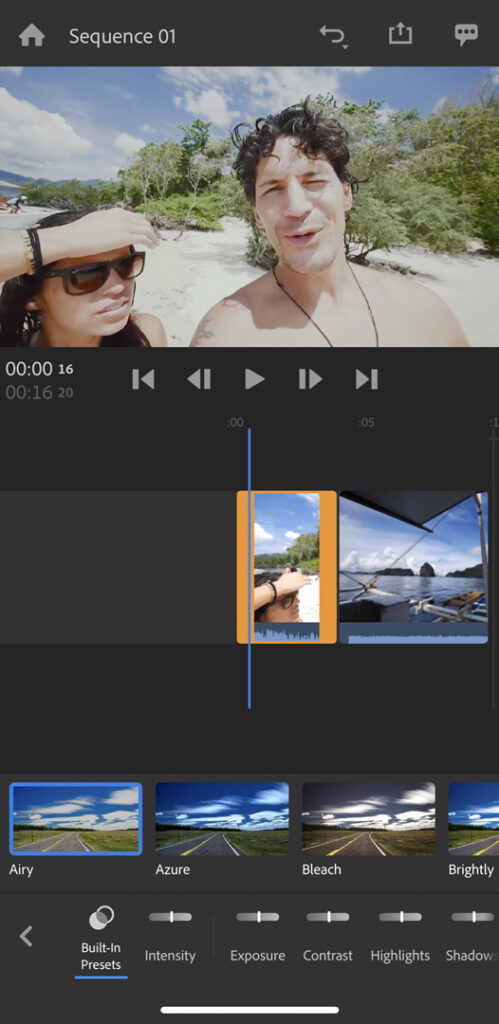 What's the difference between Adobe Premiere Rush versus Pro? Adobe Premiere Rush is the free mobile and desktop video editing app for creativity on the go. You can now choose from 24 new creative colors to add impact to your videos. Here's a helpful guide on how to download and use Premiere Rush.
Cloud collaboration and remote work
Creative Cloud Libraries enable organizing and sharing of branded assets. Team Projects gives editors and motion graphics artists a common project file format for secure collaboration. Team projects enhancements now allow users to share changes to projects more quickly and search in projects 2X faster.
New 3D Tools – After Effects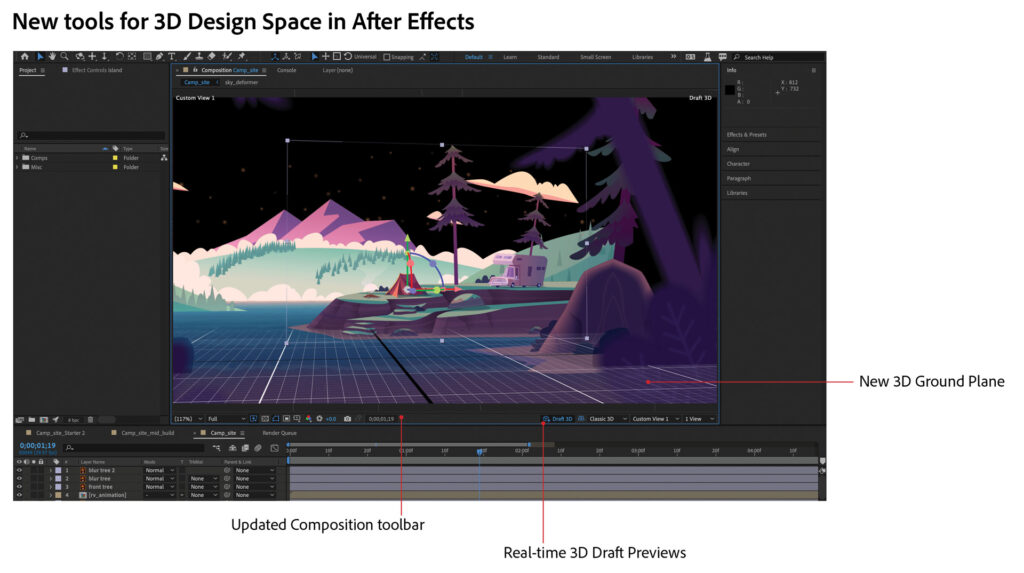 The real-time 3D Draft Preview gives immediate feedback, allowing users to iterate designs more easily. The 3D Ground Plane helps designers orient their designs, providing a horizon line, vanishing point, and grid with snapping for positioning of objects. The updated Composition Toolbar is now more organized and presents tools based on the current task.  If you would like to try the Public Beta, click here. Check out this amazing YouTube video on using After Effects to create a 3D video from a single scene.