Today Adobe is releasing a new version of Photoshop on the desktop and iPad. With it, Photoshop introduces 5 major new artificial intelligence features on top of the already robust Adobe Sensei AI and machine learning features we rely on daily. This shapes Photoshop to be the world's most advanced AI application for creatives.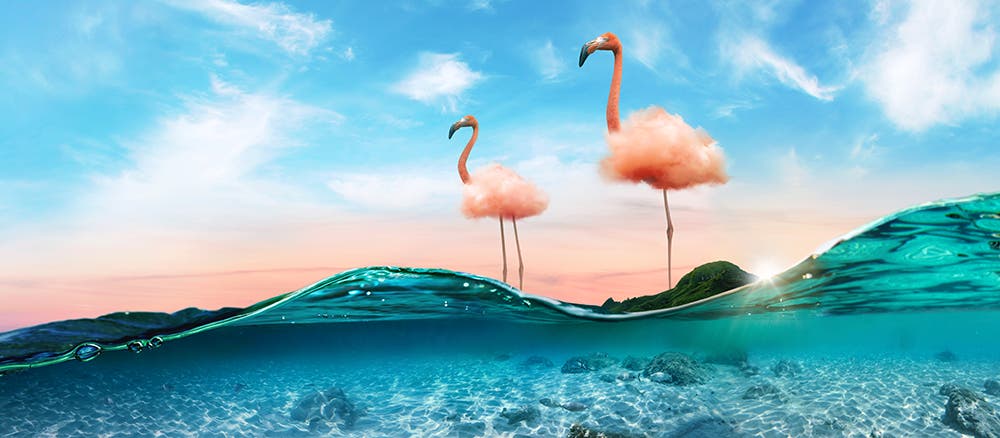 Photoshop on Desktop
Look forward to Neural Filters, Sky Replacement, the new Discovery Panel and 2 new Refined Edge Selections improvements all built on AI to further facilitate your needs while you grow as a creative.
Neural Filters

Neural Filters introduces Photoshop to new non-destructive filters to help you explore your ideas in seconds. This gives you the privilege to view the preview on how each filter looks on your design before selecting the best one. Refining the image can now be done with a couple of sliders by virtue of machine learning. Although they might not produce the best results you need every time, it definitely reduces the once complex workflows.
Skin Smoothing and Style Transfer aids artists in retouching photos to produce the most consistent results. Along with it, Photoshop released 6 'beta' filters with feedback tools for users to state how satisfied they are with the results. Beta filters might work extremely well on certain types of images, but not as well on others yet. However, these filters will improve with input in the future.
Smart Portrait transforms age, expression, pose, colours and more. With the help of AI, it analyzes your portrait and assists you in changing various aspects of your facial features. This includes the directions of the eyes or head and the angle of the light source.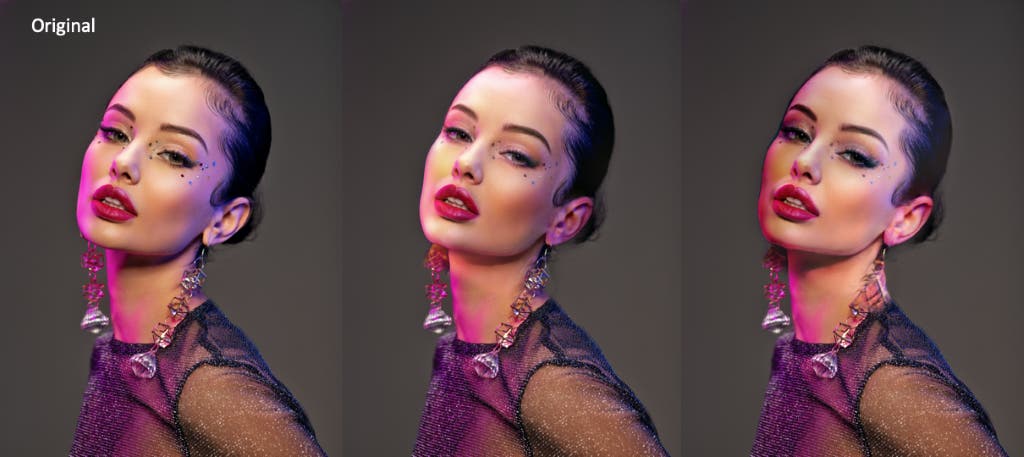 The images above show the light direction slider. Look at her cheek, forehead and chin. In the middle image, the light source is shifted to the left. In the far right image, the light direction slider is to the right.
Intelligent Refine Edge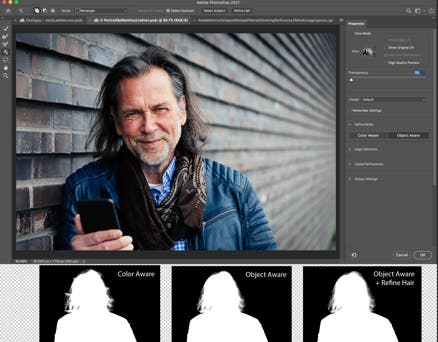 Photoshop released 2 new Sensei features in the Select and Mask workspace, Refine Hair and Object Aware Refine Mode, that smartly deal with tricky hair and complex backgrounds, so you don't have to.
Refined Hair seeks out the people in your selection and automatically refines the selection of their hair. This is especially useful if you have used the Object Selection Tool or Quick Select Tool to select a particular person and want to refine the hair in a single click 
The struggle to achieve a precise selection of hair or other fine elements is REAL – particularly when the foreground and backgrounds are similar in colour. With Object Aware Refine Mode, you can click on the Object Aware button to set the Refine Edge mode to make those selections faster and better.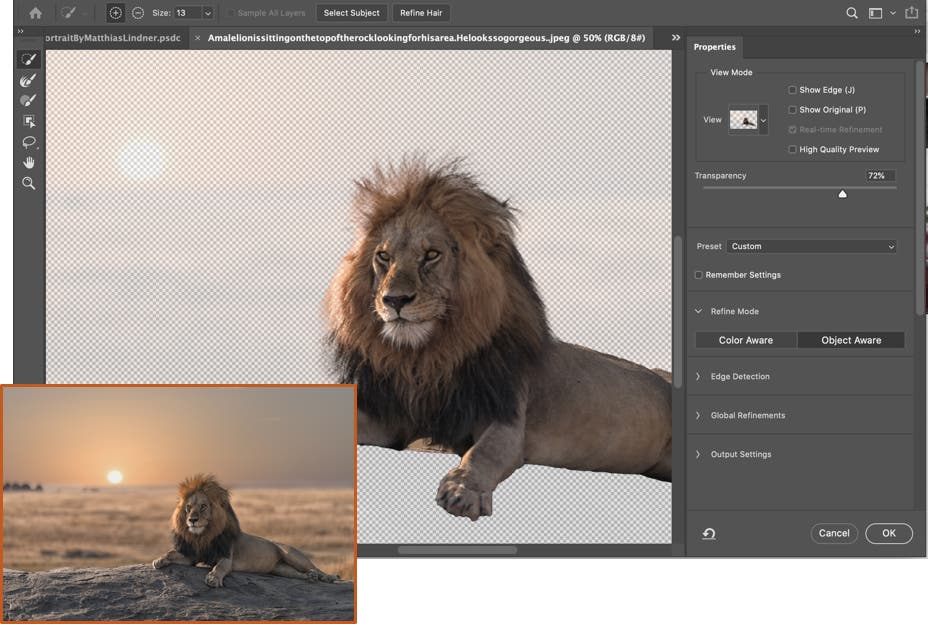 As seen in the image above, the lion's mane blends into the background savanna and sky. The Object Aware algorithm allows you to achieve this level of precision within a few seconds.
Sky Replacement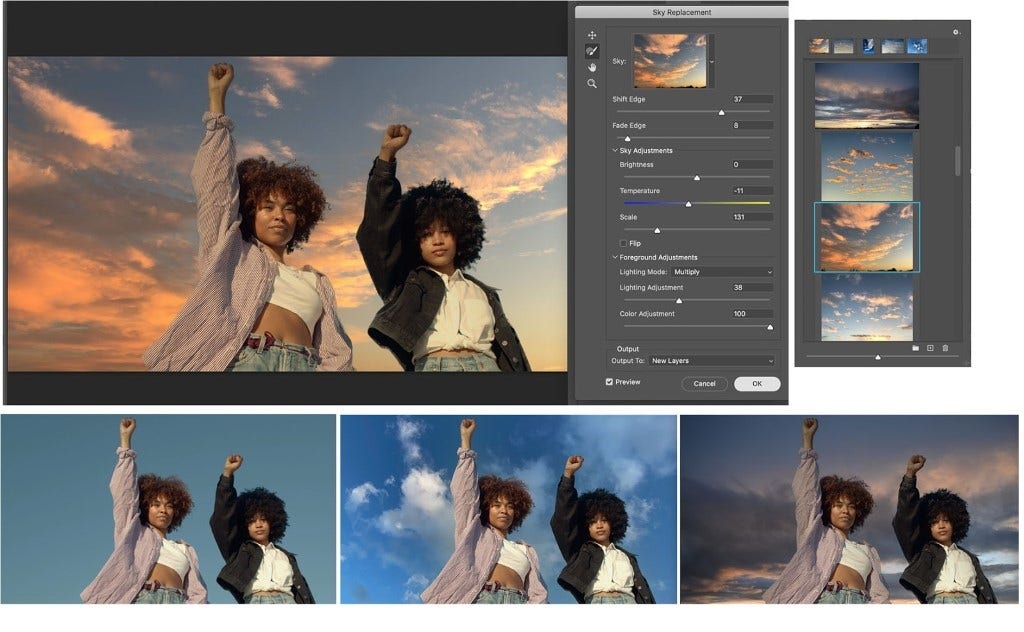 Let's say the weather isn't agreeing with you on the day of your photoshoot – too cloudy or too gloomy. Photoshop now allows you to create more dynamic images by swapping in a new sky. You can either select the sky manually, or use Select > Sky Replacement to choose a new sky from the database, or even add your own!

Photoshop is shipping about 25 sky presets – provided by their imaging experts, for you to use in your images. However, if you find the presets to be unsuitable, you can use your own skies to gently enhance what should have been, or radically change it to the fantastical, with tons of precisions and control in just a few clicks.
New Discover Panel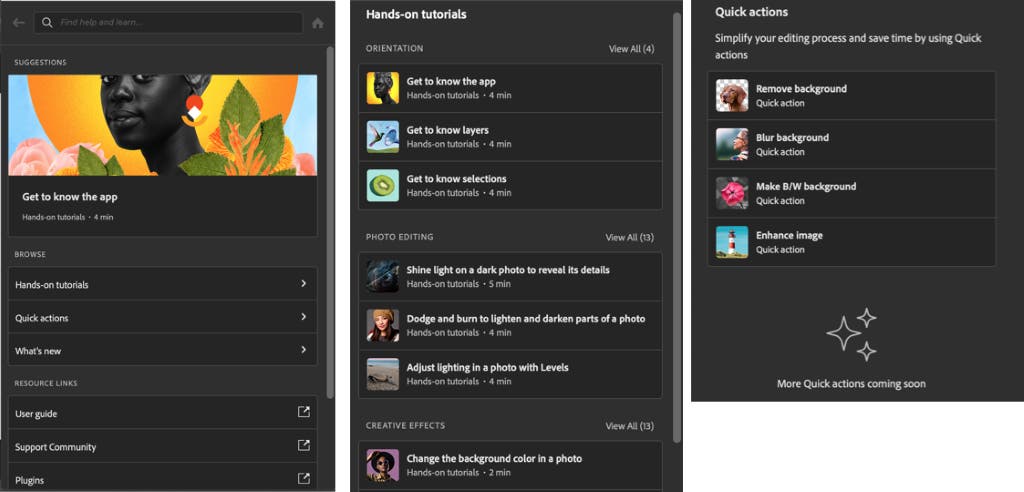 Learning with Photoshop never stops. Get inspired with the new Discover panel that combines a massive library of in-app learn content, brand new step-by-step tutorials, and a new powerful search functionality. 
AI provides you with tailored recommendations of tips and tutorials based on your experience and your work. This helps you grow exponentially as a creative and offers you a deeper understanding of what Photoshop can help you achieve.
Pattern Preview
Creating a perfectly repeating pattern can be extremely tricky, however it is easier than ever now. Pattern Preview allows you to envision how your document will appear as a pattern. In this view mode, the document is virtually tiled and repeated. You can play around by adjusting the layers to have a better visualization of your pattern.
Live Shapes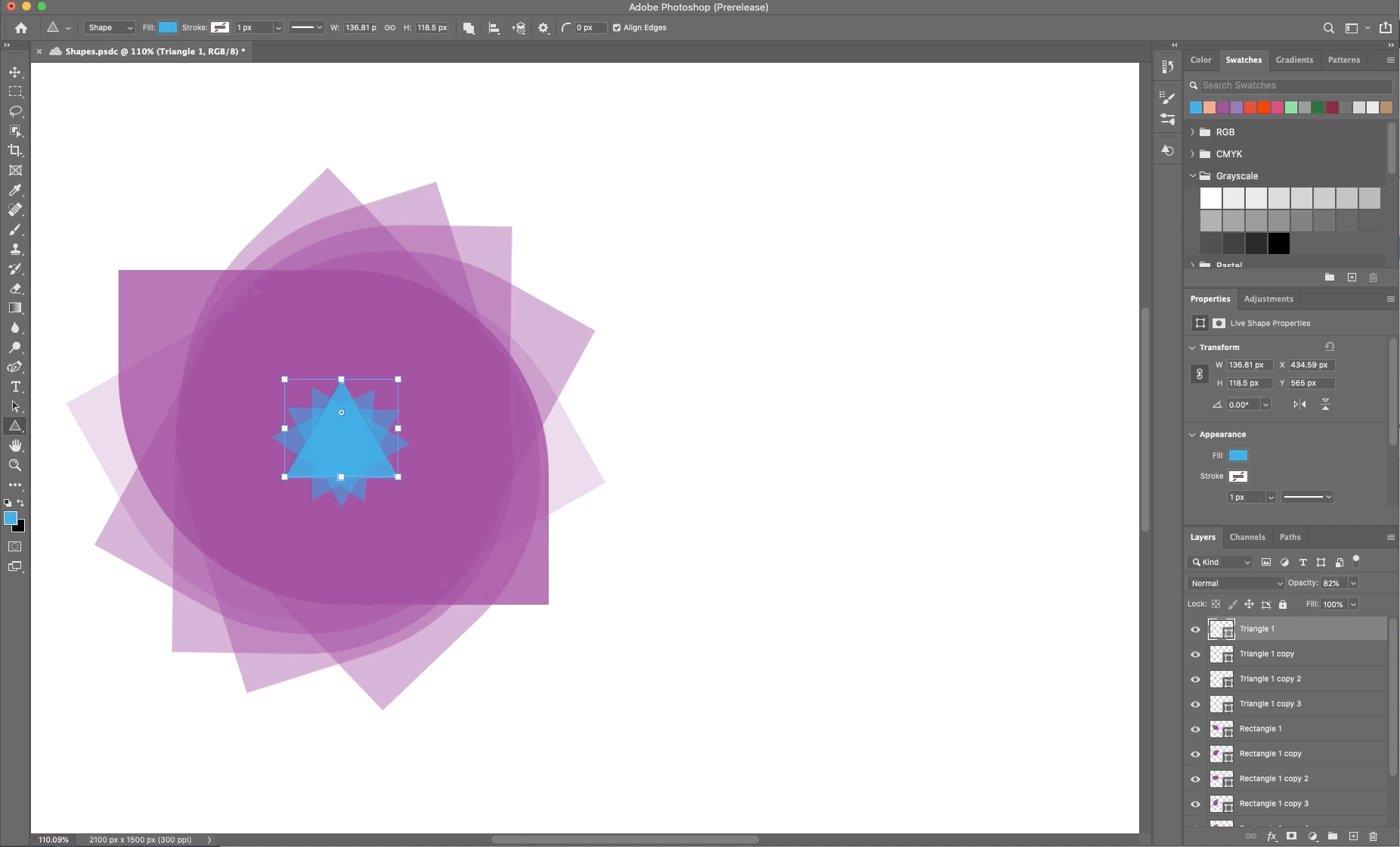 Creating and adjusting shapes is simple and quick now. Photoshop has added a new tool within shapes to create triangles and canvas controls to make resizing and adjusting shapes intuitive and fast. Shapes are also easier to adjust after they've been created by adding new controls to the properties panel.
Reset Smart Objects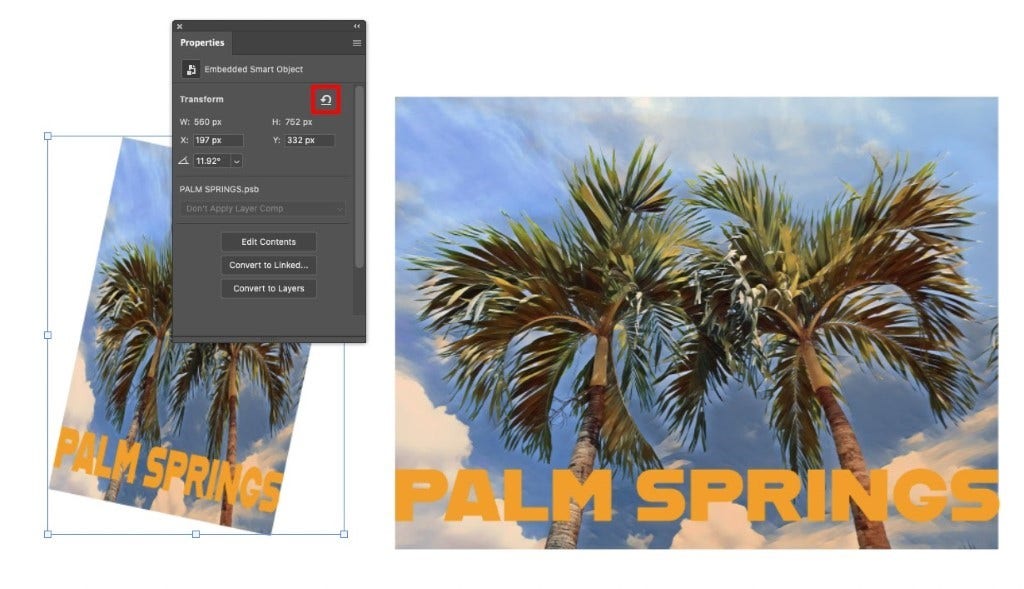 An additional enhancement to the Properties Panel that allows you to completely reset a Smart Object to its original state. Any rotations, transformations or warps are detected and a 'Reset' button will restore it.
Improved Plugins
 A hallmark of Photoshop has always been the thousands of plugins created by their community of developers. Today, Photoshop is introducing major enhancements to their plugins.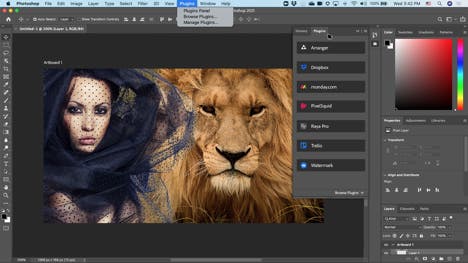 Plugins are easier to discover, manage and use. Now they can be found in the Creative Cloud desktop app, in the new plugins marketplace, where you can view curated collections.
There are also Photoshop plugins built on UXP that are now available in the marketplace across several categories. For example:
Asset management and stock 

Collaboration 

Image editing 

Utility and other exciting plugins 
More plugins, including a connection to Google Drive, are on the way to complement your work with photoshop.
Cloud Document Version History 
Easily look back or revert back to prior states as versions are automatically created as you work on a cloud document. Now you can view, revert, open, save as, and name past versions of a cloud document through Version History.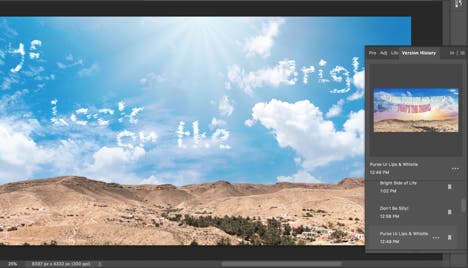 Cloud documents are available offline too! The sync experience is improved so you can view your sync status and the amount of data you are using for a sync and how much of your storage data is used.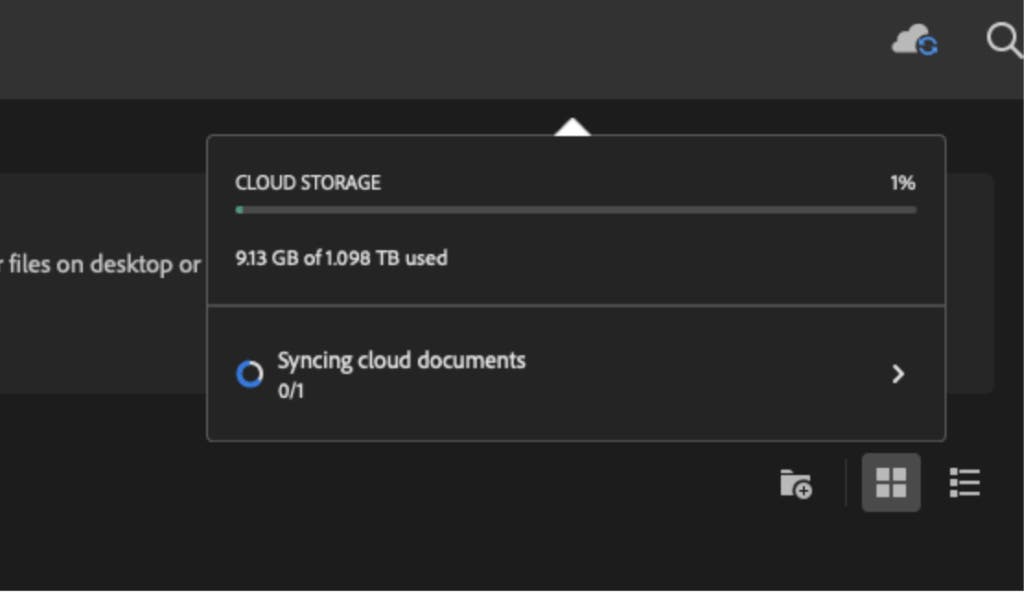 Preset Search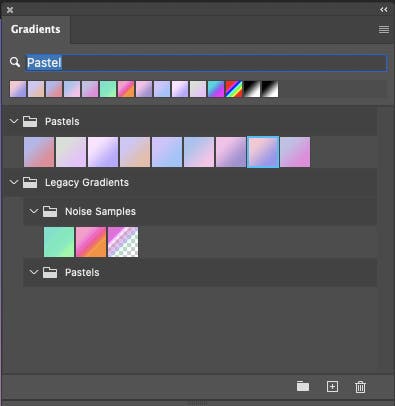 Spend less time hunting for a specific preset and more time creating. Search is now included in the Brushes, Swatches, Gradients, Styles, Patterns and Shapes panels.
Photoshop on iPad
Photoshop has some exciting improvements for our portable devices to make working on our documents on-the-go more efficient. It expands the capabilities of Photoshop on iPad to better match our experience to the desktop app.
Edit Image Size

Change the dimensions, resolutions and sampling of your PSD to fit the output you need. 
Live Streaming

Broadcast your techniques with a live audience within Photoshop. Anyone is able to livestream from the app or watch past recordings of others. Live streams will be sent directly to Behance to be viewed live on the web and recordings will be moderated and posted in the gallery on Behance and Photoshop on iPad app.
Behance Gallery is new inside the app so you can get inspired and view work from others in the community. Go here for more information about the gallery.