The Creative Cloud desktop app is getting improved with a whole new level of personalisation and new features.
Before, the Creative Cloud desktop app provided easy access to creative assets such as Adobe Fonts and Adobe Stock; manage Libraries and Cloud Documents; and discover learning resources and community content.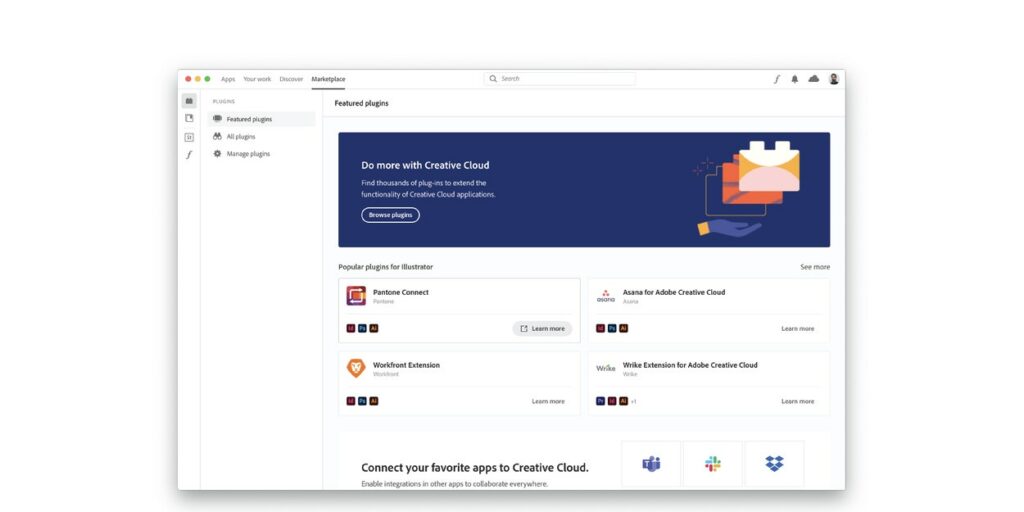 Today, Adobe has taken it a step further by making the Creative Cloud desktop app the central location for all the tools you need and keep up to date with your community concurrently.
Updated Category Pages
Category pages now include more details to help users understand the differences between apps better. This facilitates them in picking the best solution for their project. Simply browse the apps available in you plan based on categories to learn more about each app with more detailed information to choose the most suitable one.
Marketplace Tab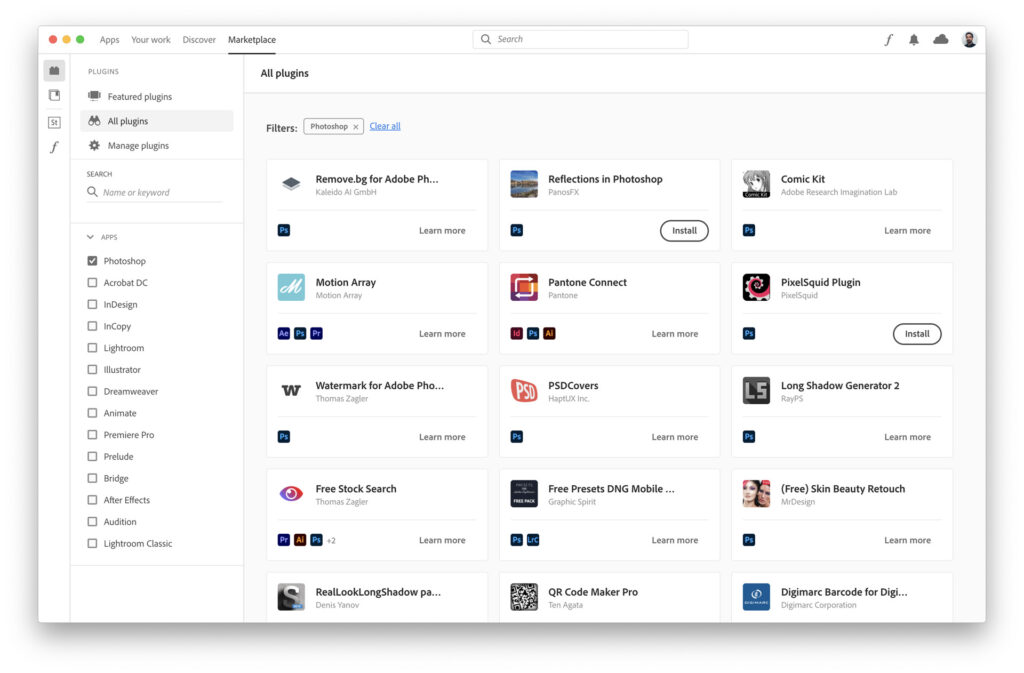 The new Marketplace Tab enables easy access, plugins, integration and free public libraries. This bridges the gap between Adobe Exchange and the future Creative Cloud ecosystem. Plugins and integrations that connect to everyday tools and extend Creative Cloud in powerful ways are now easier to locate, install and manage.
For those unfamiliar with Creative Cloud Libraries, you can locate free and fully licensed public libraries – featuring UI Kits, colour packs, icons and more – under the Marketplace tab for inspiration. Simply copy the libraries of your choice and they will be immediately available for use in the Libraries panel in all your favourite Creative Cloud apps.
Community Threads to Stay Connected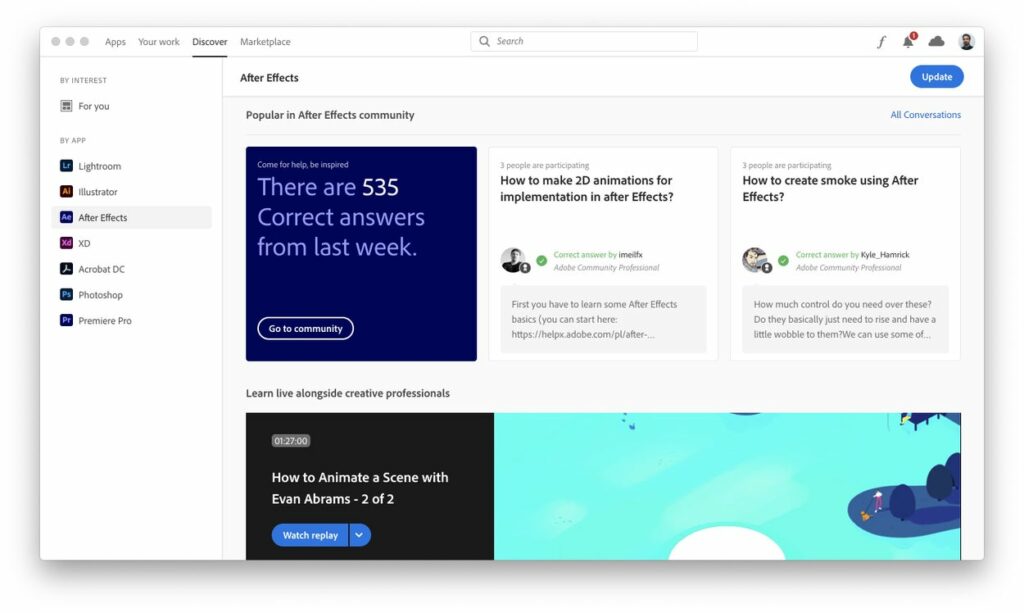 Community threads are now visible under the Discover tab, including 'top reply' and 'correct answer
Management Options to Stay Organised 
The Creative Cloud desktop app creates a hassle-free environment for us to manage cloud documents, fonts and libraries.
Manage your Cloud Documents: Every cloud document you've ever created in Creative Cloud can be managed via the Creative Cloud desktop app. Be it Photoshop, Photoshop for iPad, Adobe XD, Fresco, Aero, Illustrator or Illustrator for iPad, they are all available in one convenient space to manage. 

Manage your Fonts: Easily view your active and previously active fonts, deactivate fonts or reinstall fonts. Your choices will then be automatically implemented the next sign in to your desktop app, just like the Adobe Fonts website 
Manage your Libraries: Creative Cloud is the perfect tool to maintain visual consistency. The new full-screen view in the app makes managing, organising and sharing assets a breeze. Whether you want to find inspiration for a new project or to gather together the brand elements for a new client, it's all possible in one central spot.
Discover with Creative Cloud
The desktop app curates recommended livestreams as well as Behance galleries based on your interests. Simply click the For You button in the Discover Tab for inspiration from other creatives!
If you prefer to focus on learning a specific Adobe tool, the left hand navigation in the app shows all the applications you've installed and displays content tailored to your experience level. For example, an experienced Illustrator user will see different resources form one who is new to it. Your preferences and skill level can be updated to ensure that the content recommended to you is the most relevant.
Stay Organized, Connect with your Community and Keep Learning
Creative Cloud desktop app has made it effortless for you to locate assets and content you need to grow as a creative. With these new features, you can access all your Adobe tools and services from one central location, update them and even discover new apps.
Simultaneously, you can discover plugins, public libraries, personalized learning resources and community features based on your specific design interest. Elevate your skills and connect with other creatives – all through the new and improved Creative Cloud desktop app.