Intel unveiled two new 11th Generation Intel® CoreTM processors earlier this week at Computex 2021. These new processors help Intel maintain its leadership in mobile computing this holiday season, delivering the world's best processors for thin-and-light Windows-based laptops.
Following the previously announced collaboration with MediaTek and Fibocom, Intel also presented its first 5G solution for the next generation of PC experiences, Intel® 5G Solution 5000. This will serve the needs of partners and consumers who rely on PCs every day for critical real-world performance and connectivity.
Mobility, performance, and connectivity are critical to modern PC experiences, as evidenced by the pandemic-driven need for working and learning at home. As the world moves forward with hybrid work-learn-play models, the 11th Generation Intel Core processor family continues to enable real-world productivity, collaboration, creation, gaming, and entertainment on thin-and-light laptops.
11th Gen Intel Core processor-based laptops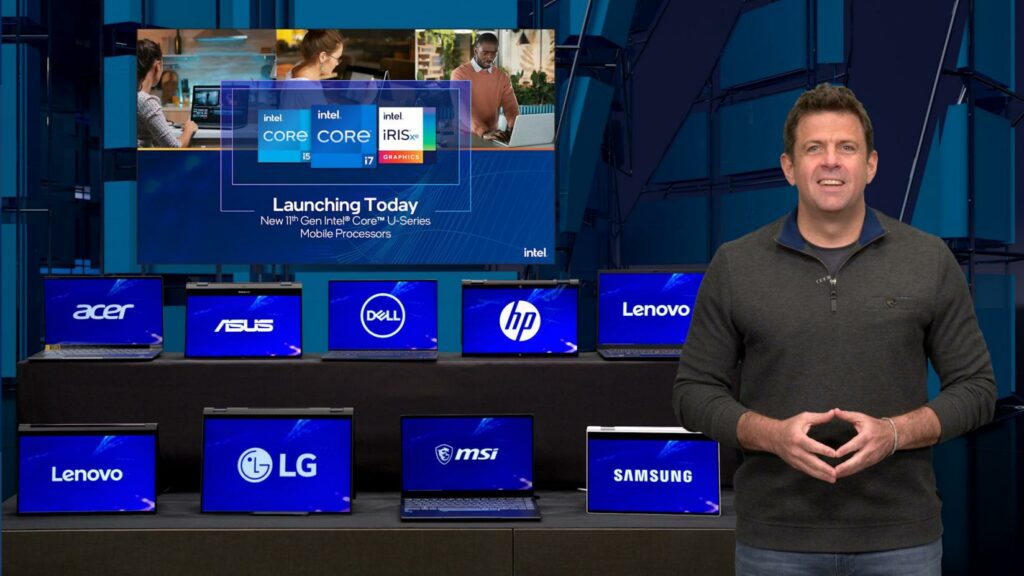 Here are the new features of 11th Gen Intel Core processor-based laptops:
Up to 5 gigahertz (GHz) in high-volume thin-and-light designs — an industry first — in 11th Gen Intel Core processor-based laptops
Up to a 25% advantage in overall application performance over the competition
Intel® Wi-Fi 6/6E (Gig+) designs for enhanced connectivity
ISV optimisations result in up to eight times faster transcoding and up to twice the video editing speed over the competition
Impressive 1080p gaming on new and popular titles like Valheim, with up to 2.7 more frames per second than the competition
This holiday season, more than 60 designs based on the Intel Core i7-1195G7 and Intel Core i5-1155G7 are expected to be available on laptops from Acer, ASUS, Lenovo and MSI this summer. Expect around 250 designs powered by 11th Gen Intel Core U-series CPUs.
With Intel Iris X Graphics
This processor series provides the highest performance for thin and light notebooks. The 11th Generation Intel® CoreTM CPUs combine industry-leading CPU and graphics performance, incredible AI acceleration, and best-in-class wired and wireless connectivity to help you focus, create, and engage at new levels.
This new family of processors, driven by Intel's innovative SuperFin transistors, combines industry-first and best-in-class technologies, such as integrated Intel® Wi-Fi 6 (Gig+), ThunderboltTM 4, AV1 media decode, CPU-attached PCIe Gen 4 interface, and hardware-hardened security measures.
Increase your productivity with a processor that supports up to 5.0 GHz Turbo clock speeds and is the first CPU to incorporate Thunderbolt 4, the genuinely ubiquitous single-cable connection that supports up to four simultaneous 4K HDR monitors. To improve storage performance and system responsiveness, combine 11th Gen Intel Core CPUs with Intel® OptaneTM Memory H20 and Solid State storage.
With Intel Iris Xe Graphics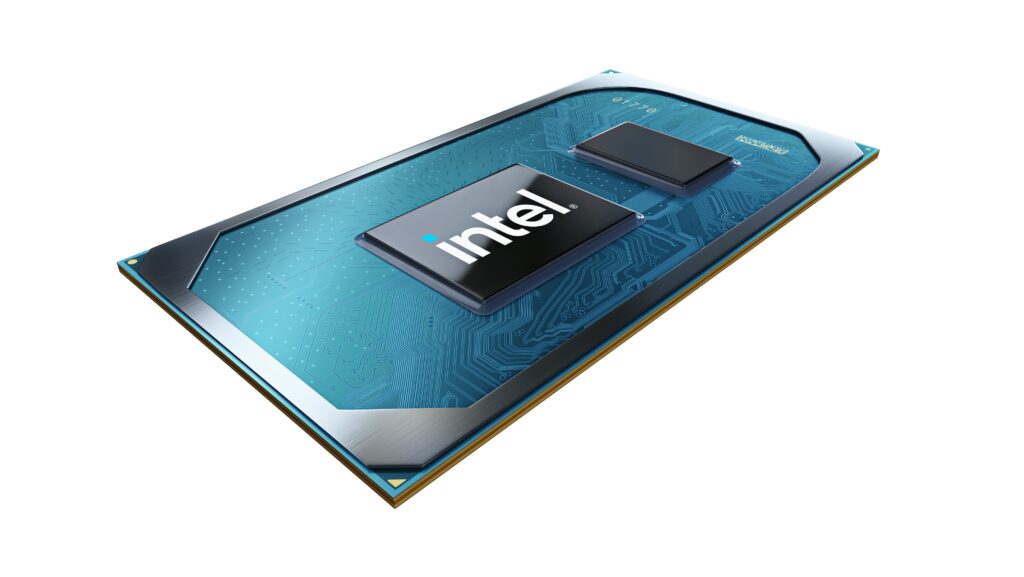 The new Intel® Iris® Xe graphics provide discrete-level graphics performance in sleeker, thinner, and lighter notebooks. More significant titles in full HD are available at outstanding, playable frame rates compared to the competition.
Intel® Iris® Xe graphics also provide amazing visuals with support for billions of colours, HDR10, Dolby Atmos sound, and an industry first, lengthy playing of Dolby Vision-enabled content with hardware acceleration.
Not only can you play top games in up to 1080p at 30 fps or more and enjoy an extraordinarily enthralling entertainment experience, but 11th Gen Intel® Core processors with Intel® Iris® Xe graphics also allow you to complete creative pursuits with blistering speed powered by unusual hardware-accelerated AI, whether plugged-in or unplugged.
AI Revolution
The 11th Generation Intel® Core processors provide the most powerful AI acceleration ever designed for thin and light notebooks.
This was developed to accelerate the most recent AI-enhanced applications and current workflows significantly. AI enables more immersive communication, with neural noise suppression and even video super-resolution for professional video calls in any location using the latest low-bandwidth encoding and video conferencing Wi-Fi technologies. It transforms creative workflows by allowing stunning new photo and video editing capabilities at breakneck speeds.
A history of innovation with Intel
Intel's innovation and leadership with the 11th Generation Intel Core family and Intel® EvoTM platform-verified designs continues with leading storage and networking technologies crucial to providing exceptional PC experiences.
In early 2021, Intel released the first Wi-Fi 6E solutions for the PC market. Select new 11th Generation Intel Core designs will further propel this industry leadership with best-in-class Intel Wi-Fi 6E (Gig+) solutions that deliver gigabit+ speeds, reduced latency, and more excellent reliability through unconstrained Wi-Fi performance in new 6 GHz bands (where available).
11th Gen Intel Core processor-based platforms, when combined with the recently unveiled second-generation Intel® OptaneTM memory H20 with solid-state storage (SSD), accelerate daily activities such as managing large media, gaming files, and applications with a new level of sensitivity and ample storage space.
Intel is constantly improving PC capabilities in ways other than pure performance. Intel Evo platform-verified notebook designs are co-engineered with a combination of core platform technologies and system refinements to offer excellent responsiveness, long battery life, immediate wake, and excellent connectivity.
Intel 5G Solution 5000
The Intel 5G Solution 5000 provides almost five-fold speed enhancements over Intel® Gigabit Long-Term Evolution (LTE) from any location. Intel collaborated with MediaTek on the product definition, development, certification, and support of 5G modem solutions for the next generation of PC capabilities, while Fibocom provided 5G M.2 solutions (FM350-GL).
This year, Acer, ASUS, and HP are likely to be among the first OEMs to enable interconnected smart laptops with the Intel 5G Solution 5000 based on 11th Gen Intel® CoreTM U- and H-series CPUs. The momentum is expected to continue in 2022, with over 30 designs planned.
The pairing of fast 5G connectivity with Intel Wi-Fi 6/6E (Gig+) allows for seamless experiences across all network types. Wi-Fi and 5G will be the significant foundations supporting the ubiquitous connectivity challenges of the future as Intel reaches a new paradigm for mobile computing.