With effect from 17 May 2021, the SafeEntry system in Singapore will only accept check-ins using the TraceTogether mobile app, physical token or ID cards. In response to this transition, Canon Singapore has announced a Handheld Integrated Temperature System (HITS) which aims to simplify and speed up the check-in process for businesses and security services.
A centralised hub without the cords
The common setup usually includes a standalone temperature sensor and scanners for TraceTogether tokens or Identification Cards (ID), which have to be connected to a computer with a power outlet. Users logging in with their phones will have to scan a printed QR code.
The HITS device weighs in at just 250g with an integrated temperature sensor and identity scanner into a single handheld form factor that runs on battery power. The portable nature of this device aims to reduce any inconveniences and queueing times, especially in car parks or driveways where it is common for security guards to carry a logbook and the QR code printout.
Having launched a stationary all-in-one check-in solution last year, we've gotten strong feedback from our customers to provide a mobile version to make safe entry check-ins much more flexible and efficient. This is especially useful for places like malls, offices and the entrances of carparks and condominiums where guests are typically required to step out of their vehicles or do additional steps to check in. Being a mobile all-in-one check in solution, HITS ensures there is minimal disruption or inconvenience for visitors to such areas while complying with safe entry regulations.Edwin Teoh, Head of Marketing, Singapore Operations, Canon Singapore
Accurate readings with clear imaging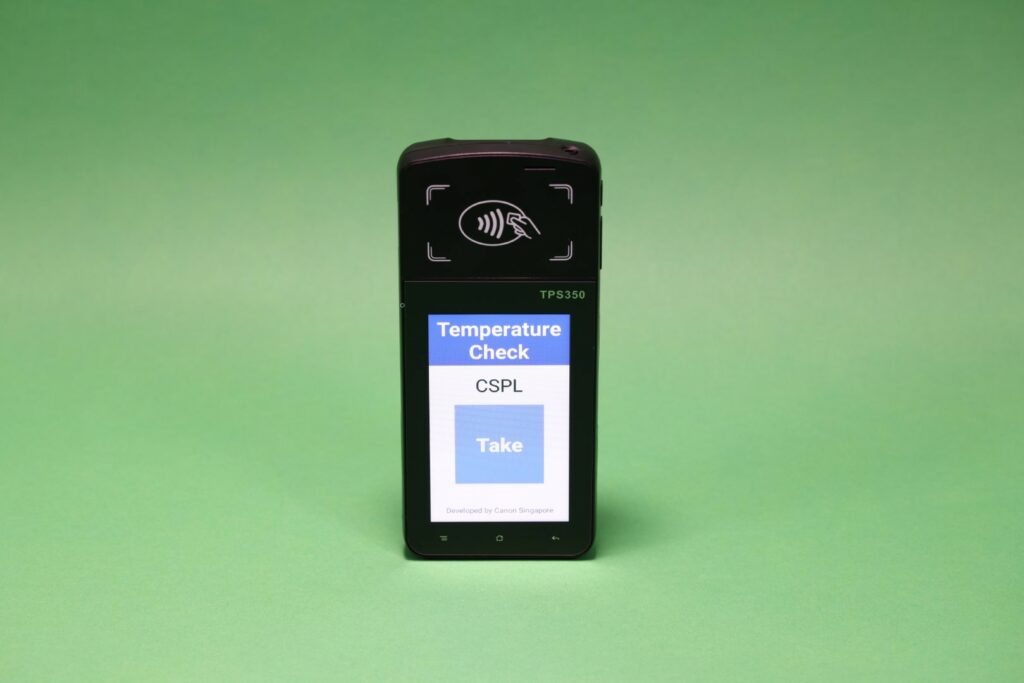 The built-in infrared thermography feature found on the HITS device can accurately detect the subject's body temperature with an acceptable predetermined range with an accuracy of about ± 0.3 degrees Celsius.
The device also generates QR codes within seconds, displayed on the large 4-inch illuminated display, which remains highly visible in any lighting conditions.
High emphasis on data security
With data security concerns at an all-time high due to contact tracing, the Canon HITS only logs the last four digits of visitor and staff identity numbers to reduce the risk of any significant data leaks.
The data is then submitted to an optional data management system stored in the organisation's database that can be connected through the embedded WiFi, Bluetooth or SIM card on the HITS device.
Availability and Pricing
The Canon HITS device is currently available at S$1,000. If you are keen to purchase the device, you can reach out to the sales team via their email: [email protected].
Specifications
Product Dimensions (L x W x H)
Approx. 168 x 75 x 24 mm
Display
4-inch, 480×800 pixels
Memory
1GB DDR

8GB eMMC

Ext

TF card slot

Communications
LTE

WCDMA

GPRS

Wi-Fi

Bluetooth

Battery
3.8V/ 3800mAh, Li-ion