Local mobile operator StarHub has partnered with NVIDIA to offer NVIDIA GeForce Now cloud gaming service, taking the title as the first in Southeast Asia to partner with NVIDIA. With their fast high speed 5G network and broadband connections locally, the telco aims to deliver lag-free and ultra-responsive gameplay on nearly any device with varying hardware.
Extensive game library on any device
With 300 game publishers such as Deep Silver and Bungie working together with GeForce Now, a massive library of more than 800 titles will be available at launch, with access to more than 80 of the biggest free-to-play games.
Members of this service can look forward to weekly game releases with newly added features and improved gaming experience along the way. Exiting Steam or Epic Games users can link their titles to be stored on the cloud, on top of the game library from NVIDIA.
No performance limitations
Games running on the new GeForce Now will be handled through the cloud, eliminating most hardware requirements on the user's device. With the aid of StarHub's responsive high-speed network, one-way latency in games is rated at a mere 8.4ms.
To live up to their claims, StarHub is currently deploying NVIDIA's RTX servers in data centres capable of delivering real-time ray tracing, even for the latest and most demanding games. Regardless of which game you play, you will be able to enjoy it in 1080P Full HD resolution and 60 FPS across nearly all devices.
Our vision is to be the powerhouse of gaming for customers. What we want to offer is not just a new platform for gamers, but an entire ecosystem for our gaming customers to live out their fullest gaming potential, bringing them together to co-create an all-new experience that is meaningful, unique, and unmatched, only with StarHub.Johan Buse, Chief, Consumer Business Group, StarHub
Availability and Pricing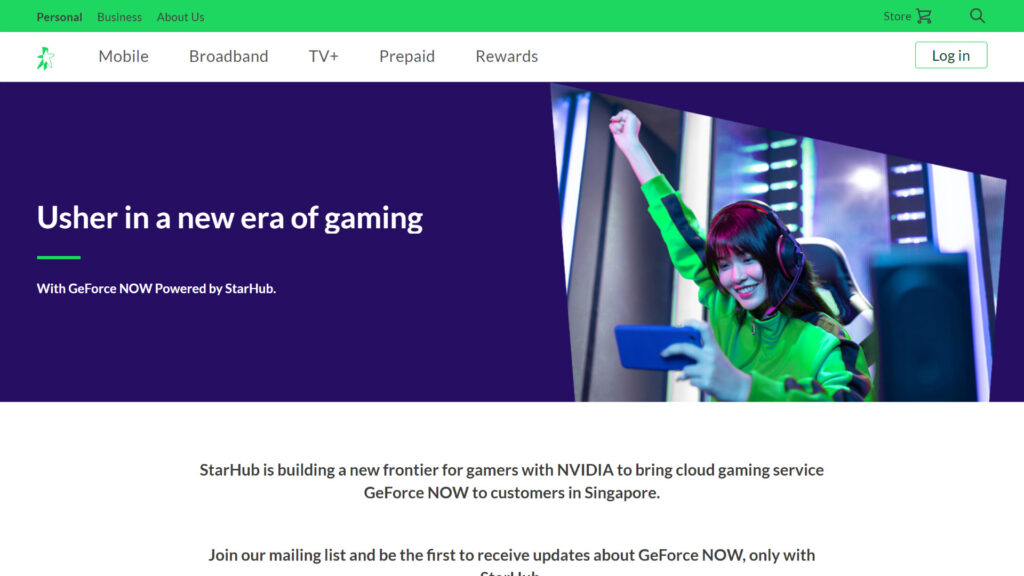 NVIDIA GeForce Now, powered by StarHub, will launch in Singapore in the third quarter of 2021. Interested parties can register their interest to receive priority updates on the partnership and upcoming trial before the general public.