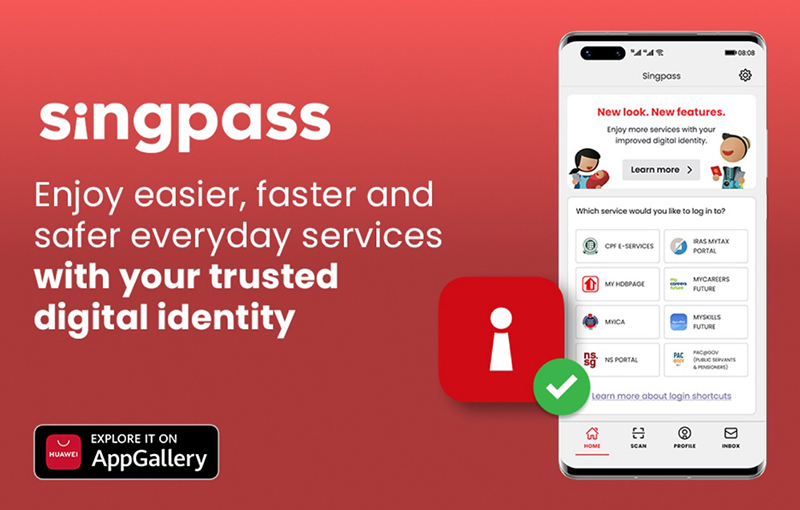 From 9th April 2021 onwards, the Singpass App will be available on Huawei's official app distribution platform, App Gallery. Developed by GovTech, the Singpass app allows Singapore residents to access more than 1,400 everyday services provided by more than 340 government agencies and private organisations.
Huawei users can now view their Central Provident Fund (CPF), file their taxes with the Inland Revenue of Authority of Singapore (IRAS), access bank accounts and renew insurance policies with a quick scan and tap on their smartphones, without a password.
Singpass was introduced in 2003 to facilitate digital transactions with Singapore government agencies. Today, Singpass has improved itself with a user-friendly interface and secured capabilities. It also has the latest features of Singpass Face Verification, Digital IC and digital signing.
With the launch of the Singpass app on App Gallery, this will offer local users of Huawei devices a third 2FA method when accessing services, in addition to the SMS One-time Password (OTP) and Singpass Face Verification 2FA modes.
Global Presence with Local Flavour
The Huawei App Gallery was launched worldwide back in 2018 and currently available in over 170 markets, with over 500 million monthly active users on its platform. The app marketplace boasts over 2 million registered developers worldwide, and 96,000 apps integrated with its Huawei Mobile Services Core.
In addition to the Singpass app, Huawei's native app market has introduced popular local utility apps such as Parking.sg, TraceTogether, Shopee, Lazada, Grab, TADA, ComfortDelGro and more.