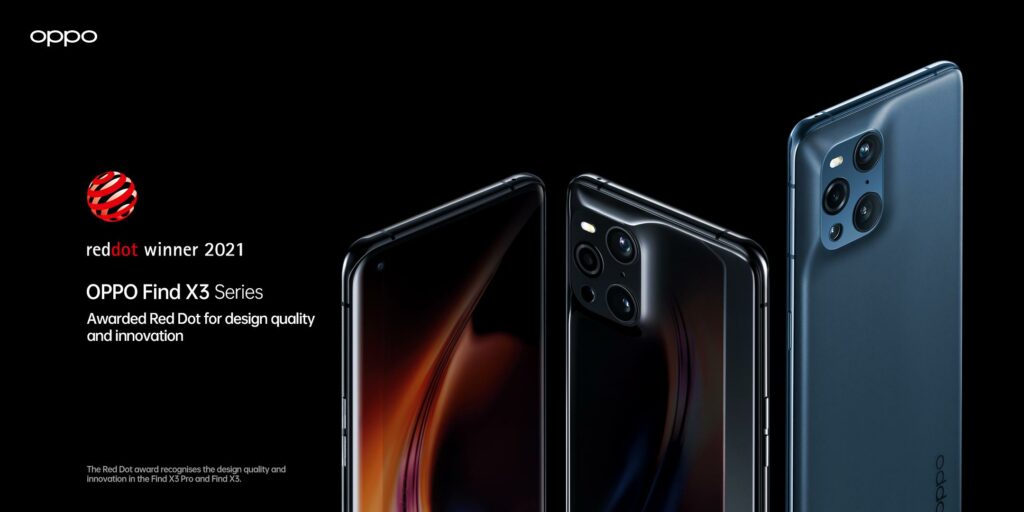 OPPO has won the most prestigious design competition globally with its latest high-end Android smartphone – the OPPO Find X3 Pro. This award is another feather in the hat for OPPO, which officially overtook Huawei as the best-selling manufacturer in China in 2021.
OPPO Find X3 Pro – an exquisite work of beauty
The futuristic-looking smartphone features a metallic structure creating an elegant envelope without sharp edges. Its back panel is crafted from a single piece of glass, with the look of liquid metal bouncing off colours at all angles. This seamless design aesthetic is guided by fluidity, with its space-age befitting of OPPO's mission of creating technology to enrich mankind.
Powerful design and engineering
Almost all smartphones on the market have a camera module separate from the backplate. In the OPPO Find X3 Pro, the camera module is also protruding from the phone's back.
However, the difference is that its back glass plate is a single piece of glass that also covers the camera via a subtle curvature. This is a very difficult design to achieve which stood out to the Red Dot judges.
OPPO stated that it had to map over 2,000 points of curvature on the glass to achieve this design.
The smartphone is extremely slim and lightweight, with details as below:
8.26mm deep, 193g
IP68 rating making it water and dust-resistant
Gorilla Glass 5 panel for toughness
Color OS11.2, Android 11
12GB RAM and 256GB storage
Available in gloss black and blue
In the Gloss Black variant, OPPO Find X3 Pro is covered in a rich ceramic-like porcelain glaze finish, creating a luxurious mirror black feel. In the Blue variant, the exterior is an anti-glare frost matte texture, with a dual-tone satin finish.
However, do take note that a special technology was applied to conceal the proximity sensor on the upper front of OPPO's smartphone for a look of simplicity. This feature is used to disable the touchscreen when the phone is held near our ear, to avoid unintentional touch input.
If you have a screen protector which covers the proximity sensor area, it may cause the proximity sensor to stop working. However, this problem rarely crops up.
The OPPO Find Series
The original Oppo Find X, released in 2018, was an experimental handset unlike anything else on the market, and lay claim as "the world's first panoramic designed phone." Its camera system is hidden behind the phone's shell when not in use, making the phone one seamless piece with no protrusions.
World's First
The OPPO Find X3 Pro is one of the very first to use a 10-bit panel – meaning it can display a billion colours. Specifically, 1.07 billion colours. At the moment, all other phones in the market use an 8-bit panel that can only display 16.7 million colours. In practical terms, this means that the OPPO Find X3 Pro allows you to consume visual content with one of the widest colour range possible.
Red Dot Award
The Red Dot headquarters is located on the grounds of the UNESCO World Heritage Site Zollverein coal mine in Essen, Germany. With a tradition spanning more than 60 years, 1955 saw the first annual design competition come into being.
With more than 18,000 entries yearly from over 70 countries, the Red Dot Award is now one of the world's largest and the most renowned design competitions.
Singapore is home to the Red Dot Design Museum, which from 2018 is no longer the only museum in APAC. Travellers and visitors can get an insight into the world of design in the Red Dot Design Museum Xiamen, located at Terminal 2 of Gaoqi Airport in China.
Availability and Pricing
The OPPO Find X3 Pro is now available in Singapore at a retail price of S$1,599.
The OPPO Find X3 Pro is on sale islandwide at OPPO's concept stores, Shopee and Lazada online stores, M1, Singtel and StarHub stores, and authorised resellers.