Just 20 years ago, only 4.1% of the world's population had access to the internet. Fast forward to 2019, there are over 4.5 billion active internet users, which makes up 58.8% of people on Earth!
The United Nations has issued a resolution stating that access to the internet is considered one of the basic human rights as it plays a pivotal role in modern life.
In a recent report published by Picodi, it investigates the pricings of 233 biggest fibre internet providers among 62 countries to find out how much it costs for an internet subscription around the world. The compilation only includes unlimited residential internet plans, without television or phone bundles.
It is important to note that this report compares the prices of the internet plans available (around the world), which does not represent the actual speeds that can be obtained once subscribed to it.
100 Mbps ought to be enough, right?
Theoretically, a bandwidth of 100 Mbps should be sufficient for the average internet user. However, actual internet speeds being achieved most of the time is very dependent on many factors. Among them, there is a nominal speed, the network's technology, wireless interference, network load and also, the quality of the visited website and the distance to its hosting server location.
100 Mbps is the speed offered most frequently in the majority of countries — 55 out of 62. Today, such speed allows for smooth web browsing on several devices at the same time and watching streaming services in the highest 4K resolution (UHD).
Oddly enough, countries including Singapore, Poland, Romania or France, do not offer such a "low" speed subscription. In Singapore, the minimum speed you can subscribe to is just 500 Mpbs. On the other hand, 100 Mpbs speeds are not widely available in countries like Tajikistan, Turkmenistan or Vietnam yet.
Average speeds achieved in Singapore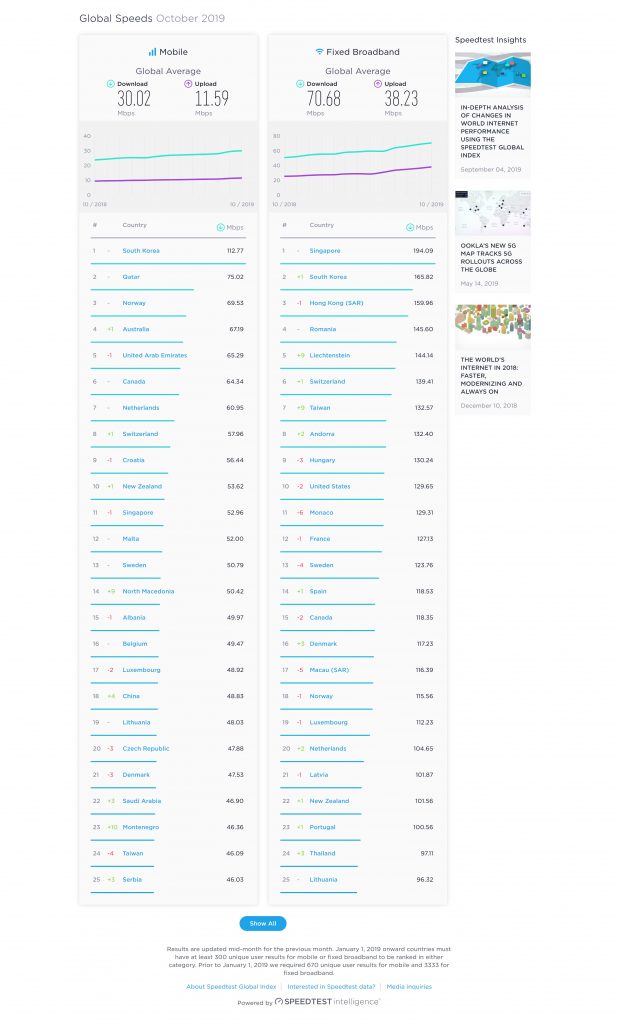 According to Speedtest.net, the global average download speed of broadband internet amounts to 70 Mbps (October 2019). Interestingly enough, Singapore ranked first in terms of broadband internet download and upload speeds – averaging about 194 Mbps and 202 Mbps respectively.
1 Gbps speeds around the world
In theory, a 1 Gbps (gigabit per second) internet speed should allow you to download a 1 GB (gigabyte) in just 8 seconds – emphasis on the small letter b and capital B. In many countries, that's the highest plan that they offer.
However, Picodi has shared that the purpose of this report is not to prove how such a speed is actually needed. It only investigates where 1 Gbps is available for residents and how expensive it is.
According to Picodi.com data, 1 Gpbs internet is a high-cost luxury in many countries. In 24 out of 44 countries where such a speed is offered, its monthly subscription price exceeds $50. Super-fast internet is the most expensive in Austria and Australia, at $220 and $231 respectively. On the other hand, the cheapest 1 Gbps internet is available in Romania, at just $9 per month. In Singapore, the 1 Gbps plan is on the cheaper side — $29 a month.
This report is brought to you by Picodi. The whole list of countries and providers is available here.