Google and Infocomm Media Development Authority (IMDA) will support the expansion of the Code in the Community (CITC) programme with $2 million in grant funding, to help more underprivileged young Singaporeans to be digitally ready for the future. This commitment, announced by Deputy Prime Minister and Minister for Finance, Mr Heng Swee Keat, will enable partners Saturday Kids and 21C Girls to bring the programme to another 6,700 students, aged 8 to 16 years, over the next three years. Google is contributing $1 million to the programme, with IMDA matching its contribution.
Our vision is for every citizen, regardless of age or background, to use technology confidently. IMDA is pleased to partner Google on the CITC programme to support underprivileged children in picking up digital skills and computation thinking through coding. This is part of our efforts to ensure that no child is left behind in a Smart Nation. I would like to express my deepest appreciation to all the volunteers for their contributions to build a more caring and inclusive society. I hope that more like-minded industry partners and volunteers will step forward to join us on this journey.Mr Tan Kiat How, Chief Executive, IMDA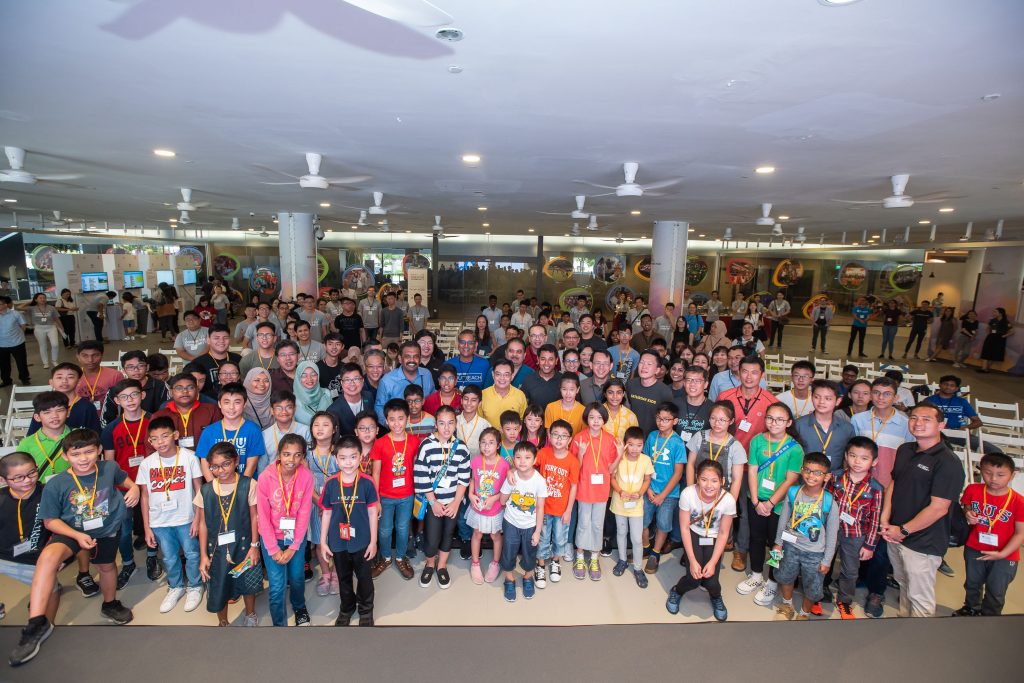 CITC first launched in 2017 in Singapore offering free, multi-level coding classes at scale for underprivileged students. Since its introduction, the programme has equipped 2,300 students with basic coding skills and inspiring them to imagine, invent and explore with technology from a young age.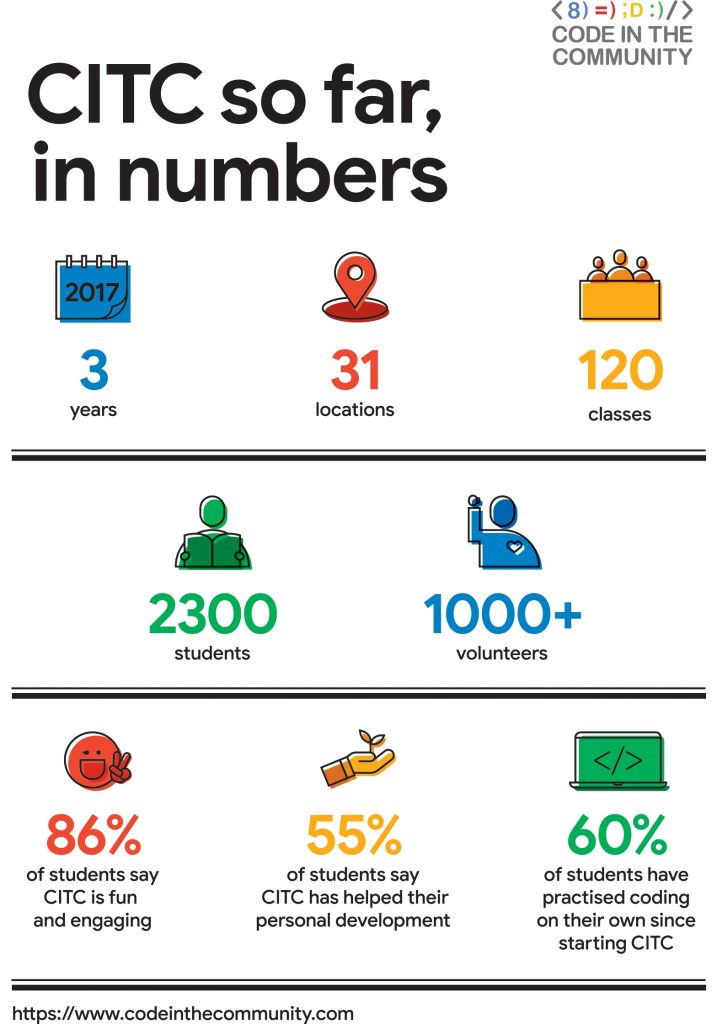 By providing grant funding to Code in the Community, we want to empower all kids in Singapore to discover and explore technology. The Google grant will help Saturday Kids and 21C to nurture the country's next generation of innovators and support Singapore's ambition of being a Smart Nation. We're excited to join forces with IMDA to continue supporting a more inclusive digital society. Programmes like these are only possible with strong backing from like-minded community organizations like GovTech, National Library Board, People's Association and volunteers who have enabled CITC to grow into a truly community-built programme.Caesar Sengupta, Vice President, Google
More opportunities for young Singaporeans to be ready for the digital economy
Students from the CITC Foundational programme aged between 8 and 12 years old will learn the Scratch coding language, while students aged 13 to 16 years old will learn to code in Python, which is widely used in the industry. In addition to helping them learn to code, the programme also aims to impart important values for their personal development such as creativity, problem solving and resilience. CITC's Foundational programme has been well-received by graduating students, with 86 per cent of them finding the curriculum fun and engaging, and 60 per cent continuing to practice coding on their own outside of the class.
To enable these students to continue building on what they have learned, the curriculum of CITC will be expanded to include a follow-up Applications programme for graduates of the foundational programme. It will also incorporate a maker element to encourage students to apply their learnings, and introduce more complex concepts like design thinking to solve defined problems. Students learning Scratch will learn how to programme robots using Quirkbot, while Python students will learn how to programme a micro:bit. Both the Level 1 Foundational and Level 2 Application programmes will be structured as a 16-hour curriculum spread across eight weeks.
Involving the wider community to develop a truly ground-up programme
Over the past three years, CITC has received strong support from various community partners and private companies. Run by Saturday Kids and 21C Girls, CITC is also supported by self-help groups Chinese Development Assistance Council, Eurasian Association, Singapore Indian Development Association and Yayasan Mendaki, which helped to reach out and bring in students who are eligible for the programme. Additionally, several community partners such as the National Library Board, community centres and family service centres have come onboard to provide their premises for more classes to be held. More than 200 employees from the Government Technology Agency also volunteered their time for this meaningful cause through its "Digital4Good" programme.
To date, the programme has more than 1,000 volunteer trainers, and efforts are underway to recruit more to support the growing intake of new students. New partners have also come on board for their staff and students to volunteer as trainers, namely Cognizant, Hewlett Packard Enterprise, Institute of Technical Education (ITE) College Central, Nanyang Polytechnic, Nanyang Technological University's Open Source Society, Singapore Institute of Technology and Singapore Polytechnic.
CITC will also support the ongoing efforts of UPLIFT (Uplifting Pupils in Life and Inspiring Families Taskforce), an inter-agency taskforce to strengthen support for disadvantaged students and their families. Schools will be able to tap on CITC, complementing their after-school programmes, to engage and motivate these students.
The first run of CITC will commence from 1 February to 22 March 2020. Interested parties can register their interest at https://www.codeinthecommunity.com. Applications close 14 January.