If you are not accustomed to the close-fit commonly associated with noise cancelling earbuds, the Huawei FreeBuds 4 might be your tool of choice.
The Huawei FreeBuds 4 hones on the improvements from the earlier FreeBuds 3, the world's first open-fit ANC TWS earbuds from 2019.  the warbirds also receive improved connectivity across all platforms.
Enhanced ANC on an open-fit design
Containing dual-microphone noise cancelling technology, the earbuds are capable of picking up ambient noise with greater accuracy, thereby improving noise cancellation performance.
Utilising Huawei's Adaptive Ear Matching (AEM) technology, the FreeBuds 4 automatically detects the user's ear shape and adapts noise cancellation accordingly, providing a more comfortable experience and consistent sound regardless of wearing conditions.
High quality all-rounded sound
Based on a Liquid Crystal Polymer (LCP) composite diaphragm which supports a frequency range of up to 40kHz, the Huawei FreeBuds 4 is already capable of producing richer treble. With the inclusion of 14.3mm dynamic drivers, the bass sounds from these earbuds are further enhanced.
When compared to its direct predecessor, the Huawei FreeBuds 4 drastically enhances the airtightness and acoustic pressure which provides an intensified resonance effect.
Lighter design, stronger battery
The FreeBuds 4 provides continuous music playback time of 4 hours and 2.5 hours with ANC on, which can be extended up to 22 hours when used with the charging case. 2.5 hours worth of audio playback can be achieved with a 15-minute charge.
Compared to the FreeBuds 3, this iteration weighs 20.8% lighter while being 6.3 times smaller. Each earbud only weighs 4.3g which makes it less obstructive.
Improved connectivity on any platforms
If you are already part of the Huawei ecosystem, adding this device into the family would be simple – bring it near to your Huawei device, or pair it through cloud and information sharing.
Regardless of platform, dual device connection comes as default, where 2 devices can be connected simultaneously at any instance. Audio input will be automatically directed to your phone in the event of an incoming call.
The Audio Connectivity Centre found in the Huawei AI Life app will also allow users to switch connected devices within a single tap, from a list of 10 recently connected devices.
Availability and Pricing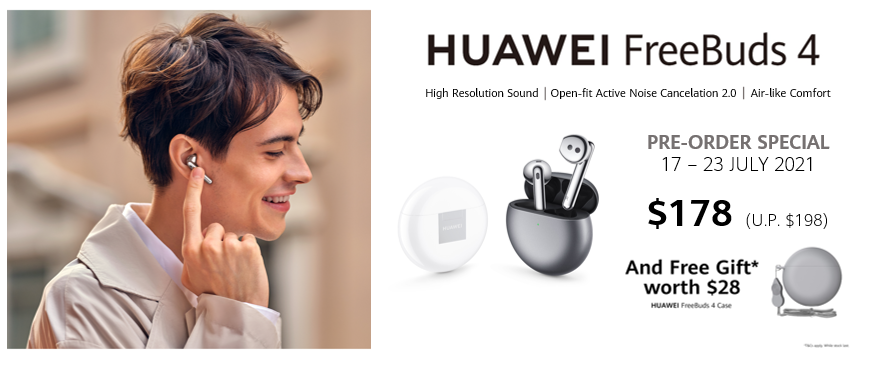 From now till 23 July 2021, the Huawei FreeBuds 4 will be available for preorder, with the benefit of a S$20 discount and a complimentary protective case.
From 24 July 2021 onwards, the HUAWEI FreeBuds 4 will be available at S$198, from all Huawei Experience Stores, offline electronic stores such as Best Denki, Challenger, Courts, or via official online stores on Lazada and Shopee.