With this release, Huawei took extended battery life to new heights with two weeks worth of power coupled with fast charging. The smartwatch also offers many other health-oriented features such as all-day health tracking and a slew of exercise modes for fitness enthusiasts.
Mighty battery, tiny package
Featuring a highly efficient chip with smart power-saving algorithms, the Huawei Band 6 boasts a two-week-long battery life – while constantly keeping track of your health stats such as heart rate, SpO2 blood oxygen level and sleep monitoring.
When in need of a quick recharge, charging for 5 minutes would provide you with two days worth of battery life. The charger comes in the form of a magnetic adapter, which just requires a simple slip-on to start charging.
The weight of the device is a mere 18 grams, encased by a fibreglass-reinforced polymer body. The included soft and skin-friendly silicone rubber strap ensures extreme comfort regardless of the activities involved.
Fitness partner on your wrist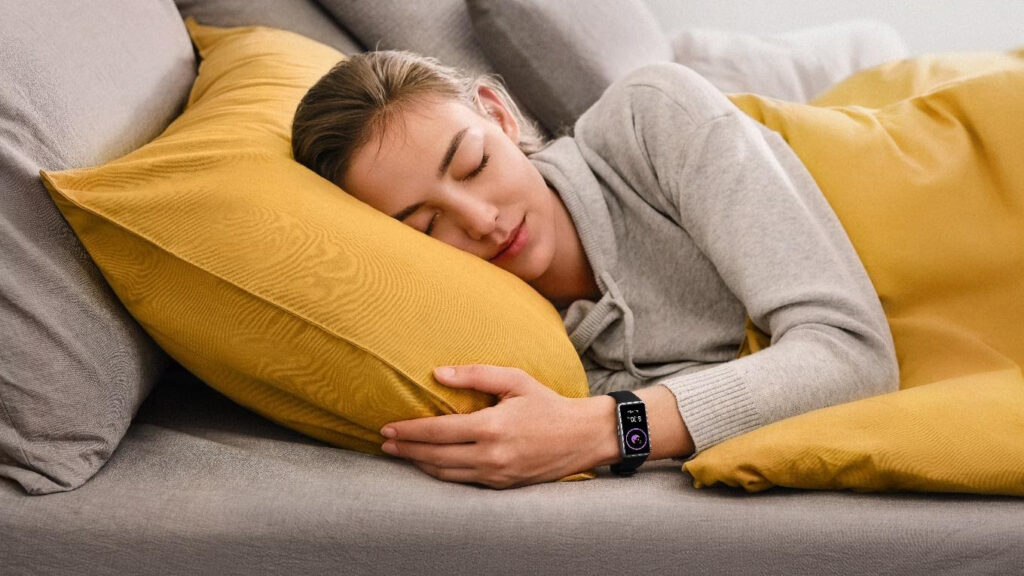 On top of the mainstream fitness modes in the market such as running and swimming tracking, the Huawei Band supports 96 workout modes ranging from ball games to even specialised sports such as different forms of dancing.
Partnering with Huawei-developed TruSportTM professional exercise algorithm, users can gain an understanding on their fitness capabilities through the analysis of multi-dimensional parameters such as exercise data from the exercise modes, heart rate and SpO2 blood oxygen monitoring. In turn, statistics provides professional data monitoring and analysis, allowing users to exercise scientifically.
Doubles as your phone's sidekick
Apart from the fitness capabilities, the Huawei Band 6 strives to become an integral part of your phone. By intelligently identifying and silencing unfamiliar numbers, you can safeguard yourself from potential scams and phishing calls.
The wristband can also be used to control your music playback when your phone is not in reach. When taking selfies or group shots, it doubles as a remote camera shutter, replacing your standalone camera shutters.
The improved display comes with an intuitive ratio which makes it easier to navigate through the features on the band, while providing better display effects thanks to the AMOLED display that produces sharper details and colour.
Availability and Pricing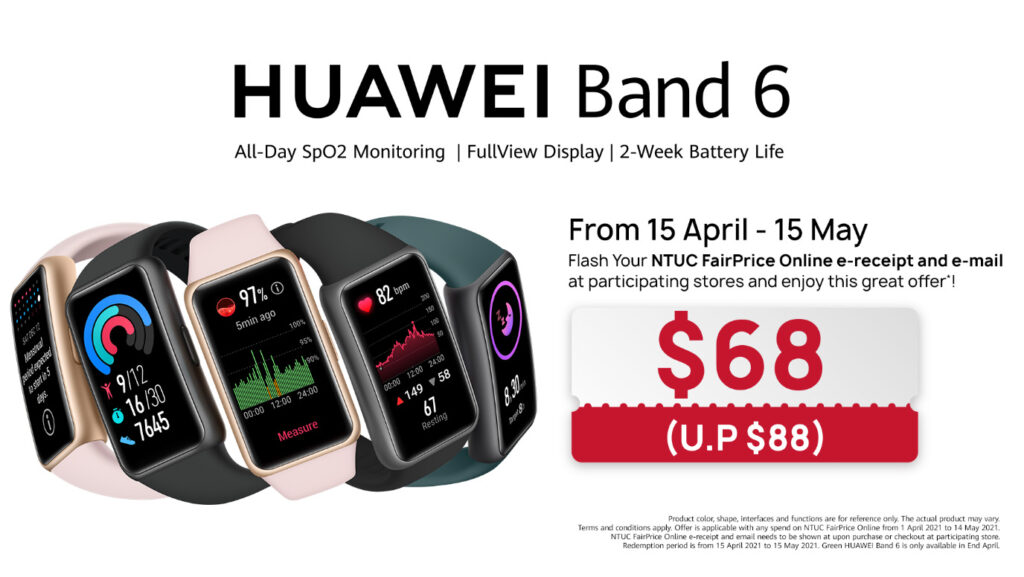 The Huawei Band 6 will be available from 15 April 2021 at S$88 in three different colours — Graphite Black, Sakura Pink and Forest Green, which can be bought from major retailers and from Huawei's Official Store in Lazada and Shopee.
If you are keen to get the fitness band, use this opportunity to clinch a S$20 discount on the Huawei Band 6 from 15 April 2021 to 15 May 2021. Simply present an e-receipt from NTUC in all official channels and distributors.