[cs_content][cs_section parallax="false" style="margin: 0px;padding: 45px 0px;"][cs_row inner_container="true" marginless_columns="false" style="margin: 0px auto;padding: 0px;"][cs_column fade="false" fade_animation="in" fade_animation_offset="45px" fade_duration="750″ type="1/1″ style="padding: 0px;"][cs_text class="cs-ta-justify"]Casio has just entered the market for high-resolution business projectors by releasing the new crystal bright 4K Ultra-High Definition (UHD) projector XJ-L8300HN. With that, it also expands its current line-up of Ultra Short Throw (UST) series with 3 new models promissing to deliver brighter, sharper and higher resolution images with the XJ-UT311WN, XJ-UT351W and XJ-UT351WN.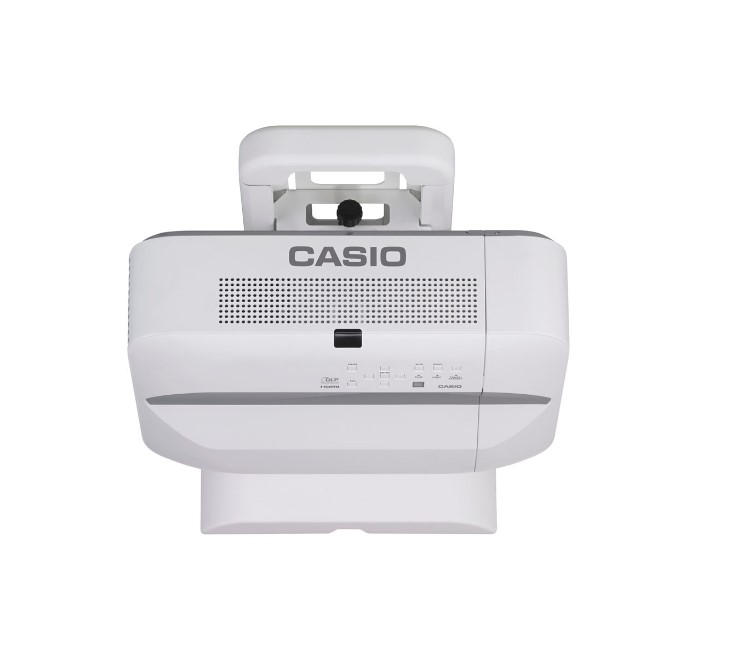 [/cs_text][x_custom_headline level="h2″ looks_like="h4″ accent="false"]Casio's latest 4K UHD technology throws lifelike images, blowing up the finest detail[/x_custom_headline][cs_text class="cs-ta-justify"]Featuring a new laser light source, Casio's new 4K UHD XJ-L8300HN projector is equipped with the latest 4K UHD DLP® 0.66" chip which projects images of approximately 8.3 million pixels (four times the pixel count of a full HD projector) with a crystal brightness of 5,000 lumens and an estimated lifespan of 20,000 hours.
Through a single chip, images from Casio's projector will ensure a perfect convergence in all three colour channels throwing a sharper naturalistic image projecting the tiniest detail from an engineering blueprint and design to close-up details of a crystal facet even in a large space such as an auditorium or a concert hall.
Set-up for convenience and outstanding operating performance, projected images no longer suffer from distortion with an optical lens shift function built in as well as the global standard in transmission of ultra-high definition video and audio, HDBaseT-compatibility feature, which also lowers installation cost for users.
The usage of 4K content will increase with the demand for better quality video and audio. For users not making the switch just yet, Casio's projector is currently equipped with a super resolution technology which is able to enhance lower-resolution images and movies to produce an effect of higher resolution perfectly suited to Ultra HD screens.[/cs_text][x_custom_headline level="h2″ looks_like="h4″ accent="false"]3 new UST models[/x_custom_headline][cs_text class="cs-ta-justify"]With a throw distance of only 13cm, Casio's new Ultra-Short-Throw (UST) range of projectors are capable of projecting an image as large as 60-inch. The short throw distance eliminates the possibility of shadow casting on the screen while keeping the light flare away from the presenter's eyes making it more comfortable during presentation.
With an output as bright as 3,500 lumens and an excellent contrast ratio of up to 20,000:1, Casio's new UST projectors deliver brighter and sharper images than earlier models and projected images are now significantly clearer and more beautiful with a colour reproduction of 1.07 billion colours.
Featuring both vertical and horizontal keystone correction features, users are also able to correct projection distortions at angles up to ±5°, vertically and horizontally via the remote control and buttons on the projectors. This allows users to set up the projectors in a number of positions, even in small meeting rooms with limited choices of installations positions.
Equipped with Remote ID function, users can now control up to four projectors together or individually from a single controller. This function offers huge advantages as users now have the flexibility to command different projectors easily and quickly during when multiple projectors are installed in a room. With the help of C-Assist app (available on iOS and Android), users can share text and images wirelessly from their devices in real time, contributing to a more efficient and impressive presentation.
With Casio's unique Japan-made LampFree technology and 3-block dust resistance structure design, all projectors feature a long light time of up to 20,000 hours with almost zero maintenance required, minimizing efforts spent on periodic cleaning.
The launch of these new projectors promises to elevate the viewing experience in various settings – at work, in education institutions or in meeting rooms.
Article Credit: Casio[/cs_text][x_custom_headline level="h2″ looks_like="h4″ accent="false"]Full Specifications[/x_custom_headline][cs_text]
 
4K UHD
ULTRA SHORT THROW SERIES (UST)
MODEL NO.
XJ-L8300HN
XJ-UT311WN
XJ-UT351W
XJ-UT351WN
KEY FEATURES
Resolution
4K UHD
WXGA
WXGA
WXGA
Light Source
All Laser
Laser-LED
Laser-LED
Laser-LED
Brightness
5,000 lumens
3,100 lumens
3,500 lumens
3,500 lumens
Colour Reproduction
Full colour

(up to 1.07 Billion colours)

Full colour

(up to 1.07 Billion colours)

Full colour

(up to 1.07 Billion colours)

Full colour

(up to 1.07 Billion colours)

Contrast Ratio
20, 000 : 1
20, 000 : 1
20,000 : 1
20,000 : 1
Intelligent Light Control
n.a.
Yes
Yes
Yes
Remote ID Function
n.a.
Yes (up to 4 ID)
Yes (up to 4 ID)
Yes (up to 4 ID)
Estimated Light Hours
20,000 hours
20,000 hours
20,000 hours
20,000 hours
REC. SELLING PRICE
S$12,499
(available from July 2017)
S$2,699
S$2,999
S$3,299
STORES
Casio Singapore Showroom:  111 Somerset Road, #10-02 TripleOne Somerset

Opening Hours:
9am to 6pm (Mon, Tues, Thurs, Fri)
9am to 7pm (Wed)

View full list of stores: http://www.casio-intl.com/sg/en/support/sales/projector/
[/cs_text][x_custom_headline level="h2″ looks_like="h4″ accent="false"]Stores Availability[/x_custom_headline][cs_block_grid type="two-up"][cs_block_grid_item title="Block Grid Item 1″]
Newstead @ NEX Shopping Mall
Electro Acoustics Research (1999) Pte Ltd
Loudimage Pte Ltd
Hawko Trading Pte Ltd
JK Technology Pte Ltd
Digital Style @ Jurong Point
Casio Singapore Pte Ltd
C2O Corporation Pte Ltd
Digital Style @ Suntec City
World Audio Centre Pte Ltd
[/cs_block_grid_item][cs_block_grid_item title="Block Grid Item 2″]
Challenger Vivo City
Advance Visual Pte Ltd
AV Science Marketing Pte Ltd
Challenger Tampines One
AR Visual Pte Ltd
Challenger IMM
Projectial Pte Ltd
Professional Sound & Vision
Newstead @ Suntec City
Mustafa
[/cs_block_grid_item][/cs_block_grid][/cs_column][/cs_row][/cs_section][cs_section parallax="false" style="margin: 0px;padding: 45px 0px;"][cs_row inner_container="true" marginless_columns="false" style="margin: 0px auto;padding: 0px;"][cs_column fade="false" fade_animation="in" fade_animation_offset="45px" fade_duration="750″ type="1/1″ style="padding: 0px;"][x_share title="Share this Post" share_title="" facebook="true" twitter="true" google_plus="true" linkedin="false" pinterest="false" reddit="false" email="true" email_subject="Hey, thought you might enjoy this! Check it out when you have a chance:"][/cs_column][/cs_row][/cs_section][cs_section parallax="false" style="margin: 0px;padding: 45px 0px;"][cs_row inner_container="true" marginless_columns="false" style="margin: 0px auto;padding: 0px;"][cs_column fade="false" fade_animation="in" fade_animation_offset="45px" fade_duration="750″ type="1/1″ style="padding: 0px;"][x_recent_posts type="post" count="3″ offset="" category="" orientation="horizontal" no_sticky="true" no_image="false" fade="false"][/cs_column][/cs_row][/cs_section][/cs_content]