A new Canon RF24-240mm f/4-6.3 IS USM has just been officially announced by Canon today. This makes it the first entry-level zoom lens to be added into the RF series of lenses.


Source: https://en.wikipedia.org/wiki/Canon_RF_mount
Canon RF24-240mm
With a wide zoom range of 24mm-240mm (10x zoom), the versatility of the RF24-240mm f/4-6.3 IS USM makes it the perfect lens for nearly all genres of photography. The combination of the RF24-240mm f/4-6.3 IS USM's portable design and high image quality makes it the go-to lens for everyday photographers who are constantly on the move.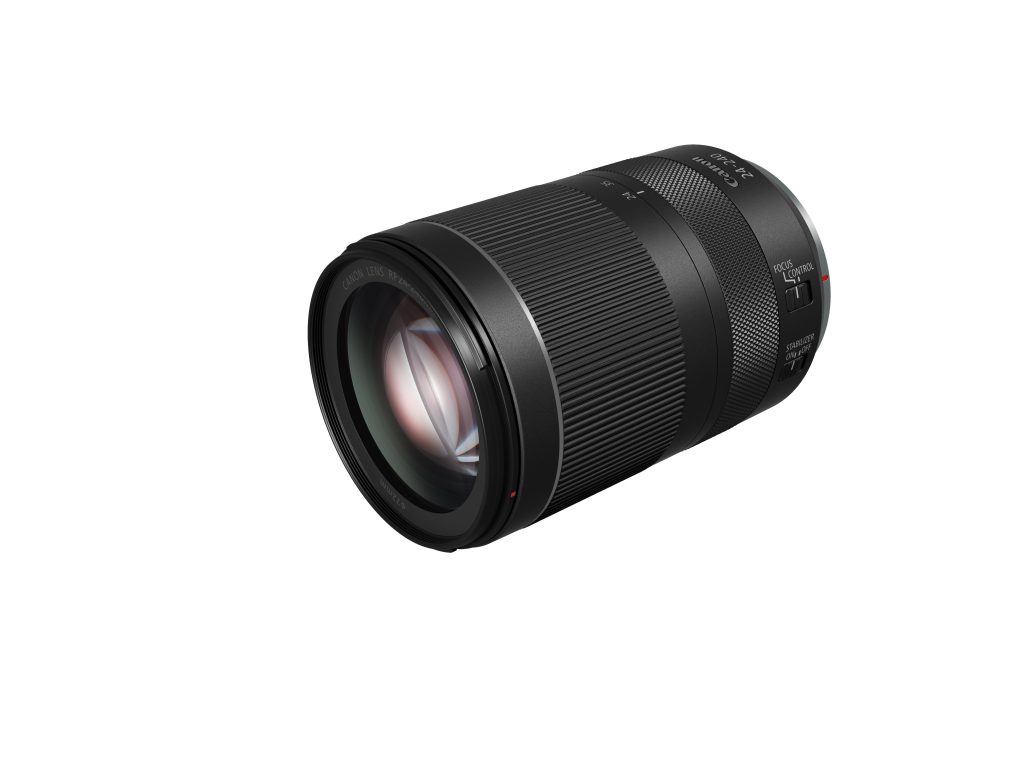 Expanding the range of the EOS R system, the RF24-240mm f/4-6.3 IS USM is equipped with a Nano USM focus drive system, along with optical Image Stabilisation (IS) and Dynamic IS. This ensures ease of usage and good functionality for still images and movies. Additionally, speedy focusing with minimal blurring from camera shake will be ensured, assisting users greatly in shooting fast-moving objects.
Canon's full-frame mirrorless system strives to redefine optical excellence, one of the ways we do so is by building up a strong ecosystem for EOS R and RP users to enjoy greater choice. The new RF24-240mm f/4-6.3 IS USM is a powerful all-in-one lens, packing 10x zoom into a compact size, making it a versatile choice for photographers to experience unbridled creative freedom for a multitude of shots.Edwin Teoh, Head of Marketing, Singapore Operations, Canon Singapore
Cover Every Detail with High-Magnification
The first 10x optical high-magnification zoom lens with a 35mm full-frame compatible RF mount, this single lens covers a broad range from 24mm wide angle to 240mm telephoto shooting, with the ability to capture everything – landscapes, close-up scenes and portraits. Whether users want to capture an enhanced sense of depth at the wide angle end or make use of background compression effects and bokeh at the telephoto end, the RF24-240mm f/4-6.3 IS USM enables versatile photography that is customizable for a vast variety of shooting needs.
Despite its wide zoom range capabilities, the RF24-240mm f/4-6.3 IS USM only weighs around 750g, allowing those who travel light to take full advantage of a 35mm full-frame camera, particularly when paired with the EOS RP. Everyday photographers will be able to exercise their creativity. For instance, the RF24-240mm f/4-6.3 IS USM is great for parents who wish to capture close-up action shots of kids at sporting events and on family trips.
Powerful Image Stabilisation (IS) for Stills and Movies
Equipped with the CIPA standard 5-stop IS, the RF24-240mm f/4-6.3 IS USM has the ability to capture hand-held night scenes and dark indoor shots with minimal blurring. It is also the first ever full-frame compatible Canon interchangeable lens to be equipped with Dynamic IS. This makes it possible to record smooth, stable videos in different scenarios – even while walking or recording from a moving vehicle.
IS performance has been improved dramatically for shooting in dim indoor conditions, with the ability to set a low ISO speed. This allows users to capture high-quality images in low-light environments with minimal noise.
Moreover, when paired with a camera body that supports combination IS, the RF24-240mm f/4-6.3 IS USM's stabilization effect is further enhanced by leveraging both the lens' optical IS and the in-camera digital IS.
Experience High Image Quality on an RF Mount
Conventional high-zoom lenses offer the convenience of a wide range of focal lengths in a single lens but with a trade-off in image quality. However, the characteristics of the large diameter and short back focus distance of the RF mount, allowed the RF24-240mm f/4-6.3 IS USM to be designed to deliver sharp and exceptional image quality throughout its 24-240mm focal range.
The RF24-240mm f/4-6.3 IS USM additionally has excellent edge-to-edge sharpness with reduced ghosting and produces high image quality even in backlit scenes.
Comfortable Controls and Smooth Operation
The new RF24-240mm f/4-6.3 IS USM also features a dual-purpose ring that can be used as a focus ring or control ring. While the control ring can be customized to control different exposure settings such as exposure compensation, ISO, shutter speed and aperture, users are also able to switch to the focus ring function with the simple click of a button.
The new design employed on the zoom mechanism reduces zoom torque and enables high magnification within a compact size, making zooming operations possible with minimal force and enables smooth control while recording. The zoom ring lock lever prevents unintended lens extension or 'creeping' while carrying the camera. Coupled with the Nano USM focus drive system, the RF24-240mm f/4-6.3 IS USM allows for focusing to be smooth, quiet and fast.
A Perfect Companion to the EOS RP
The RF24-240mm f/4-6.3 IS USM will also come as a kit lens for the EOS RP – Canon's latest, lightest and most affordable full-frame mirrorless camera. The EOS RP features the new RF lens mount, a DIGIC 8 image processor with Dual Pixel CMOS AF that delivers unparalleled optical excellence in a well-refined body with enhanced ergonomics for easy operability. With its compact size, lightweight features and high-performance characteristics, the EOS RP and RF24-240mm f/4-6.3 IS USM is the perfect body and lens combination (approx. 1255g) for travel and everyday photography. Users can now enjoy casual outings or long trips without missing out on precious details close to heart.
Availability & Pricing
Availability and pricing of the new Canon RF24-240mm lens will be advised at a later date.
Specifications
| | |
| --- | --- |
| Focal Length | 24-240mm |
| Maximum Aperture | f/4-6.3 |
| Maximum Focusing Distance | 0.5 – 0.78 m |
| Maximum Magnification | 0.26x |
| Lens Construction | 21 Elements in 15 Group |
| Special Lenses | 1 Aspherical Lens, 2 UD Lenses |
| Filter Size Diameter | Φ72 mm |
| Aperture Blades | 7 (circular) |
| IS (CIPA Standard Correction Effect) | 5 Step |
| Focus Drive System | NANO USM |
| Minimum Overall Length | 122.5 mm |
| Maximum Diameter | Φ 80.4 mm |
| Weight | Approx. 750 g |
Credit: Canon Singapore