For the first time, Samsung is releasing two variants of the Galaxy Note – the Note10 and a slightly larger Note10+. Consumers can now choose between a 6.3″ FHD+ display on the Note10 versus a slightly larger 6.8″ QHD+ display on the Note10+.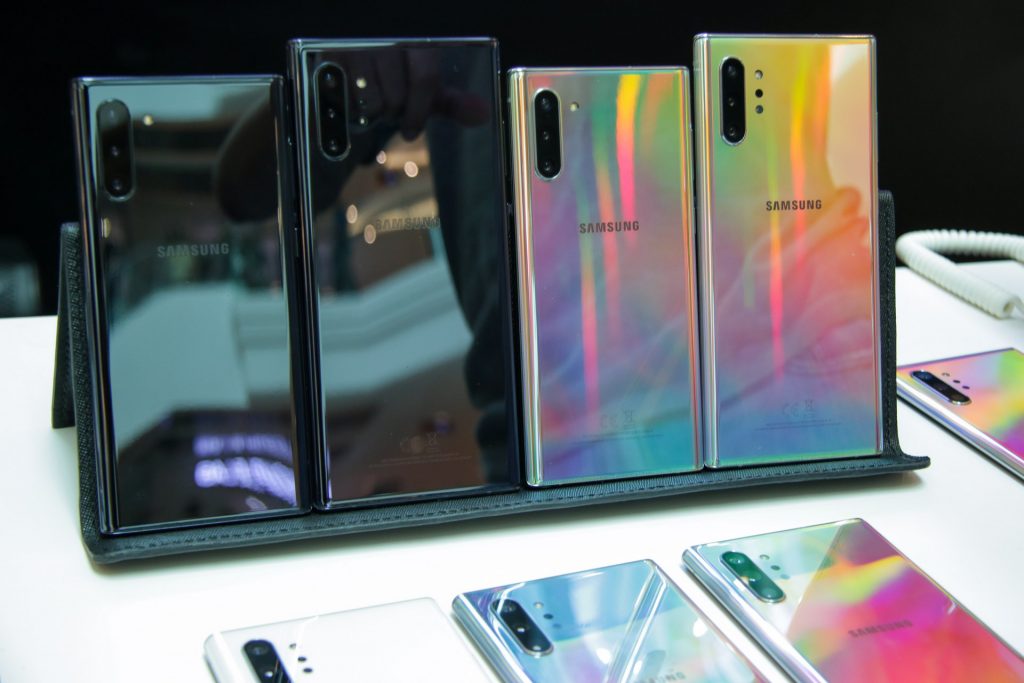 Both flagships feature an array of 3 camera lenses on the rear – Ultra Wide 16MP (123°), Wide-angle 12MP (77°) with OIS and Telephoto 12MP (45°) with OIS. The Note10+ has an additional DepthVision Camera that allegedly helps to produce a more accurate Live focus video. The front-facing camera on the Note10 and Note10+ features a single 10MP (80°) camera sensor for selfies.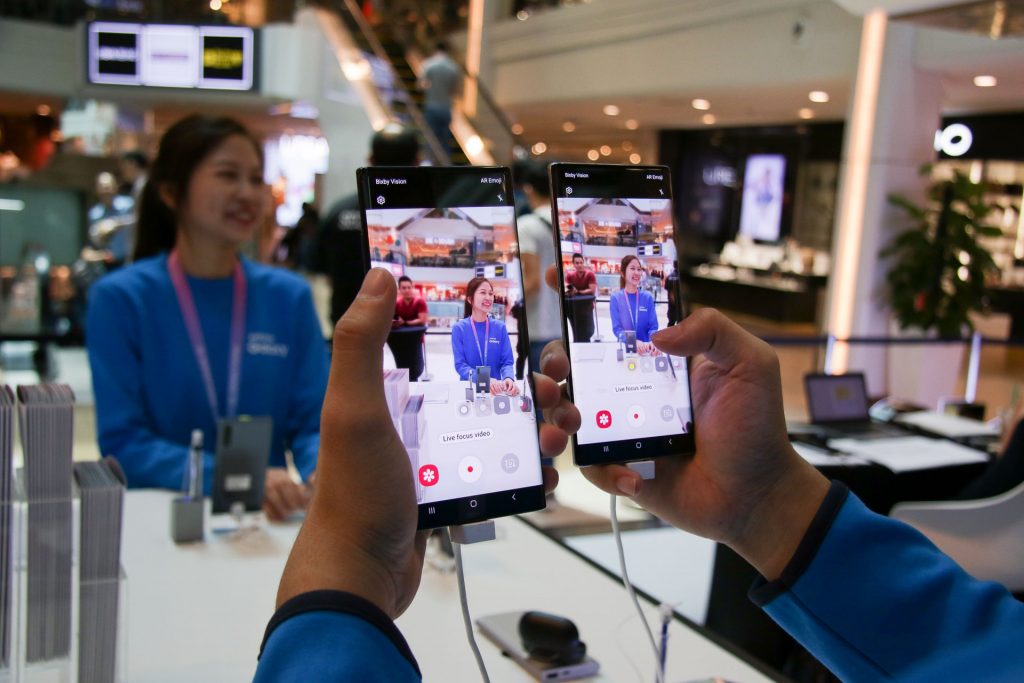 A productivity beast
The Galaxy Note line of smartphones has always been targeted at users who want a powerful and productive device to work on.
Handwriting to text
The new Note10 and Note10+ now feature handwriting-to-text support in the Samsung Notes app. This will allow users to instantly convert their written notes to digital text and export it to a variety of formats such as Microsoft Word (.docx). It is also now easier to customise these notes by shrinking, enlarging or changing the colour of the text. In just a few taps, meeting minutes can be formatted and shared. Bursts of inspiration can quickly become editable documents as well.
Enhanced S Pen
Air actions is a new feature that will allow users to perform gestures while holding the S Pen. With different gestures, users can then control certain aspects of the device.
In the Camera app, swiping left and right quickly changes the different camera modes and swiping up toggles the use of the front-facing camera. Circling in the clockwise direction will zoom in while circling in the anti-clockwise direction will zoom out.
By opening up the Air actions SDK, Samsung hopes that developers can integrate more customised controls that give users the ability to play games or control their favourite applications with the S Pen.
But what is missing?
Headphone Jack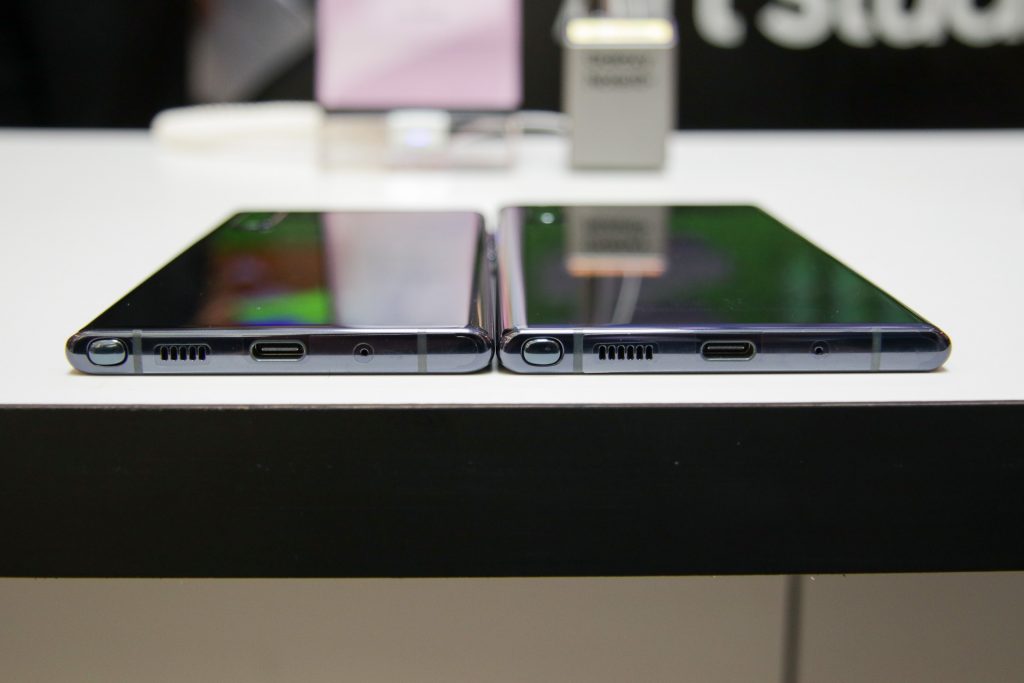 In a controversial move, Samsung has removed the headphone jack on both the Note10 and Note10+. This might be a bummer for consumers who really love their 3.5mm wired headphones but on the bright side, a pair of Type-C earphones will be included in the box.  The disappearing headphone jack seems to be inevitable as more manufacturers are taking this approach.
External MicroSD Card Support
It might be a given for Samsung to offer external storage support through a microSD card like we've seen in virtually all flagships from the manufacturer. However, it is worth pointing out that the Note10 will not support an external MicroSD card on the SIM tray. The Note10 still offers Dual SIM support for two Nano SIM cards simultaneously but that's it.
Unfortunately, this will mean that Note10 users will be fixed to 256GB of in-built storage because no other storage versions of the Note10 are available.
Only the Note10+ will offer a Dual SIM hybrid tray that allows two Nano SIM cards simultaneously or one Nano SIM and one MicroSD card.
Availability & Pricing
The Galaxy Note10 will be available in Aura Glow and Aura Black while the Galaxy Note10+ will be available in Aura Glow, Aura Black and Aura White.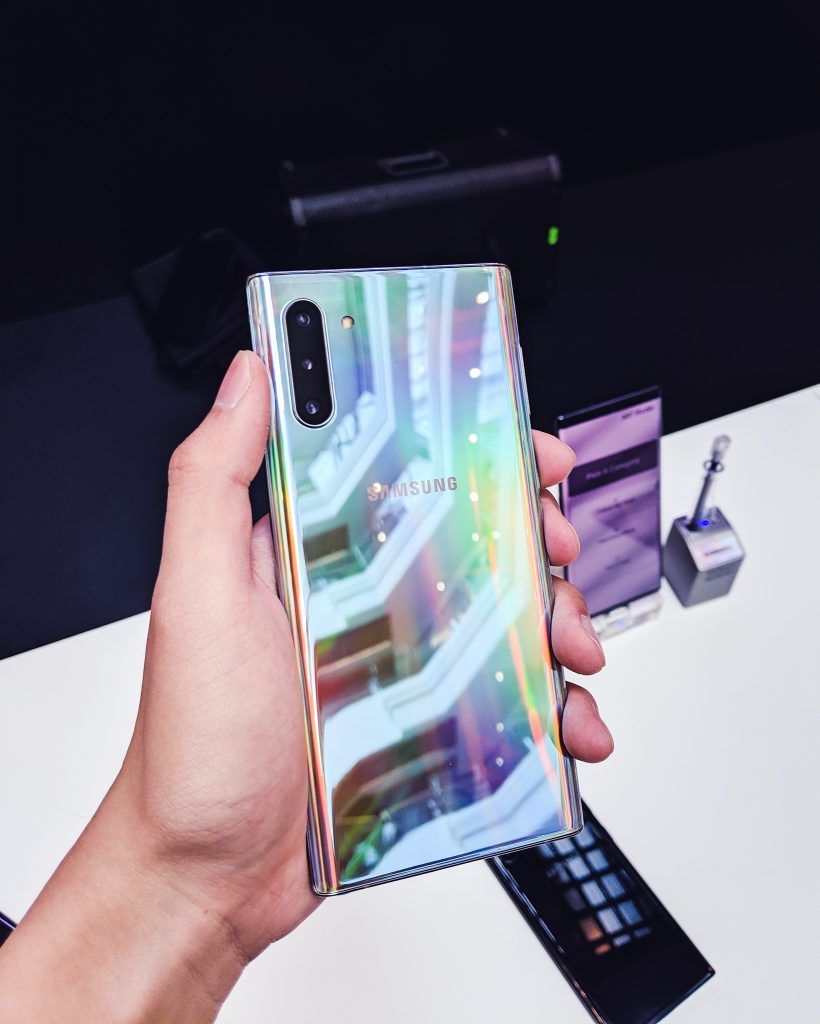 Singaporeans can now pre-order the Samsung Galaxy Note10 (256GB) and Galaxy Note10+ (256GB) and receive the following complementary pre-order exclusives upon full payment for their pre-order:
Pre-order of Galaxy Note10 (256GB) – worth $336
Receive the Galaxy Buds in Black worth $238 and a Samsung Wireless Battery Pack (10,000 mAh) in Silver worth $98.
Pre-order of Galaxy Note10+ (256GB) – worth $398
A free upgrade to the Galaxy Note10+ (512GB1) worth $300 and a Samsung Wireless Battery Pack (10,000 mAh) in Silver worth $98.
Pricing
| | | |
| --- | --- | --- |
| Model | Built-in Memory | RRP (S$) |
| Galaxy Note10 | 256GB | $1,398 |
| Galaxy Note10+ | 256GB | $1,598 |
| Galaxy Note10+ | 512GB | $1,898 |