[cs_content][cs_section parallax="false" style="margin: 0px;padding: 45px 0px;"][cs_row inner_container="true" marginless_columns="false" style="margin: 0px auto;padding: 0px;"][cs_column fade="false" fade_animation="in" fade_animation_offset="45px" fade_duration="750″ type="1/1″ style="padding: 0px;"][cs_text class="cs-ta-justify"]No audio jack on your shiny new iPhone 7? Fret not. Jaybird being one of the first manufacturer to bring wireless sport buds to the world has just announced the Jaybird X3 Wireless Sport Headphones. These next gen wireless in-ear buds are not only wirelessly connected via Bluetooth® 4.1 but sweatproof allowing you to concentrate on your workout.[/cs_text][x_raw_content]
No jack, no problem! Introducing the X3, the latest secure-fit wireless in-ear buds that bring music to your workouts in a whole new way. pic.twitter.com/LHnX9VUkwl

— JAYBIRD (@jaybirdsport) 17 January 2017
[/x_raw_content][cs_text class="cs-ta-justify"]"While the world has recently been talking about the disappearing headphone jack, Jaybird has been focused on designing superior wireless experiences for more than a decade," said Moninder Jain, Managing Director, ASEAN & India Region and Vice President at Logitech. "The new X3 headphones deliver supreme audio quality and secure sport fit, so you have the ultimate wireless accessory to your active life."[/cs_text][x_custom_headline level="h2″ looks_like="h4″ accent="false"]Jaybird X3[/x_custom_headline][cs_text class="cs-ta-justify"]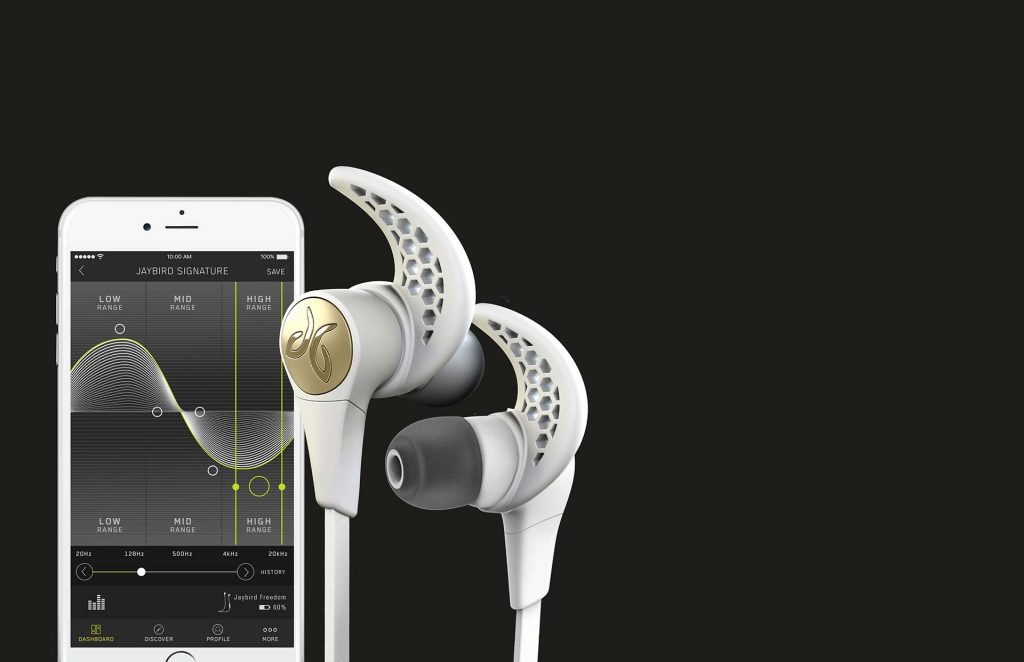 The X3 is now the first in the X-Series to be helmet compatible thanks to an enhanced 6mm driver which is smaller in form while bringing in a larger sound as well. The redesigned enhanced-comfort ear fins and selection of ear tips provide a universal secure sport fit during the toughest of workouts.
Featuring Bluetooth® 4.1, you have the ability to pair two sets of X3 headphones to one device to enjoy listening with family or friends and even pair these headphones to two devices simultaneously. The redesigned battery provides up to eight hours of listening allowing you to enjoy more music on a single charge. Not forgetting the new in-line remote that makes it even easier to control your music and calls.
The Jaybird X3 now include Voice Prompts that let you know when you have successfully paired/connected your headphones even when you turn them on or off. You can also install the MySound app to customize your sound settings to your liking and create custom sound profiles which will be saved directly on your X3 headphones. This means that your profiles stay with you no matter which music device you pair with or which music app you use – keeping you in control. The MySound app is free and available through the iOS® and Android™ app stores.[/cs_text][x_custom_headline level="h2″ looks_like="h4″ accent="false"]Availability[/x_custom_headline][cs_text class="cs-ta-justify"]Jaybird X3 Wireless Sport Headphones would be available for purchase from 4 May 2017 at major participating retailers such as Challenger, Courts or Harvey Norman. Pre-Orders would also open in Singapore at selected resellers from 27 Apr 2017 at a retail price of $215.
Jaybird X3 Blackout (Black and Silver): http://amzn.to/2ooL9Eg
Jaybird X3 Sparta (White and Gold): http://amzn.to/2oozSUy[/cs_text][/cs_column][/cs_row][/cs_section][cs_section parallax="false" style="margin: 0px;padding: 45px 0px;"][cs_row inner_container="true" marginless_columns="false" style="margin: 0px auto;padding: 0px;"][cs_column fade="false" fade_animation="in" fade_animation_offset="45px" fade_duration="750″ type="1/1″ style="padding: 0px;"][x_share title="Share this Post" share_title="" facebook="true" twitter="true" google_plus="true" linkedin="false" pinterest="false" reddit="false" email="true" email_subject="Hey, thought you might enjoy this! Check it out when you have a chance:"][/cs_column][/cs_row][/cs_section][cs_section parallax="false" style="margin: 0px;padding: 45px 0px;"][cs_row inner_container="true" marginless_columns="false" style="margin: 0px auto;padding: 0px;"][cs_column fade="false" fade_animation="in" fade_animation_offset="45px" fade_duration="750″ type="1/1″ style="padding: 0px;"][x_recent_posts type="post" count="3″ offset="" category="" orientation="horizontal" no_sticky="true" no_image="false" fade="false"][/cs_column][/cs_row][/cs_section][/cs_content]