Google has just announced a new Google Pay Singapore app which aims to help Singaporeans and the local food services industry during the circuit breaker. The new app allows users to discover food pick-up and delivery options near their location.
Many food establishments had to pause their dine-in services and rely on informal methods to share their menu and publicise their pick-up or delivery options.
Developed specifically for Singapore, this new menu discovery experience brings a variety of restaurants, coffee shops and hawker stalls online starting with over 100 businesses in addition to existing restaurants like Burger King, Canadian Pizza, Cedele, Da Paolo Group, The Daily Cut and Tuk Tuk Cha, giving patrons over 250 eateries to order from.
Quick food pick-ups and door-to-door deliveries are now a necessity, as Singaporeans stay home during this critical period. Like several others in Singapore, we too were sharing food menus among family and friends. So we thought, what if we could scale this and make this easier for consumers and restaurants? We rallied our employees to come together quickly and discussed ways in which we could offer a solution.Patrick Teo, Director of Engineering for Payments and Engineering Site Lead at Google Singapore
Menu Discovery Feature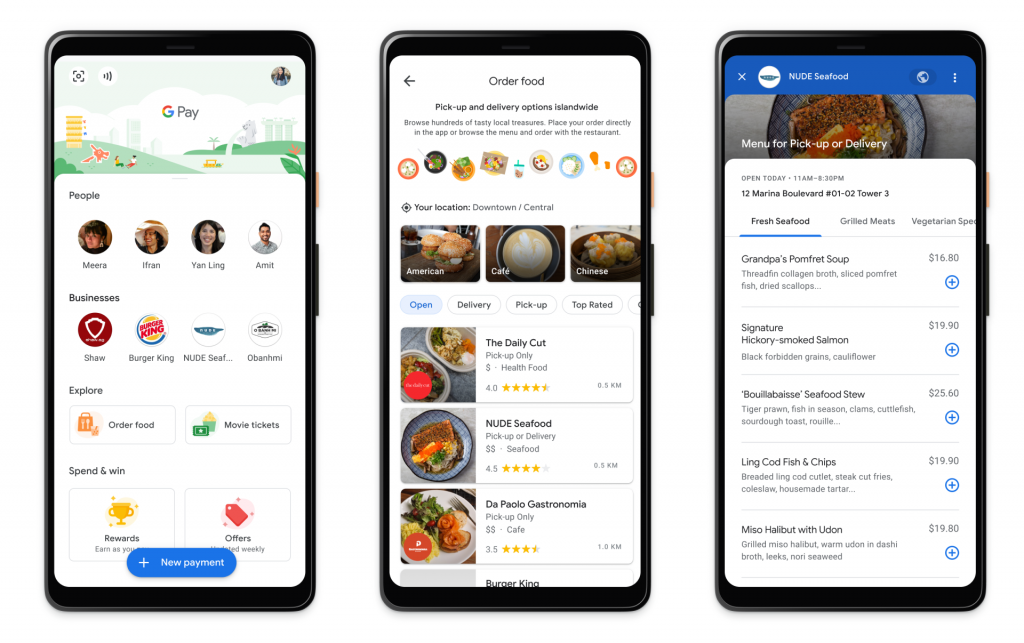 With the new menu discovery feature, customers can browse menus, select items, and contact the food establishment to place their order and pay. Depending on the eatery, customers can choose to pick up their order or have it delivered. Singaporeans looking to support their favourite places will be able to share the menus of these eateries with their friends using a custom link.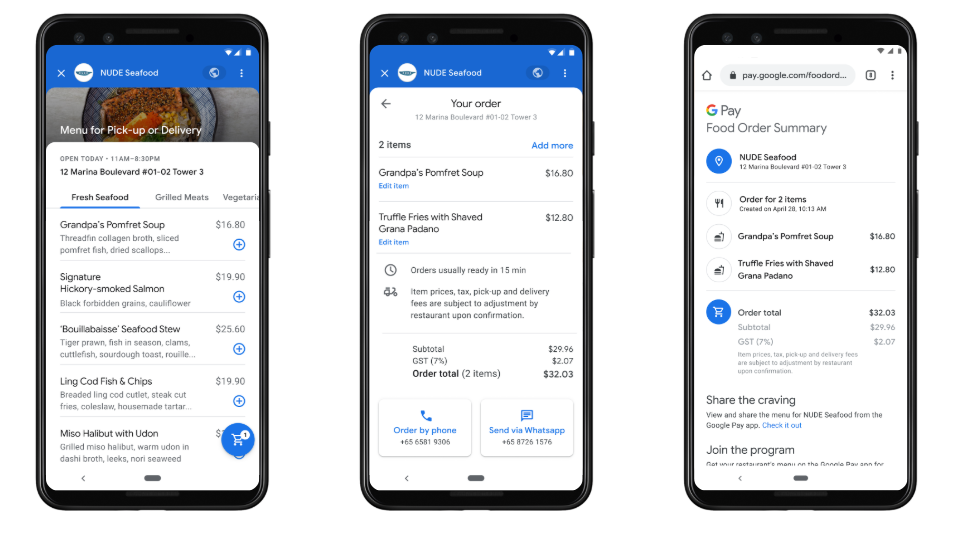 Singaporeans will now be able to get family meals from Kok Sen, O Banh Mi, and Outram Park Ya Hua Rou Gu Cha or order restaurant-style spreads at home from Blue Ginger, O.BBa BBQ Jjajang and NUDE Seafood.
This new menu discovery option is free to use by all food establishments and aims to support Singapore and its 200,000 individuals employed in the sector who are impacted by the current situation. We are also working with Chope to make this menu discovery option possible for Chope affiliated food establishments. Local restaurants interested in having their menu included in the Google Pay Singapore app may fill out their details here. New eateries have the option of joining many other participating restaurants who accept orders and payment on the Google Pay Singapore app through partners like Aigens, FoodZaps, Novitee, TabSquare, or Waitrr.
Install the app now
The Google Pay Singapore app is available for Android or iOS devices.
What else can you use the app for?
Apart from food pick-up and menu discovery, users of Google Pay Singapore can also use their compatible Android devices to tap and pay on MRT and buses island-wide using their linked debit or credit cards, and at any store where contactless payments are accepted.
Likewise, they can use Google Pay on their Android or iOS devices to send money to family and friends with PayNow even if the recipient is not on Google Pay. Earlier in April, OCBC announced that its customers can use Google Pay to make peer-to-peer fund transfers through PayNow – drawing on funds from their current or savings accounts.
Visit the following link for more information on Google Pay Singapore: https://pay.google.com/intl/en_sg/about/