Formerly available only to education and enterprise customers, Google Workspace (previously G Suite) is now available for everyone. Inheriting the useful features, Google Workspace promises added convenience for individuals and collaboration between team members amid the remote working era.
Aside from Google Workspace, Google has also implemented improvements for existing communication tools, with improved privacy and a seamless interface being a major highlight of the release.
Changing Rooms to Spaces
Through this transition, Google aims to create a streamlined, focused and flexible user interface. This will be done by including new features such as in-line topic threading, presence indicators, custom statuses, expressive reactions and a collapsible view.
Files and tasks will be integrated seamlessly together, with the ability to pin messages and relevant information to keep your team connected and informed. As Google delivers the new features on a rolling basis, customers can already turn on Google Chat in their Gmail today, ensuring a seamless transition as Spaces comes along.
Subscriptions for individuals
Built to help individual business owners nurture and protect their entities, this subscription will provide premium capabilities, including smart booking services, professional video meetings and personalized email marketing at launch.
All personal and professional commitments can be easily managed within the existing Google accounts, with access to Google support. Regions such as the United States, Canada, Australia and Japan will be eligible for Workspace Individual first.
Improvements to Google Meet
Companion Mode will be coming to Google Meet, subsequently across all devices, with the intent of fostering remote collaborations. This is done by giving access to interactive features and controls like screen sharing, polls, in-meeting chat, and live captions.
The said mode is designed to seamlessly connect users with other members of the room, giving everyone a chance to participate actively while having crisp audio-video communication. Invitees will also soon be able to RSVP with their join location, indicating whether they'll be joining in a meeting room or remotely.
Heightened privacy controls
To ease privacy concerns of its users, Google Workspace will begin using Client-side encryption to strengthen the confidentiality of customer's data and meet security standards, while addressing a range of data sovereignty and compliance requirements for ITAR, CJIS, TISAX, IRS 1075 and EAR.
Trust rules for Drive will help control the sharing of files to anyone else, while Drive labels will classify files and apply controls based on levels of sensitivity through data loss prevention (DLP).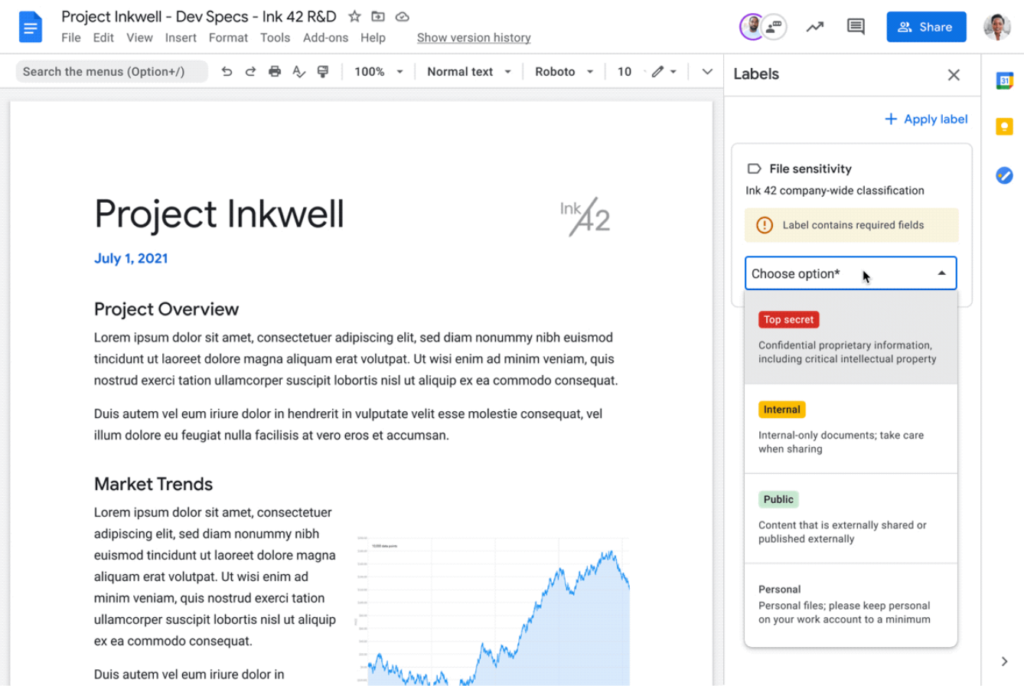 With 60 new content detectors, some of which are powered by machine learning, DLP can detect resumes, patents and source codes and label them appropriately. Google's continued effort of enhancing phishing and malware protections will help safeguard against insider threats and user errors.