When Chinese New Year comes round the corner, Singaporeans take their preparations rather seriously. According to statistics provided by Google, 65% of Singaporeans went online to prepare for this 15-day celebration last year. People are turning to Google Search and YouTube as main sources of information, inspiration and entertainment during this festive period.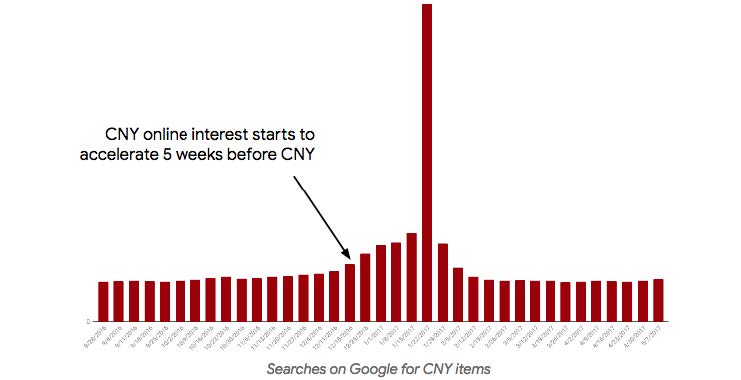 Chinese New Year is a precious time for the Chinese community to bond with their loved ones. We're humbled that Singaporeans continue to rely on Search and YouTube to help them make the best of the festive holiday. From searching for the best deals for clothes to look their best, places to go and food to eat, we look forward to being present for Singaporeans as we welcome the Year of the Pig.

– Stephanie Davis, Country Director for Google Singapore
What are Singaporeans searching for?
1. The search for tasty recipes
Chinese New Year is truly a time for feasting. Hosting reunion dinners with delectable dishes for family and friends is an annual tradition, and Singaporeans actively searched online for new recipes and cooking tricks, resulting in a 30% increase in recipe searches in 2018. Chinese New Year is also a time to experiment, with 53% of Singaporeans indicating that they were willing to try new brands during this period, proving that this is an optimum period for new entrants to promote their products.
2. Dressing to impress
House visits make a huge part of the New Year festivities, and Singaporeans want to look their best. There was a 46% increase in searches of e-commerce brands during this period as Singaporeans looked to refresh their wardrobe. They also turned to video content to complete their outfits, with "nail" and "hair care" categories trending during Chinese New Year on YouTube, resulting in a 41% and 32% increase in watch time respectively, compared to the same period last year.
3. Getting entertained and keeping up with traditions
Singaporeans were hungry for content on YouTube as watching videos grew to become a communal activity among family and friends. Local viewers chalked up close to 2 million hours of YouTube watch time on Chinese New Year content in 2018. Interestingly, watch time for Astrology content went up by 51% as Singaporeans were eager to see if their stars aligned for the new year, while watch time for Chinese music videos also increased by 16% as they hummed along to fresh and familiar tunes.
What do you search for during this festive period?