If you have been a big fan of the previous best-selling Razer Kraken X headphones, you would most probably be drawn to their latest model. Razer, a familiar sight in the gaming scene, has just released the new Kraken V3 X headset which brings improved sound quality for any gaming marathoners looking for improved comfort.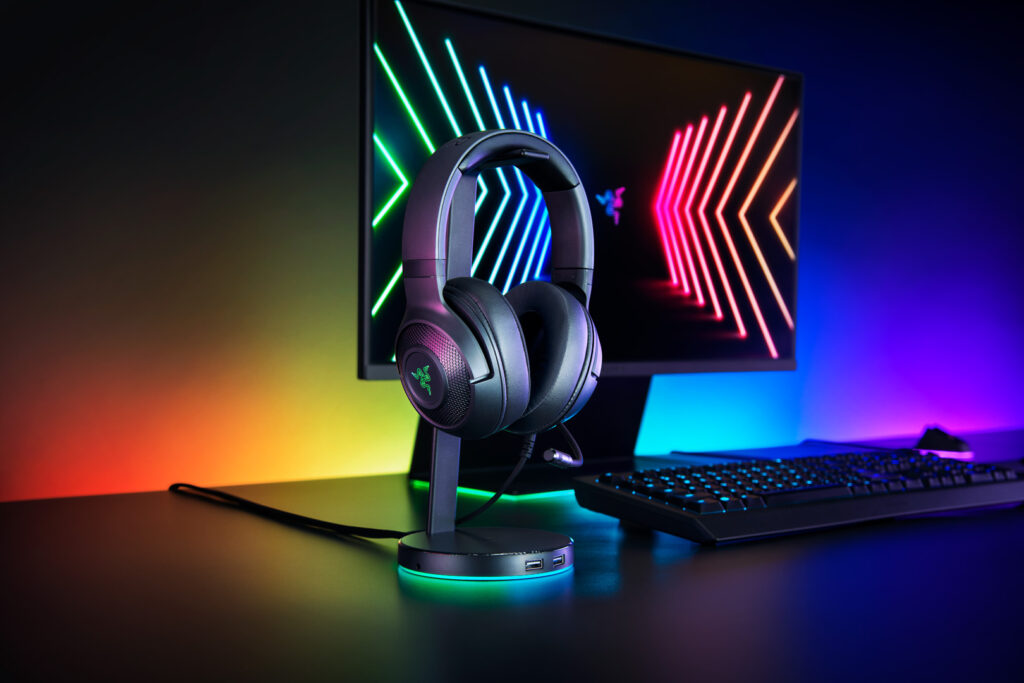 Emphasis on Hardware
While competitors emphasised on sound enhancements through software, Razer focused on the hardware. With a patented design that splits the Razer TriForce 40mm Audio driver, which was first introduced in the BlackShark esports series, into 3 distinct parts responsible for highs, mids and lows respectively, each part can be tuned individually.
On top of the flexible tuning capabilities which is capable of producing brighter audio and powerful bass, thicker speaker cavities further improves the mids and highs, allowing for a higher overall volume.
Software Optimisation With A Bonus
For every purchase, you would get free access to the Dolby Surround Sound 7.1 Application, used to simulate in-game positional audio. This is probably the closest you can get to a digital warzone, with subtle footsteps, muzzle and weapon sounds on top of the superb hardware.
To level up the gaming experience even further, users can upgrade to THX Spatial Audio – an advanced 7.1 Surround Sound at 50% off, gaining access to PRO features such as Surround Sound Calibration and THX-Tuned Game Profiles for specific games.
Mighty Inside, Light On The Outside
Despite packing many leading hardware, potential buyers will be pleasantly surprised that the headset only comes in at 285g, which are held together by a thick headband to reduce the pressure exerted on the head. To make it more suitable for intense gaming marathons, the comfortable lush memory foam ear cushions are kept cool with breathable surface fabric.
Communicate With Clarity
Whether it is for playing games, or Zoom calls if you'd like, the Razer HyperClear Cardioid mic will help you put your idea across in a clearer manner. Encased in a flexible optimised microphone housing with an open design, the microphone is tuned for focused vocal pickup which can be bent to an optimal angle for audio capture.
Lighting up the gaming scene
As expected of many Razer products, the Kraken V3 X comes with RGB lighting to complete your fancy gaming setup. At the time of this writing, the featured headset is the most affordable Razer headphones to receive the unique Razer Chroma RGB, which features 16.8 million colours with countless patterns and dynamic in-game lighting effects.
Availability and Pricing
The Razer Kraken V3 X headphones are priced at S$109.90, and can be purchased from major retailers or from Razer's official site. Whether it is to complete your RGB gaming setup or to start your gaming marathon, the Razer Kraken V3 X headphones can be your next option.
Whether you decide to pick up a set for yourself, have a look at our experience with the earlier version of the Razer Kraken X USB.