Lenovo has recently announced a series of peripherals under its sub-brand Lenovo Go, a category focused on purpose-built PC accessories. Designed to empower productivity users in the era of remote working, the brand aims to address common pain points relating to input, power and audio functionality.
This article covers a series of products from the portfolio and how they are designed to empower you throughout your productive day.
Navigate around comfortably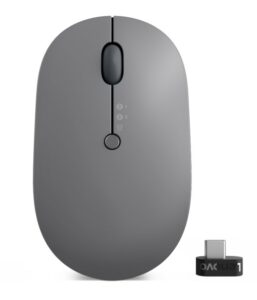 Rather than alternating between multiple computer mice, the Lenovo Go Wireless Multi-Device Mouse allows users to cycle between three paired devices, by clicking a button located under the scroll wheel.

Lenovo also answers the demands of an ergonomic workspace with the Wireless Split Keyboard and the Wireless Vertical Mouse. These devices emulate natural and comfortable positions that effectively relieve strains off the palms, even after prolonged use. The mouse also contains six programmable shortcuts for personalised shortcuts.
Stay charged up everywhere
Operating on a patented Power-by-Contact (PbC) technology, the Wireless Charging Kit can wirelessly charge 13" and 14" laptops through a mat connecting to the USB Type-C on your laptop. This product is meant to save the hassle of frequently reconnecting the charging wire while moving between places.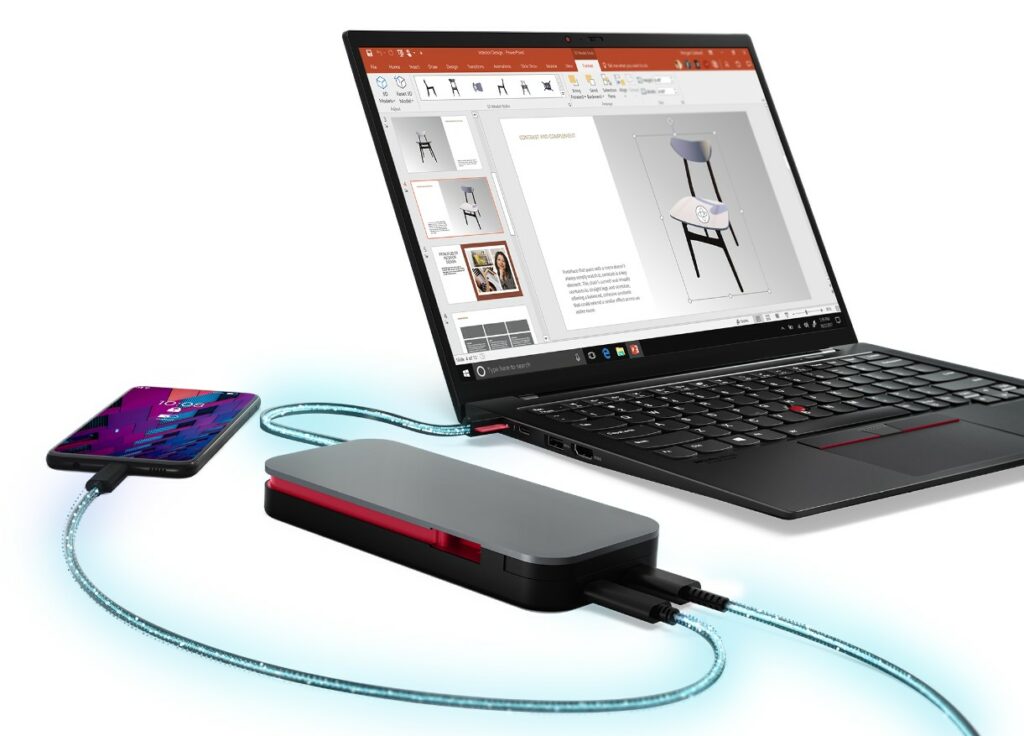 Lenovo also offers a Wireless Mobile Power Bank designed to charge up to 3 smaller devices, either through USB-C or QI wireless charging. With a capacity of 10,000mAh and an output rating of 30W, your portable devices can be powered up as you hustle around.
Handling calls with ease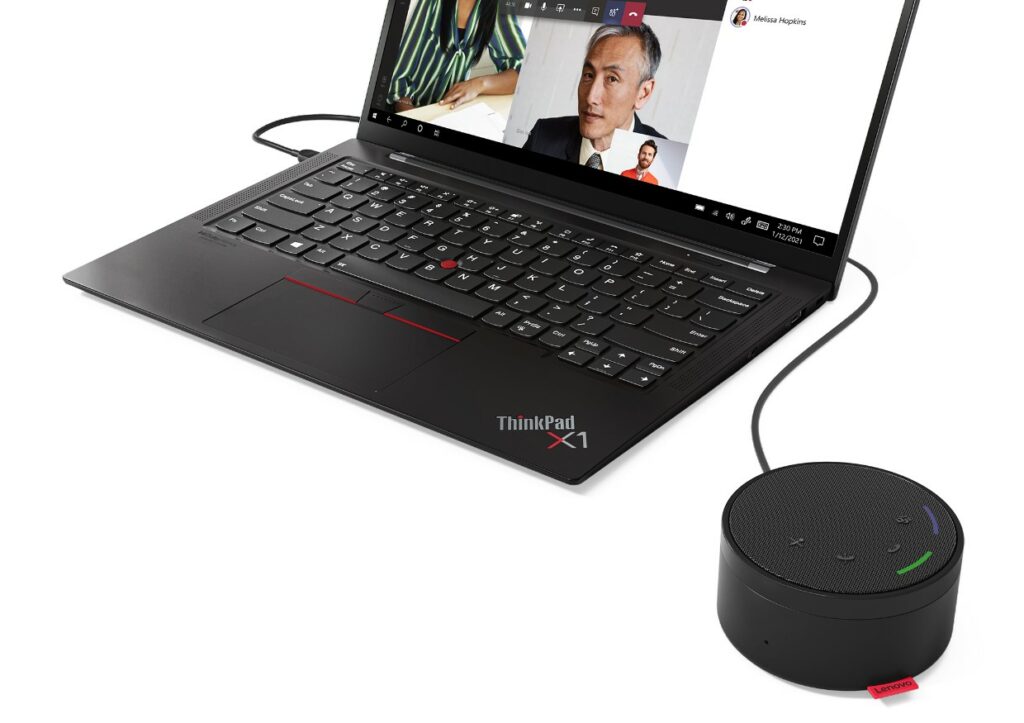 With two omnidirectional microphones for beamforming and far-field pickup, the Lenovo Go Wired Speakerphone excels in sound clarity. The ergonomic design and Microsoft Teams support free ears from prolonged headset wearing during extensive calls with your team.
Customers looking for noise-cancelling options can look no further than Lenovo's range of in-ear headphones and headsets coming with wireless or wired connections via USB-C, USB-A, or both. The wireless headset simultaneously pairs across 2 devices and can be connected via USB-C to be charged whilst in use.
Keeping it organised
With many personalised settings to deal with, Lenovo Go Central is a software that simplifies the experience by compiling all the controls in one place. Highlighted controls include adjusting mouse settings or managing audio configurations for headsets.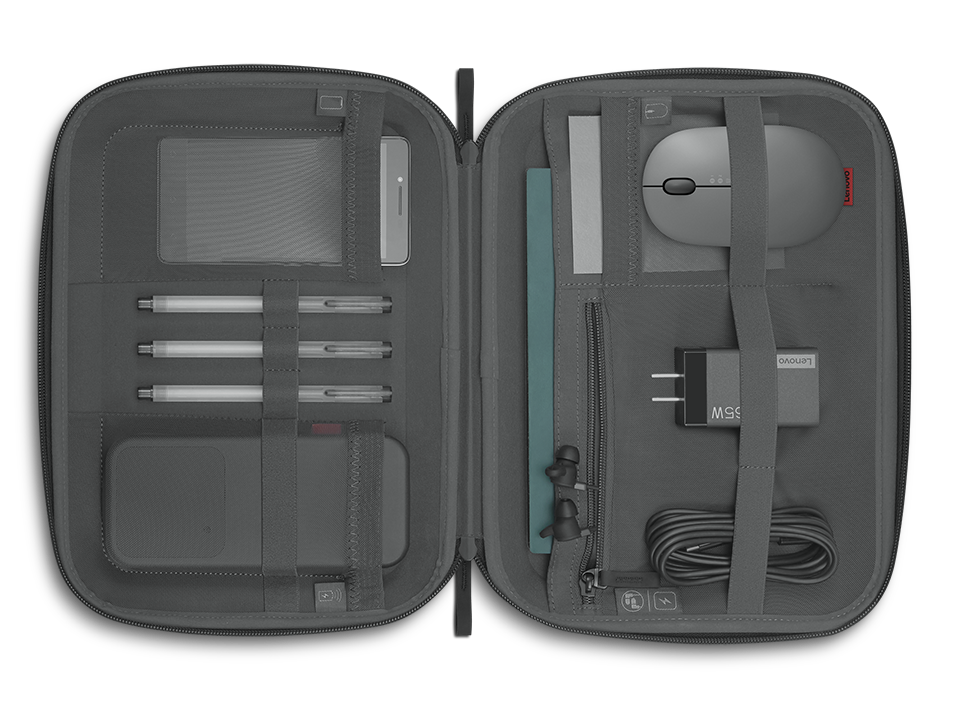 Lenovo Go Tech Accessories Organizer is the company's solution to keeping your peripherals in place. With compression-moulded compartments and splash-proof zippers, the organiser not only protects your accessories but also prevents scratches on your laptop.
Availability and Pricing
The price and availability of these products are found in the attached chart below.
 
Available starting
Price from (VAT included)
Input
Lenovo Go Wireless Multi-Device Mouse
July 2021
$76
Lenovo Go USB-C Wireless Mouse
June 2021
$56
Lenovo Go Wireless Vertical Mouse
Aug 2021
$71
Lenovo Go Wireless Split Keyboard
Oct 2021
$140
Lenovo Go Wireless Numeric Keypad
Oct 2021
$68
Power
Lenovo Go USB-C Laptop Power Bank (20,000 mAh)
Aug 2021
$129
Lenovo Go Wireless Mobile Power Bank (10,000 mAh)
Jun 2021
$75
Lenovo Go Wireless Charging Kit
Jul 2021
Pricing to be updated when available.
Audio
Lenovo Go Wired ANC Headset
Oct 2021
$144
Lenovo Go Wireless ANC Headset
Oct 2021
$247
Lenovo Go ANC In-ear Headphones
Oct 2021
$106
Lenovo Go Wired Speakerphone
Oct 2021
$141
 
Lenovo Go Tech Accessories Organizer
Pricing and available to be updated when available in Singapore